Sherpa Doka (back basket)
Basket
Humanities Info Card | Updated 3 years ago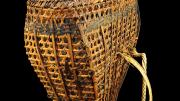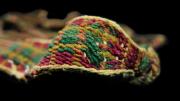 A leather headband used to carry the Sherpa Doka.
WA Muesum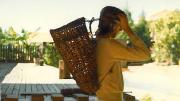 June's son illustrates how the Sherpa Doka should be worn.


WA Museum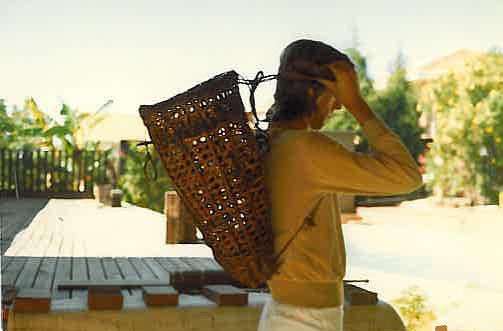 Registration Number: F3030
Location: Solo khumbu, Nepal
Stitch Type: Seven-step caning
Collection Date: 1970
Description: An open wickerwork basket made from split bamboo, rattan and rope straps with a leather headband, wooden hooks and rings. It features a long cone shape with rounded bottom and has been blackened with wood smoke from the central cooking fire in a Sherpa house.
Curator Story
Termed a 'Sherpa Dhoka' (or Back Basket), the piece was bought near the Namche Bazaar, a large village of around 1600 residents. The baskets headband is worn straight across the forehead to assist in holding a load.