Development service
New Collection Care Manual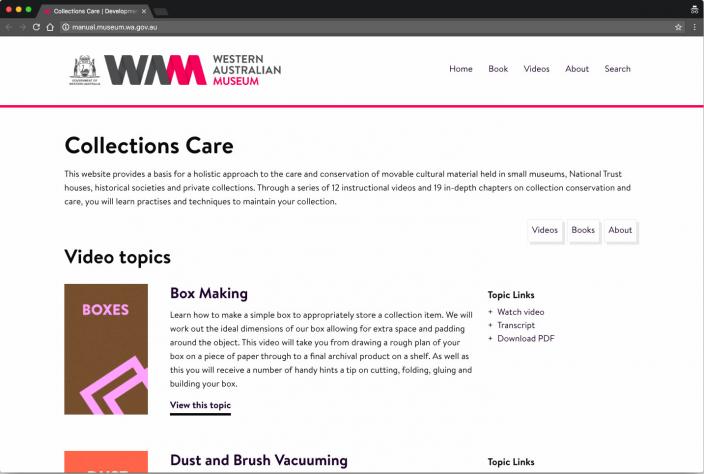 New website providing a basis for a holistic approach to the care and conservation of movable cultural material held in small museums, National Trust houses, historical societies and private collections. Through a series of 12 instructional videos and 19 in-depth chapters on collection conservation and care, you will learn practises and techniques to maintain your collection.
Australia's movable heritage is dispersed amongst communities throughout our country in what is known as the Distributed National Collection. As part of the National Conservation Strategy, and as a partner organisation of the National Standards Taskforce, the Western Australian Museum extends services to organisations which care for elements of this Distributed National Collection.
We offer advice and support, delivered predominantly by electronic means. We also deliver training workshops on specific topics to communities and institutions responsible for permanent collections which operate within the broad definition of a museum as defined by the International Council of Museums (ICOM) and operate on a not-for-profit basis. This includes assisting collections cared for by Local Government, historical societies, Aboriginal cultural organisations and other community groups as well as universities and government agencies.
The WA Museum gives information and advice on all aspects of the planning, operation and management of museums as community assets. Services are tailored to assist organisations to achieve the principles of best practice as outlined in the National Standards for Australian Museums and Galleries.
The Development Service in action
This photo gallery shows the Development Service in action in a workshop in the Kimberley region, teaching some conservation techniques.
Project: Remembering Them
Development Service is currently working on Remembering Them, a project taking place in regional museums across Western Australia to commemorate the First World War. Up to 32 regional museums are working with the Project Group, made up of the WA Museum, Museums Australia WA Branch and the Royal Western Australian Historical Society, to develop exhibitions about the impact of the First World War on their communities.
You can find out more about Remembering Them, including where the exhibitions are taking place and links and tips for creating your own Centenary of Anzac exhibition.
Contact
Please contact the Western Australian Museum - Reception to find out about museum development programs and other activities related to museum standards in Western Australia.
Email: reception@museum.wa.gov.au
Telephone: 1300 134 081