Exhibition Highlights
Afghanistan: Hidden Treasures features over 230 artworks, including gold objects from the famed Bactrian Hoard, bronze and stone sculptures, ivories, painted glassware, and other ancient works of art. On the below page, we have featured five of these spectacular objects.
CROWN, TILLYA TEPE, GOLD, 1ST CENTURY BCE – 1ST CENTURY CE
This crown was found in the tomb of a high-ranking nomadic woman. The base is formed by a diadem decorated with flowers, once inlaid with turquoise centers. The five tall "trees" are inserted into small gold tubes soldered to the inside of the diadem, a system that allowed the crown to be dismantled and easily transported. Golden birds appear in the upper branches of four of the five trees, which represent the Tree of Life.
MALE OR FEMALE HEAD, AÏ KHANUM, UNFIRED CLAY, 2ND CENTURY BCE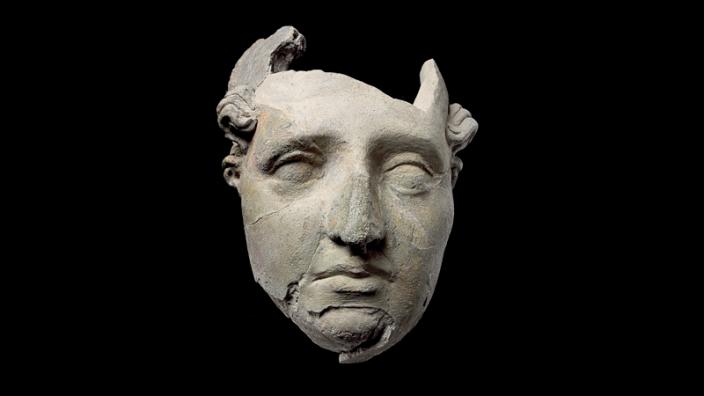 Found in 1968 in the principal temple of the city, this head was made by applying layers of clay to a wooden armature (now disintegrated). It comes from a statue that stood against the wall separating the vestibule of the temple from the cult room, a position of honor indicating the importance of the individual portrayed.
ORNAMENT IN THE FORM OF A RAM, TILLYA TEPE, GOLD, 1ST CENTURY BCE – 1ST CENTURY CE
The animal appears to be keeping watch, standing erect and looking straight ahead. The rings beneath the ram's hooves allowed this ornament to be attached to the high headdress often seen among nomads.
PAIR OF PENDANTS DEPICTING THE "DRAGON MASTER," TILLYA TEPE, GOLD, TURQUOISE, GARNET, LAPIS LAZULI, CARNELIAN, AND PEARL, 1ST CENTURY BCE – 1ST CENTURY CE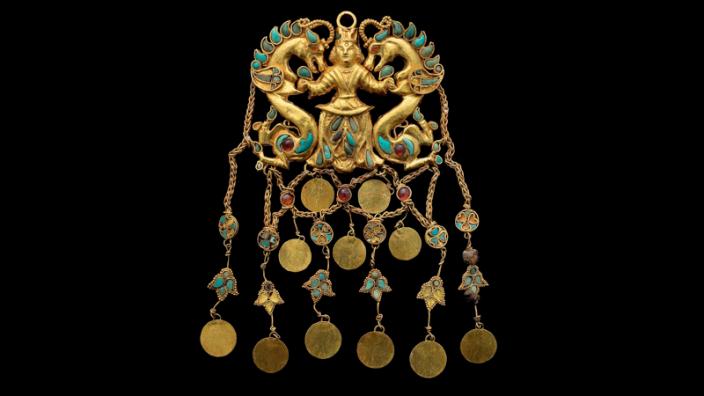 These elaborate hair ornaments depict a man wearing the tunic and fl owing pants typical of nomadic dress. He holds two dragon-like creatures by their forelegs, a mythic scene known from ancient Persian and Siberian art that suggests power and invincibility. Most unusually, these pendants are completely finished on both front and back.
STATUETTE OF A WOMAN STANDING ON A MAKARA, BEGRAM, IVORY, 1ST – 2ND CENTURIES CE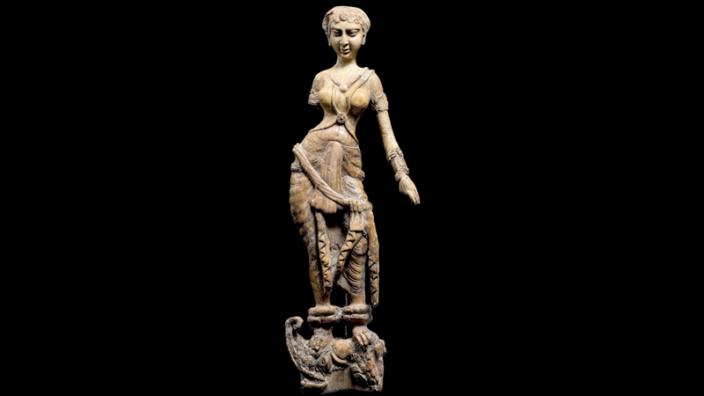 This statuette once decorated a piece of wooden furniture that turned to dust. The woman may represent the Indian river goddess Ganga, whose mount is the mythological makara, a creature that is part crocodile, part elephant, and part fish.
Ring with an image of Athena: Tillya Tepe, Tomb 2, Second Quarter of 1st century CE, Gold.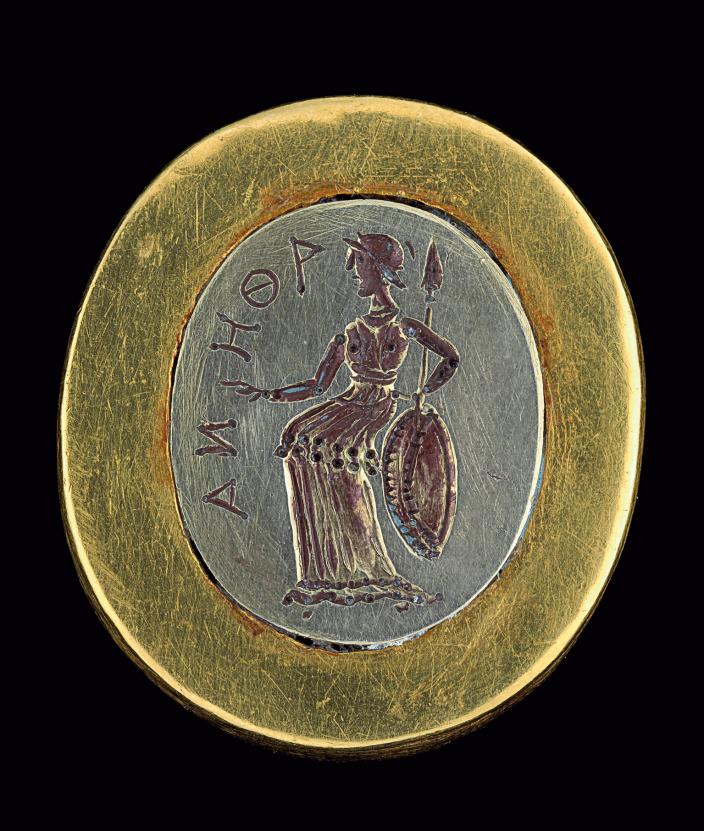 This ring depicts the Greek Goddess Athena, who was a popular subject among the nomads, probably because of her warlike nature. The name Athena is engraved in reverse at the left, indicating that the ring was intended as a seal. Her left hand appears to rest on her hip and at the same time hold a lance and a shield.
Painted Beaker: Begram Room 10, 1st century CE, Glass, enamelled decoration and gilding.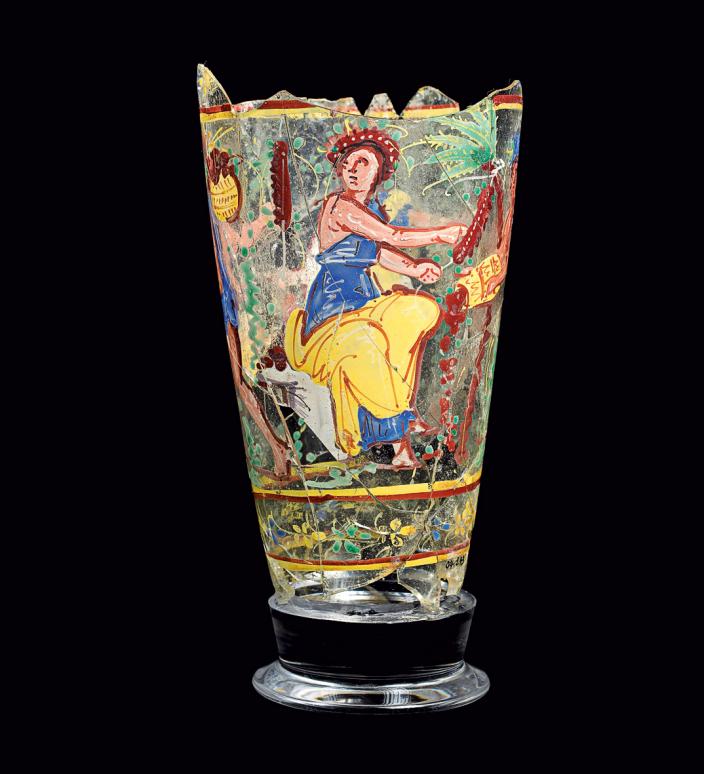 This painted beaker depicts a date-palm harvest. The scene shows two female and two male figures between two circular double-bands of yellow and ochre-red. Based on their clothing, the women appear to be of higher standing than the men. Similar painted glasses have been found in Northern Europe and Egypt.
Ornament for the neck of a robe: Tillya Tepe, Tomb 5, Second Quarter of the 1st century CE, Gold, turquoise, garnet, pyrites.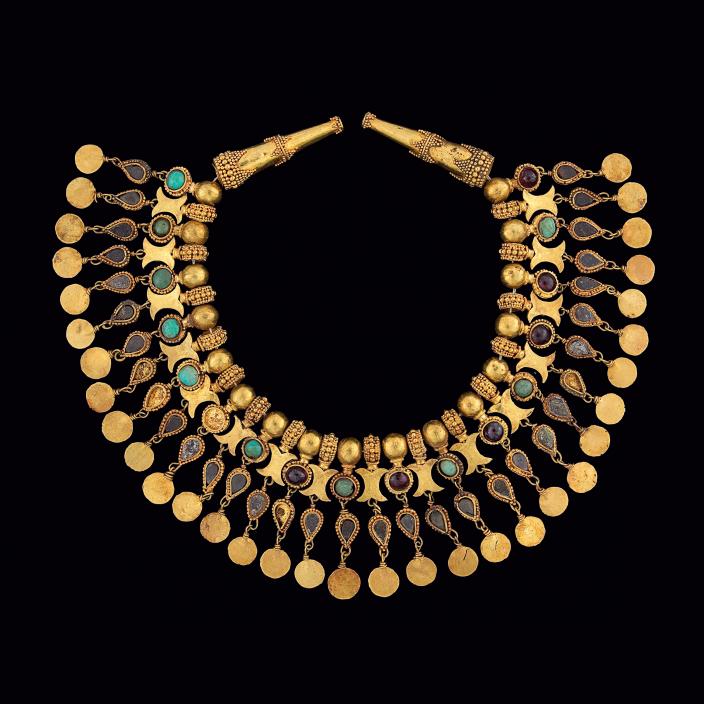 This ornament was intended to be sewn to the neck of the wearer's gown; it has small tubes soldered to the rear of the crescents, through which a thread could pass. The ornament is a combination of two types of pendants. One type consists of smooth hollow beads under which a round setting of semi-precious stones (garnet and turquoise) has been soldered. The other type of pendant consists of granulated rings with a spacer in the form of a double crescent attached. Both of these pendant types have further suspended decoration, first an almond shaped setting with a dark semi-precious stone, and below that a round gold disc.