Curator's Notes
A curator in search of Nick Cave
It was the northern autumn of 2003 and I had been granted a one-hour audience with Nick Cave at his home in Brighton, England. Travelling down by train to the south coast from London I must admit to an underlying trepidation at the thought of meeting this tall, black-haired, thundering performer, whose reputation as an enigmatic genius precedes him.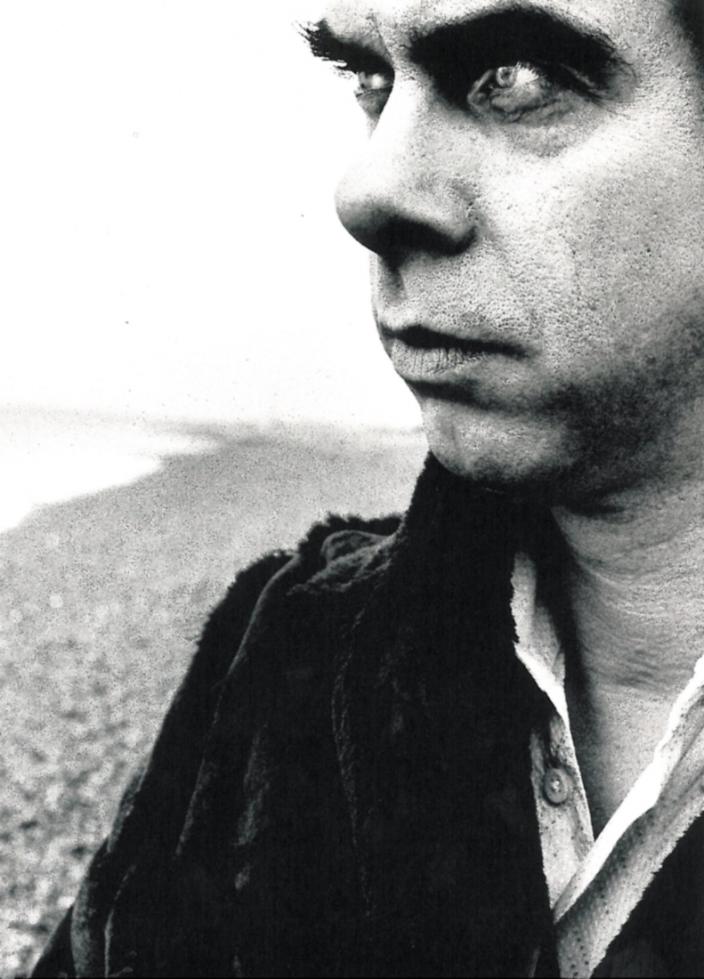 After polite greetings, the warmth of the day drew us outside onto the balcony overlooking the famous pebble beach and onwards to the waters of the English Channel. As we talked and sipped our tea I couldn't help but think that the surroundings held vague traces of back home in Melbourne, especially the bayside suburb of St Kilda. I also began to become aware of Nick Cave's essential Australianness, which has been obscured over the years, both by his residence in other parts of the world and his lyrics that lack any sense of nostalgic patriotism. It can be summed in a few words, and they are that Nick Cave is actually very funny in that 'Aussie' kind of way. In the background of Cave's prolific and important international career as a songwriter, musician and author resides a playful, black sense of humour.
Nick Cave has been both blessed and cursed by his prodigious talent and its sometimes surprising manifestations. Commentaries on his career come littered with stereotypes and clichés, and no more so in press reportage, where has been labelled as everything from 'The Prince of Darkness' I who is 'irresponsibly violent' II to the 'Prodigal Son' III who has been miraculously reborn as a 'Renaissance man' IV . We all launch futile attempts to understand and describe Cave's creative forces, which by their very nature are indefinable.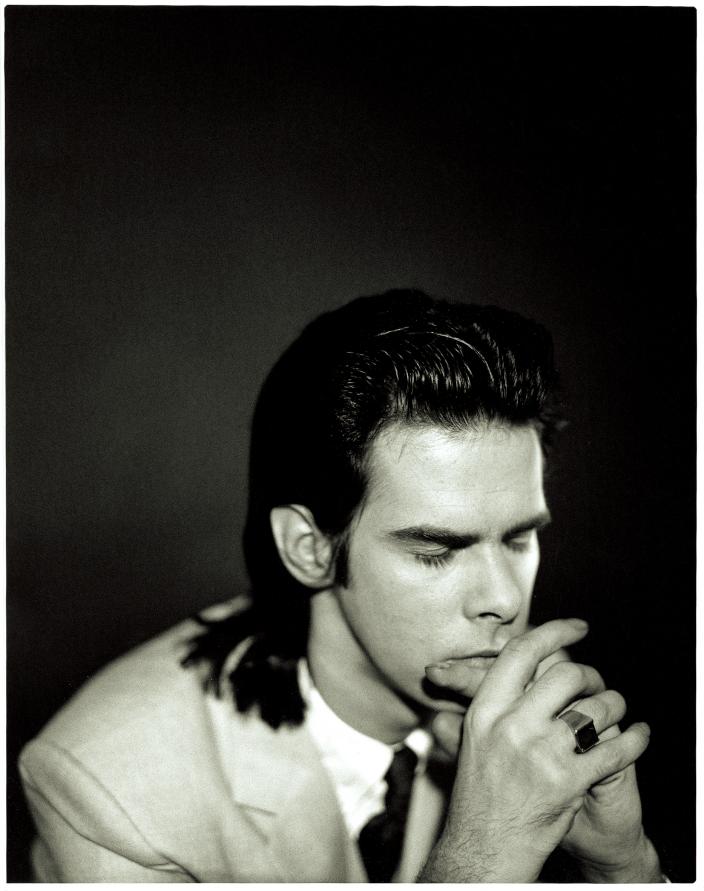 Who is the real Nick Cave?
So, who is the real Nick Cave? We do know some of the biographical facts and I'd like to relate them here. Nicholas Edward Cave was born on 22 September 1957 in Warracknabeal, a small wheat-belt community 331 kilometres north-west of Melbourne, Australia. He is the third of four children born to Dawn, a school librarian, and Colin Cave, an English literature and mathematics teacher. In 1960 the family moved to the town of Wangaratta, Victoria, close to Glenrowan and known for its links to one of Australia's most well-known historic figures, bushranger Ned Kelly.
When Cave was nine he joined the Cathedral choir of Wangaratta's Holy Trinity Cathedral. In a 1987 interview he archly recalled that '… there was a certain pecking order in the choir. You started out in the black cassock and ended up in a purple one … [I] remained getting taller and taller in a black cassock at the end of the line, which had something to do with the fact that I couldn't sing solos' V.
At age 13 Cave became a reluctant boarder and later day boy at Caulfield Grammar School in Melbourne. It was there that he met a group of boys – Mick Harvey, Phill Calvert, Brett Purcell and John Cochivera – whose band he joined. Its name was changed regularly, and included Concrete Vulture and Magic Pudding. Tracy Pew, who had been secretly practising guitar, joined in 1977 and the group adopted a name that stuck: The Boys Next Door. When Rowland S. Howard joined the band in 1978 the line-up now comprised Cave, Harvey, Calvert, Howard and Pew.
In 1978, when Nick Cave was 21, his father was killed in a car accident. This tragic loss became a catalyst for events in the immediate aftermath and resonated well into the future. As an adult Cave began to reflect on the complex relationship he had had with his father and how to put the tragedy into some sort of meaningful context. In his essay The Secret Life of The Love Song VI, Cave refers to W.H. Auden, who speaks of the place traumatic experiences hold in one's life as being an opportunity for which the child has been patiently waiting, '… in order that its life becomes a serious matter'. And so Nick Cave became focused on realising his creative potential through songwriting and music.
London, Berlin and Sao Paolo
On 16 February 1980 The Boys Next Door played a farewell performance at the Seaview Ballroom, St Kilda, and left for London, England, where they named themselves The Birthday Party on arrival. Over the next three years The Birthday Party released two albums, Prayers on Fire, 1981 and Junkyard, 1982, the EPs The Bad Seed, 1983, Mutiny! 1983, and became known for their confronting live performances. In 1982, after describing London as being 'like a corpse at the end of a rope' VII, Cave, Harvey Pew and Howard decided to move to Berlin, Germany.
After The Birthday Party broke up in March 1983 it wasn't long before Nick Cave was performing again with new, although short-lived line-ups – Nick Cave: Man or Myth and Nick Cave and the Cavemen – essentially acting as 'fronts' for touring. In the background the great musical project was evolving. Nick Cave and The Bad Seeds appeared with a new release, From Her to Eternity after first performing together at The Fridge in Brixton, London, on 10 April 1984. The band now comprised Cave, Mick Harvey, Blixa Bargeld, Barry Adamson and Hugo Race.
The Berlin years between 1982 and 1988 proved to be a period of intense creativity, fuelled in part by Cave's hedonistic 24-hour lifestyle. It was during this time that he commenced work on his epic novel, And the Ass Saw the Angel, and several film projects, appearing with The Bad Seeds in Wings of Desire, 1987 VIII, and as a co-writer and actor in Ghosts … of the Civil Dead, 1988 IX. Nick Cave and The Bad Seeds released The Firstborn is Dead, 1985; an album of cover versions, Kicking Against the Pricks, 1986; Your Funeral … My Trial, 1986 and Tender Prey, 1988.
In 1989, following some live shows in Brazil, Nick Cave relocated to Sao Paolo, which was to remain his home for the next four years. While Cave recalls this as a time in which he didn't do a lot of work, the albums The Good Son, 1990, Henry's Dream, 1992, and Let Love In, 1994, were released. Cave returned to London in 1993, and with England as backdrop ever since, has continued to expand his creative horizons. These have included lecturing students at the Vienna Poetry Academy; his appointment as the artistic director of the Southbank Centre's Meltdown Festival in 1999; contributing an introduction to the Pocket Canongate Bible Series, The Gospel According to Mark; writing the script and the score (with Warren Ellis) for The Proposition, and most recently writing the score with Ellis for The Assassination of Jesse James by the Coward Robert Ford as well as performing a solo quartet called Grinderman.
Throughout this time, the masterful body of work created with The Bad Seeds has continued, with the release of Murder Ballads, 1996, The Boatman's Call, 1997, No More Shall We Part, 2001, Nocturama, 2003 and Abattoir Blues/The Lyre of Orpheus in 2004. Band members over the years have included Barry Adamson, Blixa Bargeld, Martyn P. Casey, Warren Ellis, Mick Harvey, James Johnston, Kid Congo Powers, Hugo Race, Conway Savage, Jim Sclavunos, Roland Wolf and Thomas Wylder.
This brings me back to why I was visiting Nick Cave in the first place. It was to ask him if he would consider relinquishing a body of work both significant and intensely personal, hence my trepidation. I am very pleased to say it did all happen, coming to fruition almost three years later when I returned to sort through removal boxes hefted around by Nick Cave dressed in one of his bespoke suits.
The notebooks, artwork, photographs, objects and sculptures within these boxes now comprise the Nick Cave Collection at the Arts Centre, Victoria, and are on display in the travelling exhibition Nick Cave – the exhibition.
Janine Barrand
Manager, Collections & Research at the Arts Centre, Melbourne, Australia 2007
Co-author of the book Nick Cave Stories