Nick Cave: the exhibition
Introduction
An author in search of Nick Cave
I took a summer stroll with Nick Cave, walking mostly behind him along a narrow path beside a tidal river in Suffolk, England. It led to a forest of oak, past reed banks and mud flats, and landscape where church spires and cattle were the only signs of habitation, as if we were in the 18th century. His lanky, upright frame and sleek black hair glided ahead through the foliage, looking oddly out of place. I realised that for this rural excursion he was wearing the same clothes he wears on stage – narrow tailored trousers, a long-waisted suit jacket of dark stripes, and a white body shirt, open at the front. It's a subtle look, ever minutely changing.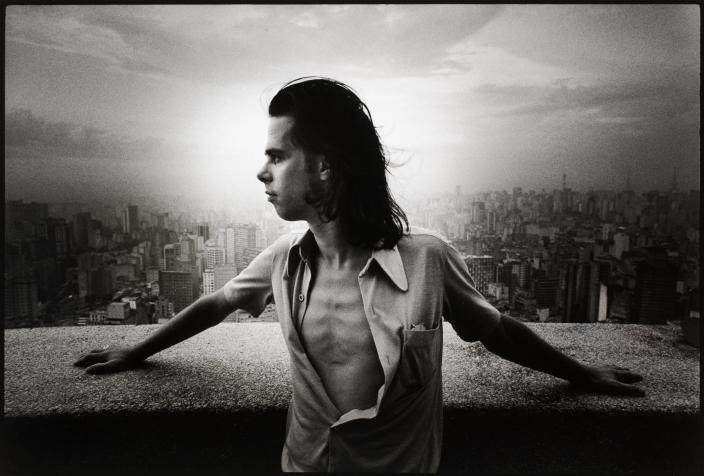 His riverboat gambler's upturned lyre moustache is now a shortened gunslinger's version. It's a look with some pedigree in '70s rock and roll, when musicians started looking like old sepia photographs. He could have been dropped with almost no embellishment into the 1880s Australian outback landscape of The Proposition, or he could have stepped into his part as a bar-room guitar balladeer in The Assassination of Jesse James by the Coward Robert Ford. Nick, in bowler hat, sang the ballad and wrote the film music with his long-time friend and collaborator Warren Ellis. When I suggested these musings on 'his look' to him, he dismissed them, saying, 'I'm no cowboy… I am the archetypal '70s man – and I dress accordingly'. My wife, who is a clothes designer, recalls asking him how he wanted his jacket to fit – what impression he wanted to make on stage. He replied, 'I just want to look like a big old spider.'
The Proposition
Almost everything I know about Nick Cave's work, his background, his tastes and his talent, seem to have come to fruition in his masterpiece of a screenplay for The Proposition and the music he wrote for it. He didn't believe he could write dialogue, let alone a screenplay, and turned down the initial suggestion of his friend, director John Hillcoat, that he write an outline. But there flowed from the first attempt a torrent of plot and dialogue, the sheer ease and quality of which shocked both men as page after page of writing emerged. Nick seemed to tap into some well-prepared source that was perfectly in tune with the utterly brutal world of the bushrangers and the their law-enforcing counterparts in late 19th-century Australia, an extreme brutality and violence that, many critics noticed, presented Australian audiences with a history they had never seen before.
And he was steeped in it. His lost and much missed father was an English teacher and a Ned Kelly obsessive, and Wangaratta, the Australian town in which Nick grew up, was 'Kelly country'. He wrote the screenplay in three weeks and it is, arguably, flawless – for pace, excitement and for an original story so evocative of time and place that it's hard at first to believe it came out of his imagination and not some real-life folktale of colonial and outlaw life in Australia.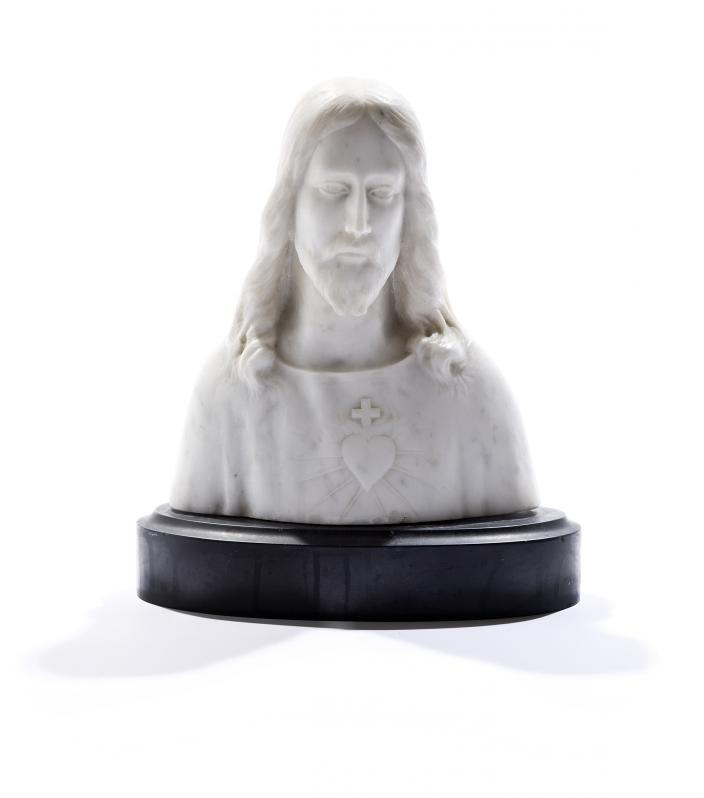 In places The Proposition even has the sorrowful duende about it that Nick looks for in love songs. His monsters have little flashes of humanity, sentimental love of family and a love of music that are perfectly believable alongside the rest of their behaviour. Like his songs, Nick Cave keeps close to the pull of the Australian landscape, which he uses as a second protagonist – with its huge power, with its 'nauseating sense of space', its blinding, brutal sun; it drives everyone mad in the end.
Nick has written another screenplay, soon to be shot, and set in Brighton, the UK seaside town where he currently lives. Alongside this, a novel, plays, theatre pieces, and hundred of songs have established him in the same company as Dylan, Cohen, Neil Young and Lou Reed – the first division of great songwriters. He's closer, in fact, to Thomas Hardy for the terminal sorrow and loss and yearning that he communicates so well – better than any of his contemporaries – in his love poems.
An education in the Bible and in sacred music
Cave had the luck to have a thorough education in the Bible and in sacred music through intense church attendance, which provided him with the richest mythology in the culture. The Psalms were his inspiration, and much else of the brutal prose of the Old Testament. 'The Psalms are soaked in saudade [inexplicable longing and yearning of the soul], drenched in duende and bathed in bloody-minded violence', Cave wrote sometime ago. It's a good description of the collected lyrics of Nick Cave and of his love songs. 'What is required of love songs is that they unveil the face of God,' he says. 'I believe the love song to be a sad song. It is the noise of sorrow itself. The love song is the light of God, deep down, blasting through our wounds.'
I witnessed a moment at the stage door of the Brixton Academy in London when a fan said to Nick, 'Hey man, you changed my life.' Nick nodded and thanked him. I can imagine a life being changed by looking at things, especially at love; through the Cave prism. It makes some sense of loss and bereavement and sadness – gives it saudade.
Glastonbury Encounter
At the Glastonbury Festival in Britain some time ago the performers' trailers were parked in a circle around a muddy field. Nick was standing in his doorway, smoking, when he saw what he thought was a roadie emerge from another trailer and appear to walk towards him, his hood pulled up against the rain. Only when he was close up and taken Nick by the hand and begun to shake it did he recognise Bob Dylan's face underneath the hood. 'Just like to say, I like what you do,' said Dylan. Paralysed in disbelief at being in this Rock Dream, Nick could only offer, 'I like what you do too'. A pause. Some silence.
Cave: 'Where are you going next?'
Dylan: 'Dunno.'
And there, what might have been a fruitful conversation between two poets ended in boot-staring silence. Bleddyn Butcher, Dylan fan and photographer, who was standing by, took a series of three pictures of the hooded man – only his nose giving away any indication of his identity.
'Well, this stuff happens,' Nick told me. 'Once I'd taken my kids to the circus and we had ringside seats and there was this clown carrying on, doing clown stuff, hauling members of the public into the ring and squirting them with water, and sure enough he starts walking towards me, flopping through the sawdust, in his funny shoes and orange hair – and I'm thinking, "Don't you come near me, you bastard." He gets to me, offers me his hand and says, "Just wanna say I love your new record."'
Nick Cave is prodigiously talented – and becoming more talented if that's possible. For a writer who deals in ferocious, visceral emotions, Nick appears as the most modest and genial of men, putting up to the world his serene surface calm. Nick Cave – the exhibition attempts to dig beneath that surface to discover the fierce genie that drives Nick's imagination and shows how he unbottles it.
James Fox, London 2007
Co-author of the book Nick Cave Stories