Echinoderms
Article | Updated 11 months ago
Feather stars, sea stars, brittle stars, sea urchins and sea cucumbers belong to the phylum Echinodermata, which means 'spiny skinned'. Animals of this group have an internal skeleton, which consists of plates or microscopic spicules that often bear spines.
Although animals that belong to this group may appear to be very different in appearance, they actually have similarities in their structure. All adults possess radial symmetry, which refers to their bodies being arranged around a central mouth. The bodies of these animals are usually divided into five sections.
Feather Stars
Feather stars (Class: Crinoidea) possess upward branching arms, giving them a cup-like appearance. The arms, similar to feathers in appearance, branch from a central disc and can range in number from five up to 200.
Small side branches on the arms, known as pinnules, possess slender, pointed tube feet, which trap food particles from the water. The food is then passed to a cilia lined groove that runs along the arms, where sticky mucus carries the particles to the mouth.
Adult feather stars are able to move around their environment, but are also able to cling to coral or sponges using structures known as cirri.
Feather stars are most common in relatively shallow, warm waters and below depths of about 200 metres feather stars are replaced by stalked forms, known as sea lilies. Feather stars are most abundant in areas with strong ocean currents as they rely on the current to bring them food.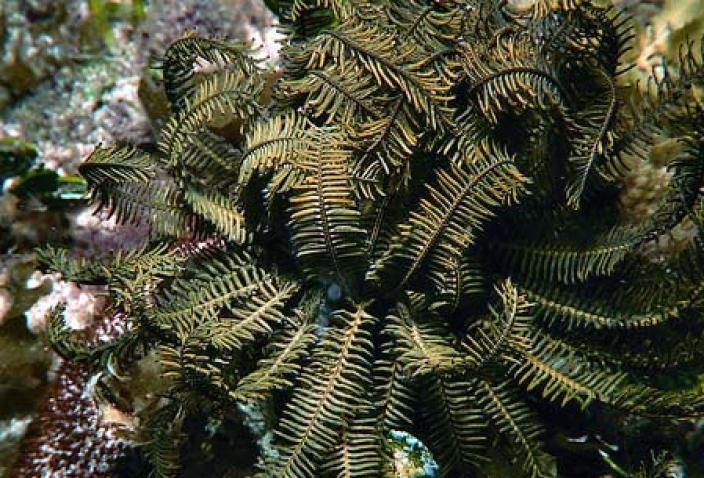 Sea Stars
Sea stars (Class: Asteroidea) generally take the shape of either a star or a pentagon, and typically have five arms. The upper body consists of a network of plates embedded in the flesh.
Most sea stars are scavengers or carnivores, feeding on sponges, sea anemones, corals, snails, crustaceans, worms, sea urchins, other sea stars, or even fish. Sea stars capture their prey using the tiny tube feet located on their underside. These tube feet usually possess suckers, which also aid in movement and securing the sea star to rocks etc.
Sea stars living on a sandy or muddy sea bed have pointed tube feet, which lack suckers, to aid in burrowing.
The arms of sea stars are able to bend and twist allowing them to move over uneven surfaces, grasp prey and right themselves if turned over. If one of these arms is lost or damaged, sea stars are able to re-grow them.
Certain species of sea star reproduce by dividing their body in half and the two halves pulling away from each other. These two halves will then regenerate the portions of their bodies that are missing.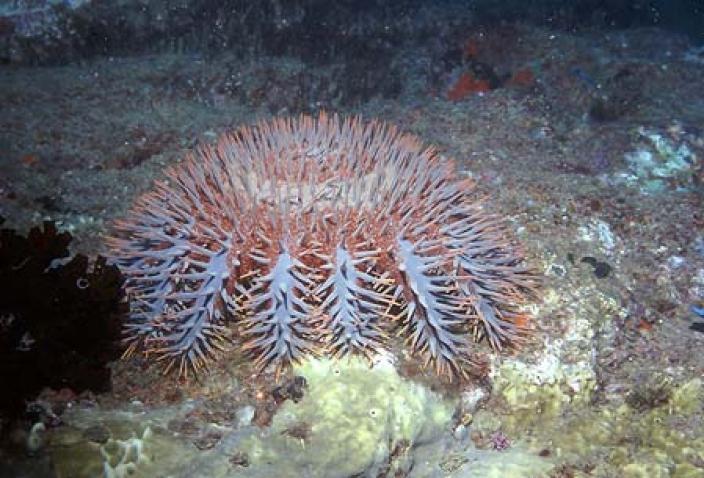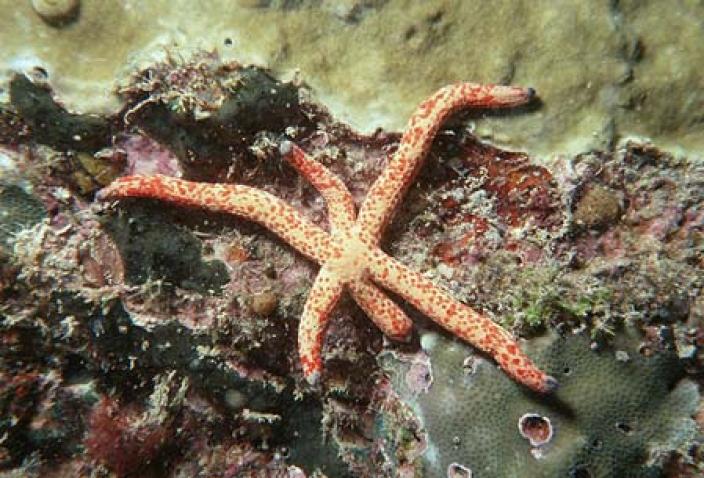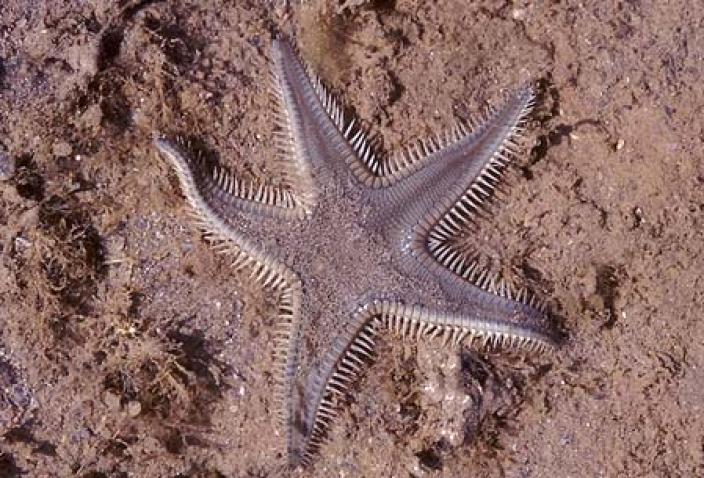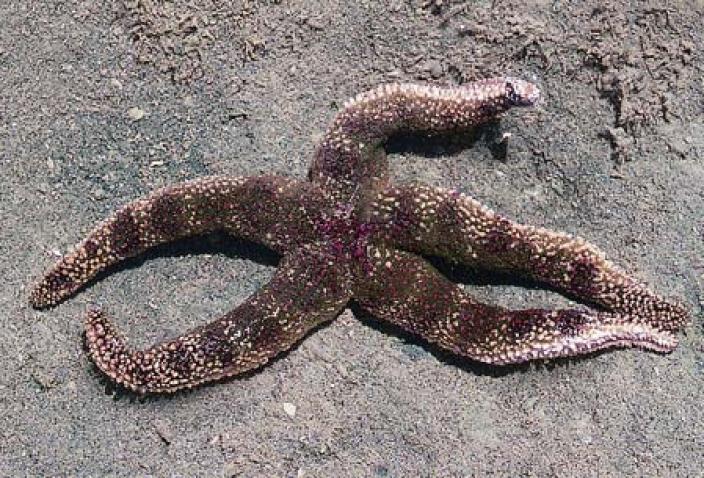 Brittle Stars
Brittle stars (Class: Ophiuroidea) differ from sea stars as they possess a distinct central disc, from which their arms extend. The tube feet on the arms of brittle stars are reduced and are generally used during feeding, but not for movement.
Brittle stars move around their environment by flexing their entire arm. If one of their arms is damaged or lost, it can be re-grown.
Some brittle stars are able to reproduce by dividing their central disc and growing the missing body parts.
Brittle stars are often found living in areas of soft sand or mud. However, some species live associated with other animals, such as inside sponges or clinging to feather stars and soft corals.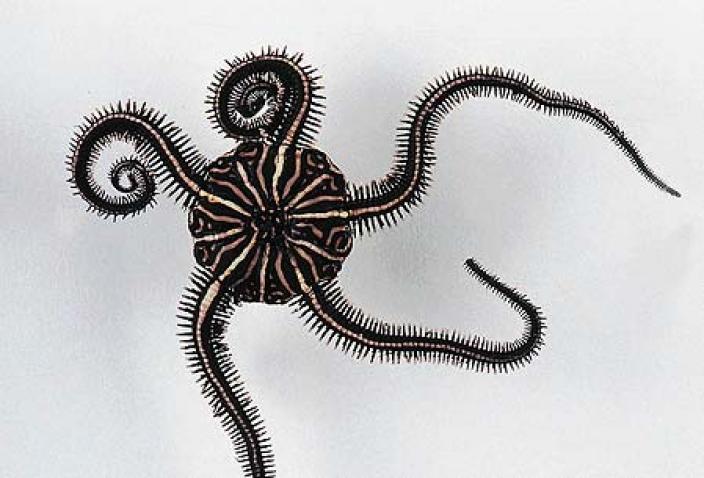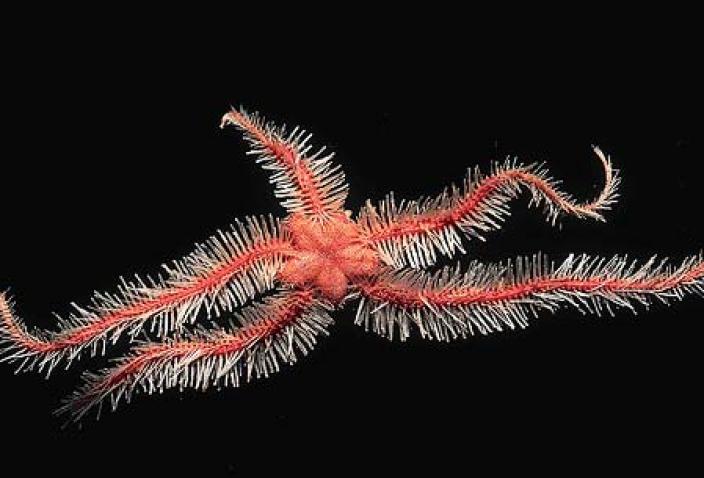 Sea Urchins
Sea urchins (Class: Echinoidea) possess many hard plates beneath their skin that form a hard protective shell, known as a test. This test remains intact once the animal dies and can often be found washed up on beaches. The spines that are visible in sea urchins grow out of this shell and stick out through their skin. These spines can be moved by the animal and, therefore, assist in defence, the capture of food, and for movement around their environment.
Sea urchins feed using an apparatus known as Aristotle's Lantern, which is comprised of five, self-sharpening teeth, which project toward the mouth. Sea urchins generally feed on decaying matter, but will also eat plant material and other animals.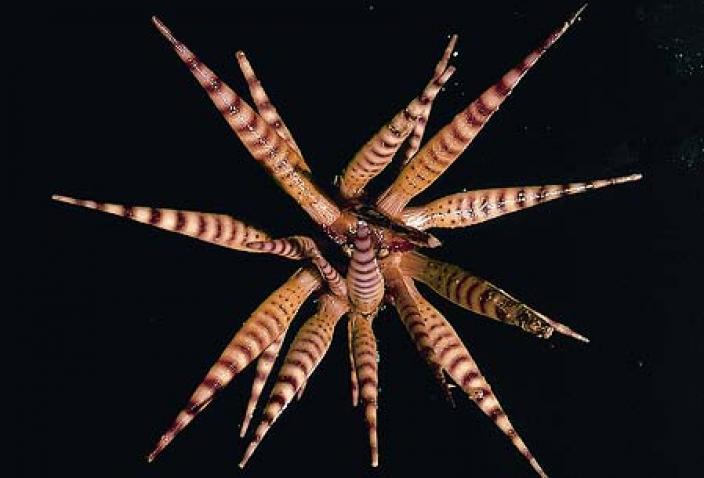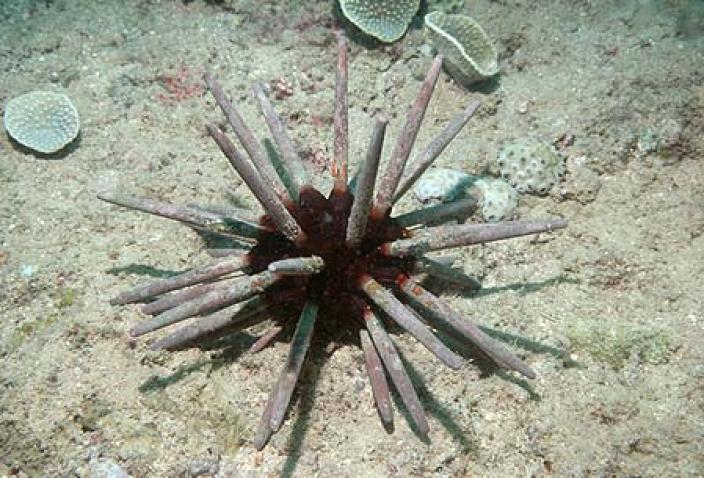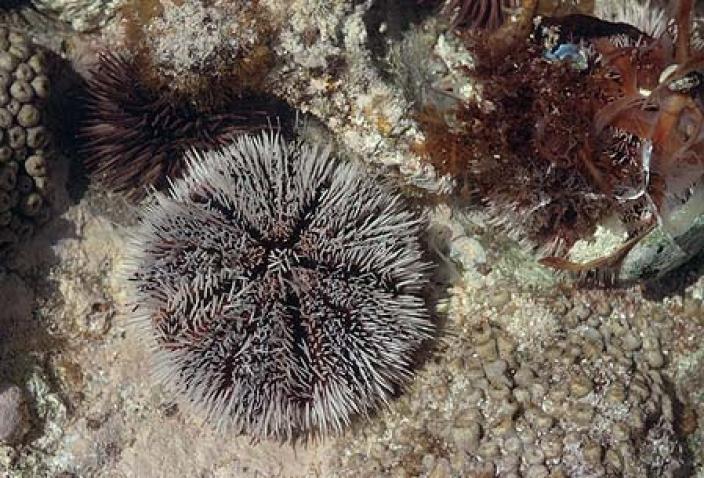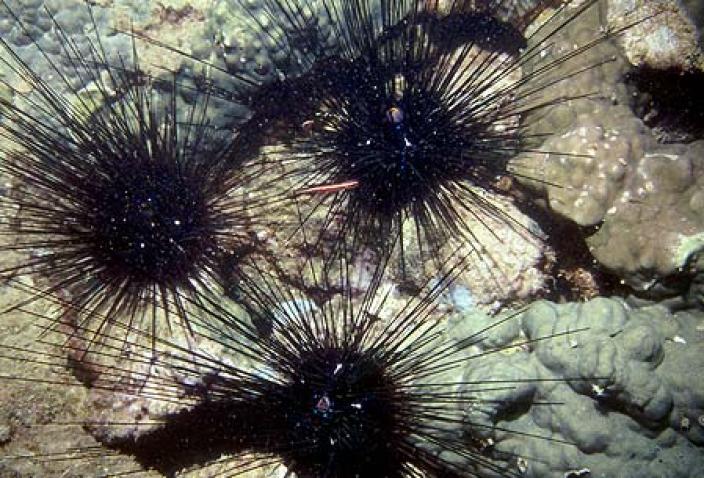 Sea Cucumbers
Sea cucumbers (Class: Holothuroidea) can generally be found living on the ocean floor, in crevices of rocks and corals, or burrowed in soft sand and mud. A few species can float around in the open ocean due to special structures that are similar to fins or sails.
While most sea cucumbers possess five bands of tube feet, those that run along the lower surface are used for locomotion. The spiny, hard skeleton seen in other echinoderms is reduced to microscopic spines.
Sea cucumbers feed on organic material found in sand and mud, or material they collect directly from the water. They collect their food by extending the tentacles that surround their mouth.