Crustaceans
Article | Updated 9 months ago
Familiar crustaceans include crabs, prawns, rock lobsters, the slaters seen in gardens and the barnacles found on rocks along the shore. Crustaceans belong to the phylum Arthropoda, a large group of animals that also includes the insects and the spiders. Members of this group all possess a segmented body and a hard outer covering, known as an exoskeleton. Crustaceans differ from other animals in this group as they possess two pairs of antennae.
The exoskeleton of a crustacean is not very flexible and, therefore, restricts the size of the animal. To continue growing crustaceans must moult their shell. During moulting the animal discards its old shell, allowing the animal to increase in size before the new shell hardens. This is a dangerous time for a crustacean as without its hard exterior it is vulnerable to predation.
Generally all crustaceans possess a head, abdomen and tail, but shape varies enormously within the group. In fact, crustaceans are unequalled by any other group of animals in their diversity of body shape.
Crustaceans may be carnivores, herbivores and scavengers. Most are mobile and either swim or walk but some, barnacles for example, are sessile and do not move once they have settled onto a surface.
Crustaceans provide a wide range of other marine organisms with a source of food, as well as being a popular food item among humans.
Painted Rock Lobster
The Painted Rock Lobster is easily recognisable from other lobster species by its distinctive colours. This species is generally green-blue with a very dark blue-black and white pattern on the carapace, while the abdomen and legs are banded by white stripes. The antennae are black with pink bases.
Members of this species can grow to a total length of ~400 mm. The Painted Rock Lobster can be found inhabiting coral reefs up to a depth of 16 m. Like other lobsters, members of this species will tend to hide in overhangs and crevices of reefs to avoid predators.
This species is found from North West Cape in Western Australia, across the northern coast of Australia to mid-coastal Queensland in the east.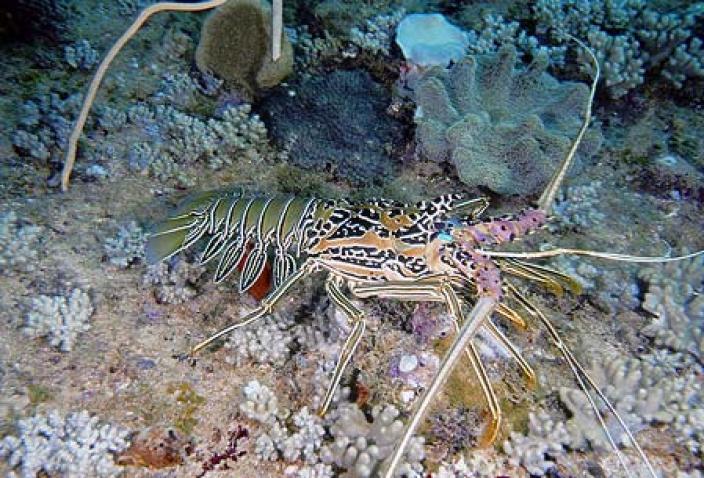 "Darwin Red Legs" Fiddler Crab
This particular species of fiddler crab, which possess a black carapace and bright orange-red claws, can grow to a width of 35 mm. The females possess two small claws, while in males one claw is enormously enlarged. This larger claw is used during courtship and combat.
This distinctive fiddler crab inhabits muddy shore lines and can also be found among mangroves. The species has a distribution ranging from Mangrove Bay (near Exmouth), Western Australia and along the north-western coast to the Northern Territory.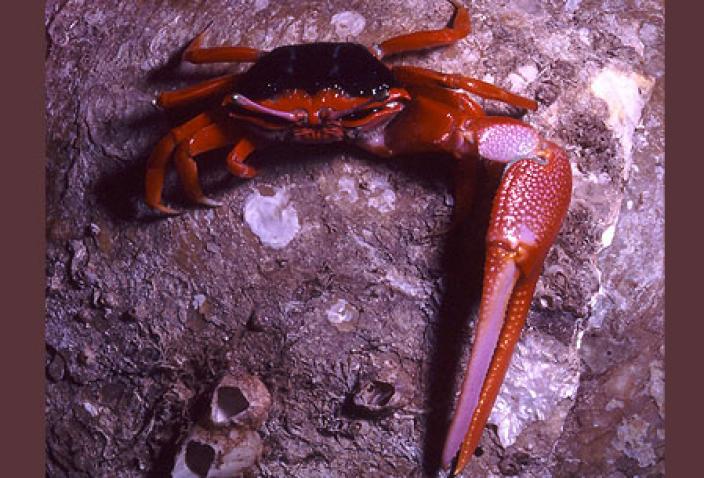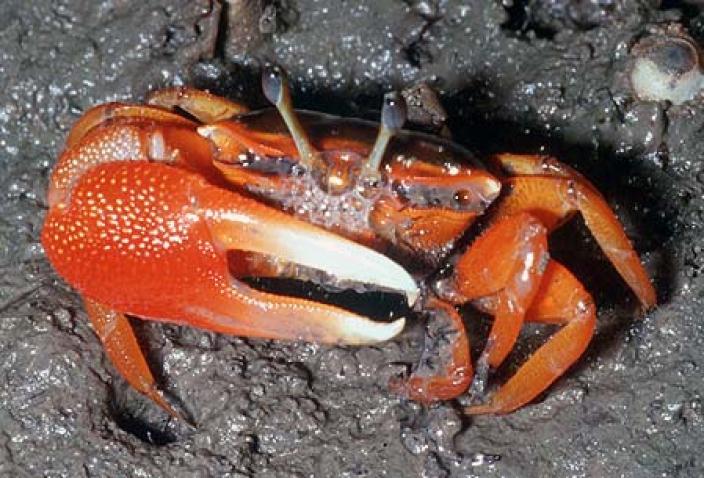 Notched Swimmer Crab
Thalamita crenata ranges in colour from blue, green and black, and may be mottled on the carapace. The carapace also has distinct notches along its edges. The crabs grow to a maximum size of ~100 mm in width.
This species possess relatively large claws that are used for defence and the capture of prey, such as molluscs and other crabs. The last segment of the hind legs is flattened into a paddle, giving this crab the ability to swim.
These crabs can be found living either underwater or along shorelines. Thalamita crenata is found widely throughout Australia and the Indo-West Pacific region.
In the Dampier Archipelago these crabs are found associated with mangroves.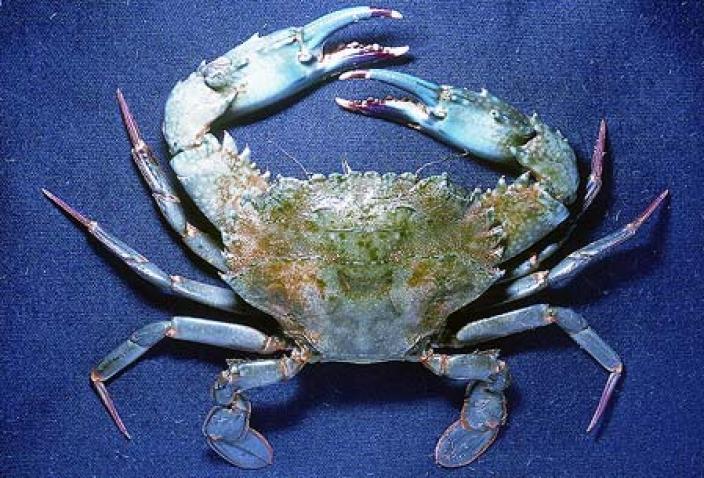 Banded Cleaner Shrimp
The Banded Cleaner Shrimp is recognised by the obvious red and white bands on its body and third pair of legs. These shrimp can grow to a length of 90 mm, with the females growing much larger than the males.
Banded Cleaner Shrimps live under ledges and in the crevices of coral and rocky reefs. Their common name referes to the behaviour of cleaning dead tissue and parasites from the exterior, gills and mouths of fishes.
Banded Cleaner Shrimps are found throughout the Indo-West Pacific region. In Australia, the species occurs from Rottnest Island, Western Australia, across northern Australia and down the eastern coast to southern New South Wales.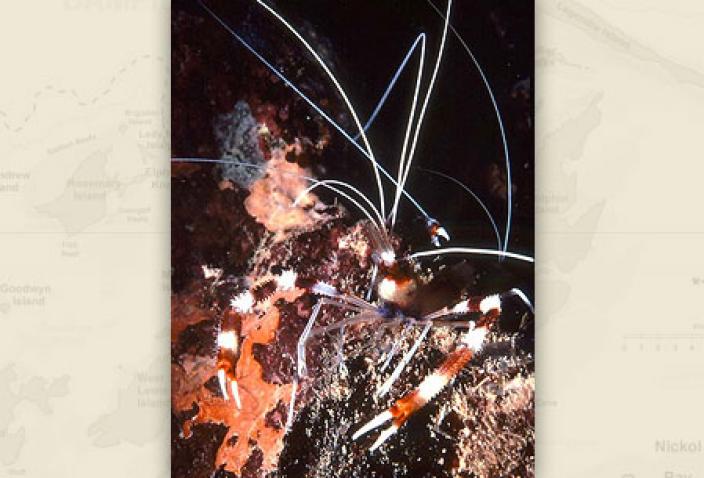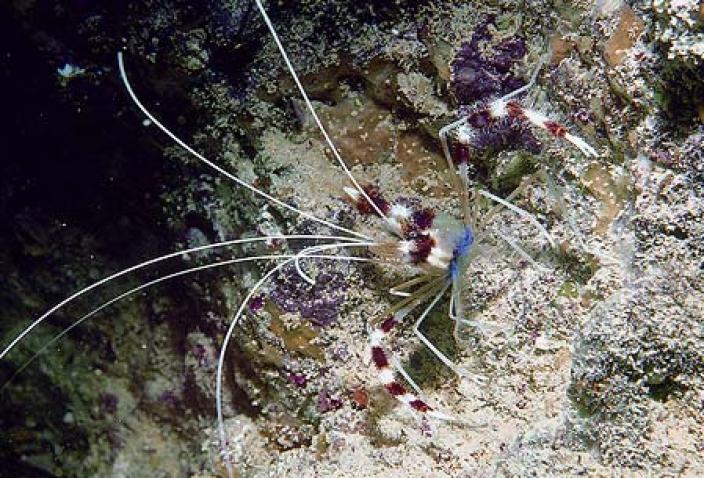 Mangrove Lobster
Thalassina squamifera inhabits the mud flats near or among mangroves. The lobsters are rarely seen as they are predominantly nocturnal.
They live in a network of burrows that can extend to a depth of two metres. Generally, the entrance to their burrow is surrounded by a mound of mud that has been excavated during burrowing.
Thalassina squamifera range in colour from pale to medium brown, to brown-green, and their carapaces can grow to 60 mm.
These crustaceans are found across northern Australia, from Western Australia to Queensland.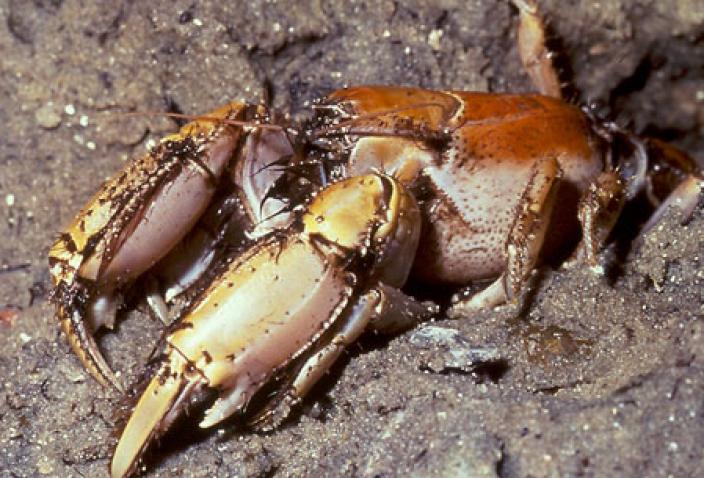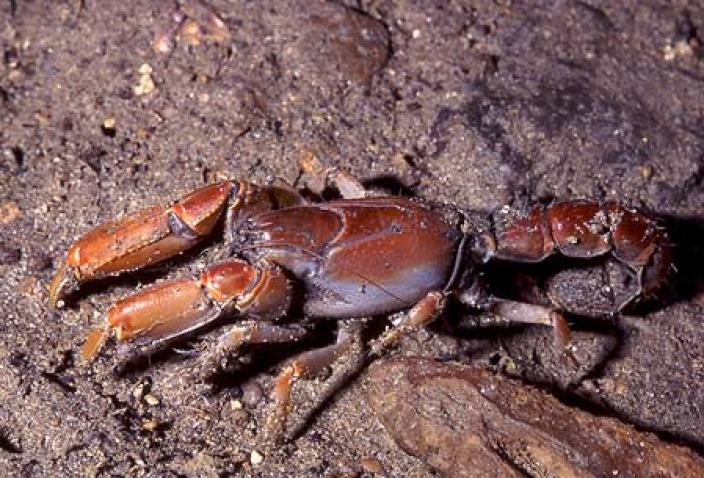 Triangular Barnacle
This species of barnacle can be distinguished by its six deep pink plates with white ribs and the presence of a triangular opening. Balanus trigonus grows to a height of 15 mm and a diameter of 20 mm, which makes it relatively small compared to other barnacle species (e.g. Megabalanus tintinnabulum).
This species is generally found in areas that are constantly underwater, unlike many other barnacles which inhabit areas that are exposed to air for a period of the day. Balanus trigonus attaches to a variety of hard surfaces (e.g. rock, wood, mollusc shells) and has been found associated with mussels and oysters, or attached to crabs and the bases of kelp.
It is often found attached to man-made structures, including the hulls of boats, ropes and wharf pilings, and is a known 'fouling' species. Fouling is a major issue in shipping as organisms that attach to the hulls of ships increase the amount of drag, leading to a decrease in the vessel's fuel efficiency.
This species of barnacle is widespread throughout Australia and overseas.