News | Created 6 Sep 2010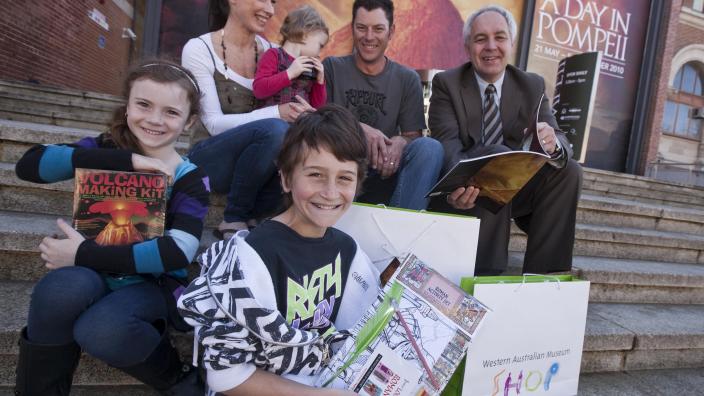 A Bunbury mother has become the 100,000th visitor to A Day in Pompeii – now officially the WA Museum's most popular exhibition!
Annie Hutton and her husband Curtis packed their three children into the car and made the trip from Bunbury, specifically to see the exhibition and take in some city shopping.
"My six year old daughter, Ella and I came up a couple of weeks ago to see A Day in Pompeii and loved it so much we wanted to bring the rest of the family back," said Annie, who was delighted to hear she had helped the Museum reach the milestone. "It was certainly worth the drive!"
"Ella was especially taken by the 3D animation and the plaster body casts, which gave a real human sense to the exhibition. It's amazing when you think about a day in your own life in comparison to life back then.
"I'm currently studying education and A Day in Pompeii is a great opportunity to take them out of their own little worlds for a while. As well as being a visually fascinating exhibition, there are great educational aspects which are really important too."
To mark the occasion, WA Museum CEO Alec Coles presented the Huttons with a special A Day in Pompeii gift bag, packed with goodies for people of all ages from the Museum's Old Gaol Shop.
Mr Coles congratulated the Huttons on being part of an exciting milestone for the WA Museum.
"The response to A Day in Pompeii has been tremendous and we are thrilled that people from all over the State have been able to enjoy such a unique experience," he said.
There is less than a week to go before A Day in Pompeii closes in Perth and leaves the country.
The exhibition is showing at the WA Museum – Perth every day this week, until Sunday September 12, 2010 with a late night opening until 9pm this Friday 10 September, 2010.
Tickets are available through BOCS Ticketing or from the A Day in Pompeii ticketing desk at the WA Museum.
A Day in Pompeii is presented by the Western Australian Museum and Eventscorp and exhibited by the Soprintendenza Speciale per i Beni Archeologici di Napoli e Pompei (SANP) and Museum Victoria.
Marie Mills or Nicola Howarth
Mills Wilson Communication Consultants
Tel: 9228 1999
Mob: 0418 918 202 or 0433 445 996
mariem@millswilson.com.au or nicolah@millswilson.com.au