SS Xantho
Background
SS Xantho was built in 1848 as a paddle steamer by the Denny Shipbuilding Company for use in Scottish waters.
In early 1871 PS Xantho was sold to the 'metal merchant' Robert Stewart of Glasgow, who replaced the paddle engines with a second-hand Crimean War-era two-cylinder, non-condensing trunk engine built (or assembled) in 1861 by John Penn.
The Crimean War type gunboat engine and those built to the same design in the ensuing years were the first high-pressure, high-revolution and mass-produced engines made for use at sea. The type also used Sir Joseph Whitworth's Standard Thread throughout, allowing for interchangeability of parts.
The refurbished, schooner-rigged SS Xantho was offered for sale in October 1871 apparently with an eye to the fresh water rivers in Europe, but and was purchased by Broadhurst for use on the coast of Western Australia.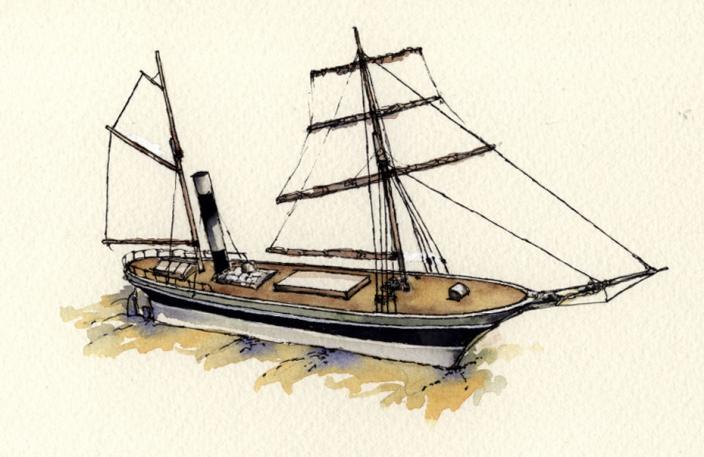 The SS Xantho serving the north and the mid-west
Xantho was brought to Western Australia via the Suez Canal and the 'Straits Settlements' for use as a transport for both pearl shell and indentured 'Malay' divers, and also as a mother vessel for pearling operations. Xantho was also taking whatever cargoes and passengers it could. In that role it effectively operated as a 'tramp steamer' and became Western Australia's first coastal steamship. (Les Trois Amis, a predecessor was primarily a river steamer).
Xantho subsequently made two round trips between Fremantle, Batavia (now Jakarta), Geraldton and Broadhurst's pearling camps at Port Hedland and Banningarra (on Pardoo Station). There he established camps for his 'Malay' divers. Xantho also transported a number of northwest Aboriginal men from the Aboriginal prison at Rottnest Island back to their home near Cossack and Roebourne.
We now know (though we did not realize it until a few years ago) that Broadhurst did not use Xantho as a full-time steamer. He used the engine solely to enable it to sail into difficult harbours and against wind and tide, or when close to Champion Bay or Fremantle Broadhurst fired up the boilers to impress officials and a populous desperate for regular steam transport.
The cry a 'steamer at last!' followed his arrival at Champion Bay (Geraldton). In seeing yet another business opportunity, Broadhurst hoped to use Xantho as a lever to obtain the very lucrative concession to operate a properly-engineered steamer to a timetable on the coast.
In late 1871 when the family photograph was taken (found on Broadhurst family page), Charles had just arrived at Fremantle from Britain in the Xantho via the Suez Canal, Singapore, Batavia (Jakarta) and his pearling bases on the north-west coast. Xantho was the first streamer bound for Fremantle to use the Suez Canal. Xantho also carried passengers and trade goods when not used in the pearling industry and to import indentured 'Malay's', which proved essential due to the decrease in the number of Aborigines through disease and maltreatment. In contrast to the others working nearby, Broadhurst's 'Malays' proved 'useless' as divers.
Leaving them under his manager, Broadhurst carried on down the coast arriving at Champion Bay where there was enormous excitement at seeing the little steamer appear in the harbour under a cloud of steam and smoke. His arrival to great public acclaim was reflective of the fact that steam transport was so late in arriving on the shores of Western Australia compared with places like Timor which had experienced the luxury of a regular steamship service for half a century.
Xantho and the mid-west mining industry
Broadhurst then went down to Fremantle and arrived home to the news that their son Ernest had died at just 11 months old, however, this did not prevent him quickly heading back north to try and secure the family's fortunes. Headed for his pearling base at Banningarra (now Pardoo Station east of Port Hedland), he embarked passengers, a police constable, his Aboriginal aide, four Aboriginal prisoners and an assorted cargo of spirits, tobacco, rams, potatoes, timber and roofing shingles for various ports en route. They then sailed onto Batavia where Broadhurst improved the vessel's accommodation, replenished his coal supplies and loaded up with more 'Malays' and saleable goods for the return journey to his pearling bases. After a while at his pearling base they left for another voyage back down the coast.
In November 1872 soon after their arrival back in Geraldton, Broadhurst heard of a profitable sideline and and took the ship back a short distance north to nearby Port Gregory to load a cargo of lead ore (galena) from the nearby Geraldine Mine. It was to be a 'paying ballast' for the sailing ship Zephyr then at anchor in Geraldton loading wool. Though initially intended as the main harbour for the entire area, Port Gregory experienced a very strong current and was notoriously dangerous for sailing vessels. Many were lost and sailing masters generally avoided its cramped waterways, even though they prized the heavy lead ore as a paying ballast.
Xantho sinks
Overloaded, its hull badly corroded and its deck planking opened by the tropical sun, Xantho began to take on water on the way down the coast. After returning to Port Gregory in a sinking condition its forward section flooded, Xantho struck a sandbar. Water flowed back through three supposedly water tight bulkheads and put out the fires. The pumps stopped and the ship sank. Broadhurst's crew were abandoned, and the 'Malays' crew were left destitute wandering around Geraldton. This created an uproar and Broadhurst was again severely criticised in the press.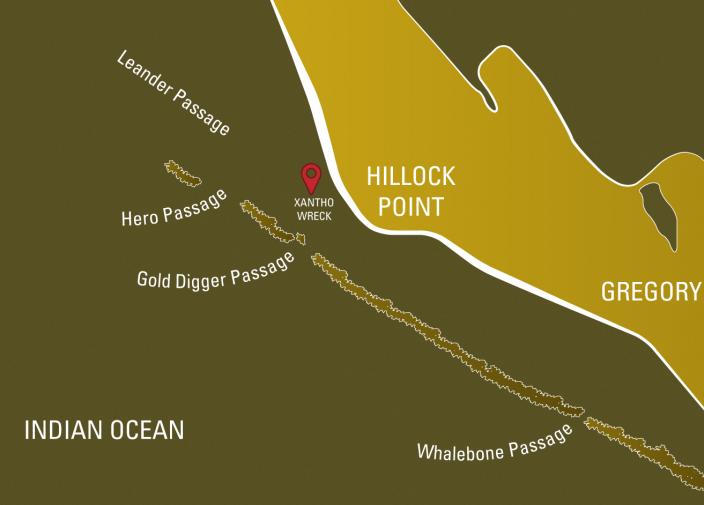 Book page | Updated 4 years ago