The Broadhurst Family
The Broadhursts, were clearly an extraordinary group.
Charles Broadhurst, (younger son of the vastly rich Tootal Broadhurst Lee and Co. Manchester textile merchants) was sent from England to join his elder brother's family of 'squatters' at Kilmore north of Melbourne on a vast acreage. He marries, purchases land of his own, and exports horses to India.
Though capable and hardworking, Broadhurst first exhibits his propensity for grand schemes by joining the Melbourne-based Denison Plains Pastoral Company. It planned to land at Camden Harbour in the Kimberley region (where another Melbourne-based company had just arrived) and then travel overland to settle what were reported as vast plains of grass and large fresh water lakes near present-day Halls Creek.
In 1865, Broadhurst and his seven-month pregnant wife, Irish-woman Eliza Broadhurst (nee Howes), and their two young sons, Florance and Charles, left Melbourne for the north west, hopeful as were many others, of taking advantage of the generous land settlement schemes then being promulgated by the colonial government.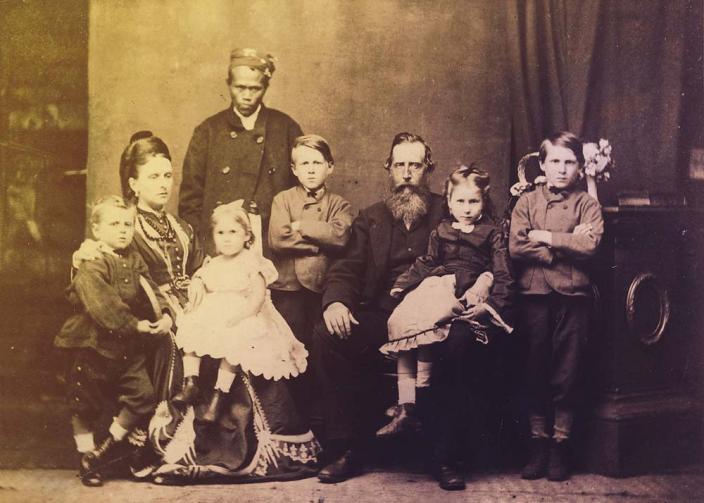 Pastoralists in the north west
After 1862 any individual who landed 200 sheep or 20 horses or 20 cattle in the 'North district' of Western Australia (as the area north of the Murchison River was then called) was entitled to 100,000 acres rent free for 8 years. A number of private groups and companies were formed in order to take advantage of these new regulations. The grandest of them all, the Camden Harbour and Denison Plains companies, were to open a new gateway to Australia via Camden Harbour, the Denison plains and an overland telegraph and pastoral station link to Stuart's new route from Adelaide to (soon-to-be-established) Darwin. Both companies were doomed to failure when droughts inevitably came.
After learning of the collapse of the Camden Harbour settlement the Denison Plains Company decided to land at the new settlement at Roebuck Bay (the Broome area) but due to adverse winds, were forced to land instead at Nickol Bay (later known as Cossack). There were number of settlers who had already landed and for a while they were welcomed by the Indigenous inhabitants. As is normal in Australia, the good seasons were followed by drought, and beset with difficulties the company failed in contentious circumstances. Broadhurst, as its leader in the field was blamed for the collapse. This was his first failure and he became notorious in the colony because of it.
Based inland at what later became the town of Roebourne, Broadhurst was appointed a JP despite the controversies surrounding the collapse. For a while he was acting Resident Magistrate. He also became a prominent pastoralist in the region, retaining the lease to land around Miaree Pool. This became the Karratha Pastoral Station.
An early pearler: Broadhurst pioneers the 'hard hat'
While the rest of the family went south in 1867, Broadhurst remained and went pearling, utilising the services of local Aboriginal people in an industry noted for its brutality and for the decimation of the population through disease and maltreatment. Initially the Aborigines did not dive (they harvested shell at low water spring tides) and it was not until August 1868 that they are noted as doing so. This process is called 'naked diving' i.e. without any aids at all. The Aborigines soon became noted as excellent divers.
'The powers of the natives in diving, especially the females, are spoken of as something wonderful. They go down to depths of 7 fathoms [c.13m] and remain below a time that astonishes their white employers.' Perth Gazette 25/9/1868.
For unknown reasons, while others proved hugely successful, Broadhurst's Aboriginal divers did not do well at all.
Hard working and travelling far and wide in search of shell, in partnership with colonial identities Dempster, Barker and Gull, he also pioneered 'diving apparatus' (hard hat) 20 years ahead of its time. After anchoring in the Flying Foam Passage with its strong currents and prolific shell, their diver is strung out (despite his heavy gear and lead boots) and their pearling attempt is soon abandoned. There was much to learn before diving methods and boats were successfully adapted for the vast north west tidal ranges and Broadhurst's experiment with the 'hard hat' proved another failure for him.
He also unsuccessfully tried Aboriginal convicts from Rottnest Island as divers, but many absconded en route and the others proved unsuccessful. He was then joined by another Melbourne pearler (Mr Hughan) and ranged far and wide in search of shell using naked diving and the hard hat together. Hughan appeared to be experimenting with the Aerophore, a fore-runner to the SCUBA system.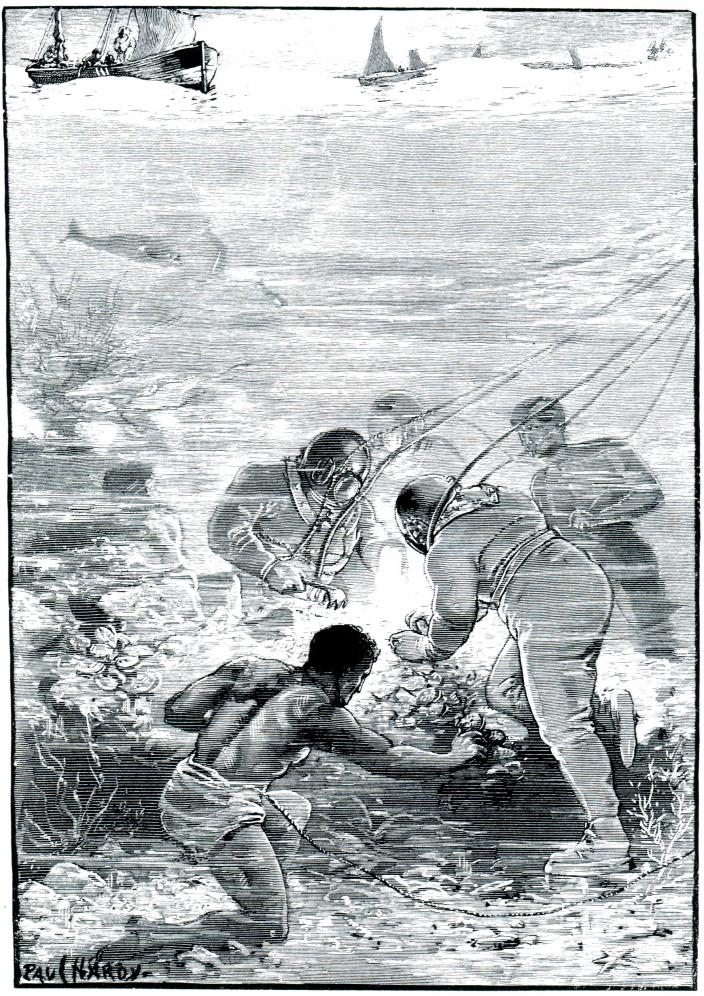 He was away from his family almost continually after they left the north, and in 1871 he went to England with plans to introduce more 'labour and capital' to the pearling industry and to attend the marriage of his sister Mary Louisa to the then famous Sir Joseph Whitworth. From there he went on to another sister's funeral in Glasgow where he brought the SS Xantho, the first steamship used in the industry, to Western Australia.
At the same time he also introduces 'Malay's (as the people inhabiting the islands to Australians north were then generally, but incorrectly, known) as indentured (paid) labourers and divers, bringing over 140 down in the SS Xantho. While others succeed with the 'Malays', again Broadhurst's divers fail. One of them, apparently brought down as a servant, appears in the family photo above. The death of their child Ernest Edward two months earlier aged only 11 months is reflected in the sombre mood of the family group.
Eliza Broadhurst: a most extraordinary woman
Irish-woman Eliza Broadhurst (nee Howes) was a teacher and musician in Victoria. Her mother died in childbirth and her father, a headmaster, later remarried. One of many children, Eliza looks after a large growing brood. She then marries into the very successful Broadhurst family at Kilmore.
Strong-willed and determined to make the best of her decision to follow Charles to Camden Harbour and the Denison Plains, Eliza refused to go without her piano. (WAM was since donated one of her music book..Mendelsohn.. Lieder ohne Worte 'Song without words' by the Broadhurst family). With the other women and children of the Denison Plains Company, she lands at what later becomes Cossack and later, after establishing themselves at Miaree Pool, they move in to a growing European settlement surrounding Withnell's aptly-named Mt Welcome Station and build a home.
The Europeans in the district flocked to the Broadhurst's hut (one of the first built), for Eliza became well-known for her social graces, singing voice and finesse on the piano. Although there were cyclones and pestilences, they survive, and there were social events, card games, chess etc. At this time, she also gave birth to Sarah, (the first European girl born in the north of Western Australia— shown in the image at the top of this page sitting on her father's knee) and then her brother Percy (on the left in the photo).
As an educated and elegant couple in the harsh north-west, together with the Withnell family, they formed a recognised focus for European society in the north. The growing settlement at Withnell's Mt Welcome Station soon become the town of Roebourne.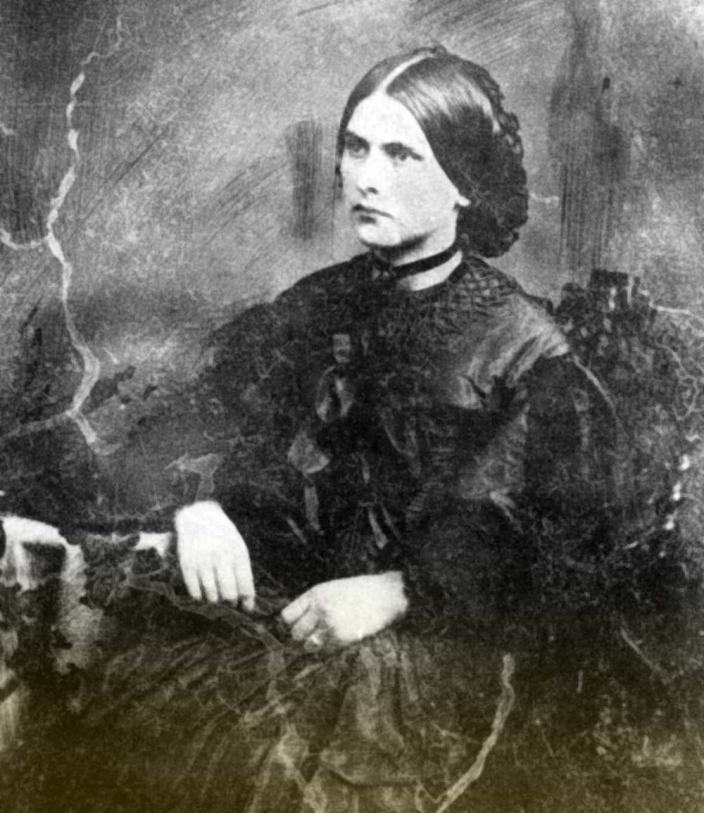 After enduring a series of droughts and great hardship, and after the Emma tragedy in which over one third of the entire European population of the North west was lost, she and the children left in 1867.
While Charles was away and continually failing in all his entrepreneurial activities, she kept the family finances together by opening a day and boarding school in Perth and teaching music, maths, English and languages to children and adults. Eliza then gave birth to Katherine (the little girl in the white dress on her mother's knee in the family portrait).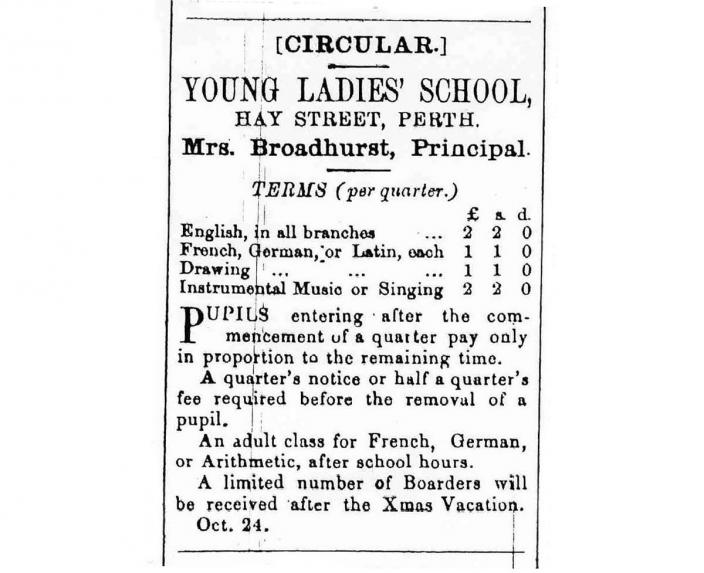 She is noted in contemporary diaries as being hard worked and 'nearly fagged out' in her exertions, but was also a leading figure in drama and music circles, and her home became a haven and meeting place for the young society women of Perth.
Her scrapbook—donated amongst other things (including a suffragette badge) by Jenny Davies of the modern Broadhurst family— shows that while she had the usual interests of women of that time she was also reading the feminist literature from Europe and was questioning contemporary social attitudes and customs.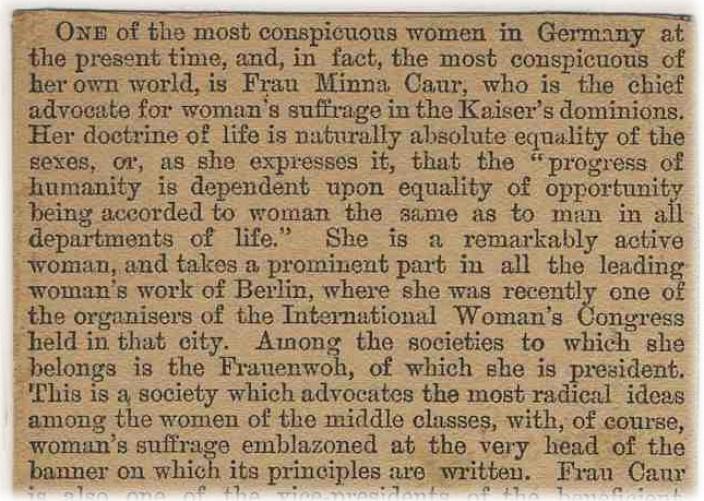 Book page | Updated 2 years ago