Yirra Yaakin – Kaarla Kaatijin
Special Event | Updated 5 years ago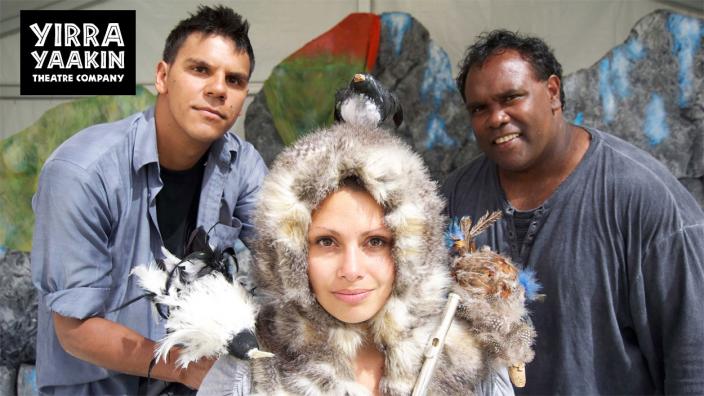 Yirra Yaakin present a season of Kaarla Kaatijin during the 2013 April school holidays: 22 April – 3 May 2013.
Kaarla Kaatijin (Noongar translation 'to understand fire') is a theatre production, suitable for families with children aged four (4) plus. Performances involve four (4) actors and a variety of musical instruments.
KAARLA KAATIJIN (which in Noongar means 'to understand fire') is the first story in a trilogy of productions centred around Noongar language and culture. The story follows the plight of the birds and animals of the land suffering an endless, icy winter. Together they undertake a dangerous and brave mission to catch 'Kaarla' (fire) and bring it back to warm the land once more. Rich in storytelling and beautifully written characters, KAARLA KAATIJIN builds on Yirra Yaakin's excellent reputation for high quality Indigenous theatre for young people. Backed by live music, this enchanting Western Australian story celebrates local culture and heritage in a refreshingly youthful and vibrant way.
Ticket prices:
$15.00 adults
$12.50 children
$12.50 adult concession
$48.00 family (2 adults, 2 children)
Groups: $10 per person, 20 or more (advance bookings only)
Dates: 10.30am and 12.30pm from 22 April - 3 May, 2013 (no weekend or ANZAC day performances)
Show length: Running time 50 minutes (no interval)
Bookings: book online using the calendar below or call 1300 134 081.
For more information about Yirra Yaakin Theatre Company and their upcoming productions please visit www.yirrayaakin.com.au
Performance calendar
22 April – 3 May 2013
Mon 22 Apr 2013 – Wed 24 Apr 2013

10:30am – 12:30pm

Fri 26 Apr 2013

10:30am – 12:30pm

Mon 29 Apr 2013 – Fri 3 May 2013

10:30am – 12:30pm