Hartog & de Vlamingh
Dirk Hartog
The Dutch explorer Dirk Hartog in 1616 made one of the first recorded landfalls by a European on the West Australian coastline. To record his visit for posterity, Hartog and the crew from the Dutch ship Eendracht (Unity), left a flattened, engraved pewter plate nailed to a wooden post before continuing their journey to Bantam. Leaving material reminders of visitations was continued by later explorers, including Willem de Vlamingh who produced the first detailed map of the region. Hartog's plate serves as proof of the first recorded landfall of a European on the coast of Australia.
His landfall heralded the beginning of a series of explorations by Dutch, English and French navigators, many of whom called at Shark Bay and charted its waters. Significantly, the stretch of coast that Hartog discovered with the Eendracht was entered in the files of the VOC (Vereenigde Oostindische Companie) as the 'Land of the Eendracht', a name used by cartographers, such as Hessel Gerritsz on his outline chart of 1627.
Hartog's pewter plate message was found and taken to Batavia (Jakarta) by Willem de Vlamingh in 1697.
"1616 DEN 25 OCTOBER IS HIER AEN GECOMEN HET SCHIP DEENDRAGHT VAN AMSTERDAM DE OPPERKOPMAN GILLIS MIBAIS VAN LVIK SCHIPPER DIRCK HATICHS VAN AMSTERDAM DE 27 DITO TE SEIL GEGHM NA BANTVM DE ONDERKOPMAN JAN STINS DE OPPERSTVIERMAN PIETER DOOKES VAN BIL ANNO 1616"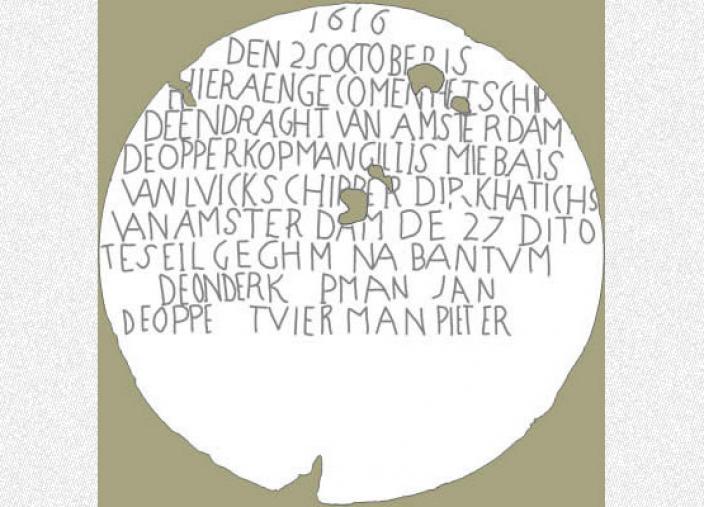 Translation: "1616 THE 25 OCTOBER IS HERE ARRIVED THE SHIP EENDRAGHT OF AMSTERDAM THE UPPERMERCHANT GILLIS MIEBAIS OF LIEGE SKIPPER DIRCK HATICHS OF AMSTERDAM. THE 27 DITTO (we) SET SAIL FOR BANTUM THE UNDERMERCHANT JAN STINS, THE FIRST MATE PIETER DOOKES VAN BIL. ANNO 1616"
Willem de Vlamingh
In 1697, Willem de Vlamingh, sailing on the Geelvinck (Yellow Finch) was given specific instructions to leave pewter plates as landmarks for his voyage of discovery to the west coast of the Southland. It appears that de Vlamingh erected a variety of signs and messages on islands and places he visited, some merely being posts with an inscribed 'board' or 'tablet'. None of these signs has been recovered, which makes the pewter plate that he left at Cape Inscription of special significance.
On the 2nd February 1697, his upper-steersman (first mate), Michiel Bloem of Bremen, discovered Hartog's plate and took it on board. The wooden post it had been attached to was nearly decayed but still standing upright, and the plate was still lying near it. Recognising the historic value of the plate, and its inherent proof of the 'daring spirit of his ancestors,' de Vlamingh chose to take the plate and deliver it to the Dutch authorities in Batavia (Jakarta);
"This old dish which skipper Willem de Vlamingh brought us, has now likewise been handed to the Commander [of the fleet with which this letter was sent to the Netherlands] in order to be delivered to Your Worships, who will no doubt stand amazed that the same has for so long a series of years been preserved in spite of its being exposed to the influence of sky, rain and sun."
Before departing from Turtle Bay on 12th February 1697, de Vlamingh also had a pewter plate flattened and inscribed with the text from Hartog's plate and details of his own voyage. Including Hartog's message with his own changed the nature of the plate from one of being a message (as were his instructions) into a mark of honour commemorating this historic place. So the two plates, despite looking very similar, had different meanings at the time they were created.

De Vlamingh's plate was nailed to a post and erected in the same place where the Eendracht plate had been found.
"1616 DEN 25 OCTOBER IS HIER AEN GECOMEN HET SCHIP D EENDRAGHT VAN AMSTERDAM DE OPPERKOPMAN GIL LES MIEBAIS VAN LVCK SCHIPPER DIRCK HATICHS VAN AMSTERDAM DE 27 DITO TE SEILGEGHN NA BAN TVM DE ONDERCOEPMAN JAN STINS DE OPPERSTVIER MAN PIETER DOOKES VAN BIL ANNO 1616.

1697 DEN 4 FEBREVARY IS HIER AEN GEKOMEN HETSCHIP DE GEELVINCK VOOR AMSTERDAM DEN COMANDER ENT SCHIP PER WILLEM DE VLAMINGH VAN VLIELANDT ADSISTENT JOAN NES BREMER VAN COPPENHAGEN OPPERSTVIERMAN MICHIL BLOEM VANT STICHT BREMEN DE HOECKER DE NYPTANGH SCHIPPER GERRIT COLAART VAN AMSTERDAM ADSIST THEO DORIS HEIRMANS VAN DITO OPPERSTIERMAN GER RIT GERITSEN VAN BREMEN TE GALJOOT HET WEESELTIE GESAGH HEBBER CORNELIS DE VLAMINGH VAN VLIELANDT STVIERMAN COERT GERRITSEN VAN BREMEN EN VAN HIER GEZEYLT MET ONSE VLOT DEN VOORTSHET ZVYDLANDT VERDER TE ONDERSOECKEN ENGE DIS TINEERT VOOR BATAVIA #12 VOC."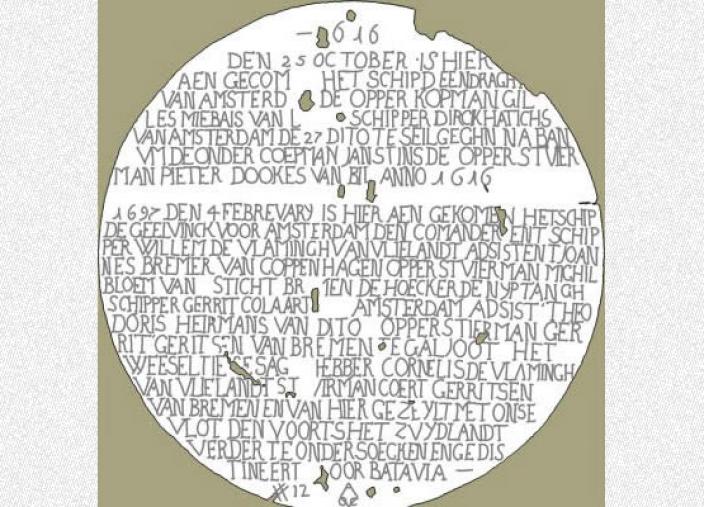 "1616 THE 25 OCTOBER IS HERE ARRIVED THE SHIP EENDRACHT OF AMSTERDAM, THE UPPERMERCHANT GIL-LIS MIEBAIS OF LIEGE SKIPPER DIRCK HATICHS OF AMSTERDAM. THE 27 DITTO (we) SET SAIL FOR BANTUM (Bantam), THE UNDERMERCHANT JAN STINS, THE FIRST MATE PIETER DOOKES VAN BIL. ANNO 1616.

1697 THE 4 FEBRUARY IS HERE ARRIVED THE SHIP GEELVINCK OF AMSTERDAM, THE COMMANDER AND SKIPPER WILLEM DE VLAMINGH OF VLIELAND, ASSISTANT JOAN-

NES BREMER OF COPENHAGEN; FIRST MATE MICHIL BLOEM OF BISHOPRIC BREMEN. THE HOOKER NYPTANGH SKIPPER GERRIT COLAART OF AMSTERDAM; ASSISTANT THEO-DORIS HEIRMANS OF DITTO (the same place), FIRST MATE GER-RIT GERITSEN OF BREMEN. THE GALIOT HET WESELTJE, MASTER CORNELIS DE VLAMINGH OF VLIELAND, MATE COERT GERRITSEN OF BREMEN AND FROM HERE (we) SAILED WITH OUR FLEET TO FURTHER EXPLORE THE SOUTHLAND AND (are) DESTINED FOR BATAVIA - #12 (on the twelfth) VOC."
Fortunately for us and history, both plates survive to this day.
The Hartog plate was taken to Batavia (Jakarta) and from there sent by the Governor General to VOC's headquarters in Holland. Currently the Hartog plate is in the Rijksmuseum in Amsterdam, The Netherlands.
The de Vlamingh plate had a more precarious journey.

In 1801, Captain Hamelin of the corvette Naturaliste (part of the Baudin Expedition) had become separated from Baudin's ship Géographe when he landed in Shark Bay. Several crew members, Louis de Freycinet among them, went to Dirk Hartog Island to find a suitable landing place and camping spot. There they found de Vlamingh's plate and delivered it to Captain Hamelin. He made a careful copy of the inscription, but then ordered it be returned from where it was found, although his young officers – including de Freycinet - felt it should be taken to France. Hamelin also erected his own post with a plaque to commemorate his visit to the island, but it is not entirely clear where and has never been found.
In 1818, de Freycinet returned to Shark Bay on the Uranie and recovered de Vlamingh's plate for delivery to France for safe keeping. Although the Uranie was shipwrecked at the Falkland Islands en route to Paris, fortunately both de Freycinet and the de Vlamingh plate survived. De Freycinet deposited the plate in the Académie Française on his return.
Finally, in 1940, after being lost for more than a century, it was discovered on the bottom shelf of a small room mixed up with old copper engraving plates. After the liberation of Paris the discovery of the plate was announced and the Australian Ambassador requested its return as a goodwill gesture.
In May 1947 the French Ambassador to Australia presented the plate to the Right Hon. J.B. Chifley, who received it on behalf of the Commonwealth. In 1950 it was returned to Western Australia, where it can be seen in the Shipwrecks Galleries of the Maritime Museum in Fremantle.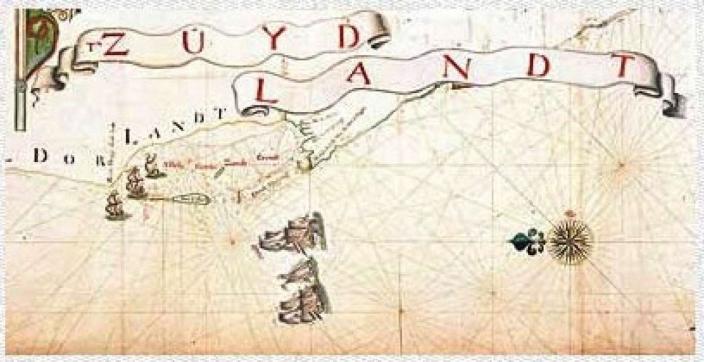 Archaeology
In October 2006, a thorough metal detector search of the entire area did not reveal any sign of the Hamelin plaque. However, since Hamelin refers to 'une feuille de plomb' - a leaf or sheet of lead - rather than 'un plat' - a plate, and Levillain refers to 'une plaque', it may mean that his memorial was not a flattened pewter plate such as the Dutch had left, but a round piece of lead, possibly sheathing lead. If this was the case, it could possibly have been mistakenly overlooked as an object of significance, particularly if it had become corroded and the writing was not legible.
The posts themselves still pose a number of queries. From the historical data it appears certain that three posts were erected at Cape Inscription (by Hartog, de Vlamingh and Hamelin), with another (by Hamelin) possibly on the north-east point or eastern coast of Dirk Hartog Island. Only two posts have been recovered from Cape Inscription and are permanent exhibits in the Shipwreck Galleries of the Western Australian Museum. These are believed to be the Rottnest Island pine (callitris) post erected by de Vlamingh and the 'oak' (de Freycinet), 'fir' (Cunningham) or 'Baltic pine' post placed by Hamelin to support the de Vlamingh plate. However, no record of any timber analyses of these posts can be located in the museum to confirm their species identification. Nor is there any record of what may have happened to the original Hartog post, reported by Cunningham and French accounts to be of oak.

The 1801 French accounts of the discovery of the de Vlamingh plate and its re-erection appear to vary slightly. Whether the plate was re-attached to its existing post, or whether Hamelin had a new post made, appears debatable from the various accounts: Levillain's infers the former; Hamelin (1801), de Freycinet (1827) and Péron (1807) the latter, de Freycinet remarking that the new post for the de Vlamingh plate was of oak. None of them comment on whether there was more than one post at the site - as one would expect if the remains of Hartog's original post of 'oak' had still been lying around.
Although later navigators sought to record their visits in similar ways to Dirk Hartog, Cape Inscription must remain the site of prime significance, being the provenance of the oldest European monument recovered from Australian soil. The locality is thus an important point of reference to the history of the discovery of Australia and the early cartography of its western coast.
A detailed account including appropriate citations of the Archeological Surveys undertaken by the WA Maritime Museum can be obtained by contacting Susan Cox:
Phone: (08) 94318488