Sat 5 Dec 2015 – Sun 7 Feb 2016
9:30am – 5:00pm
New Museum opening in 2020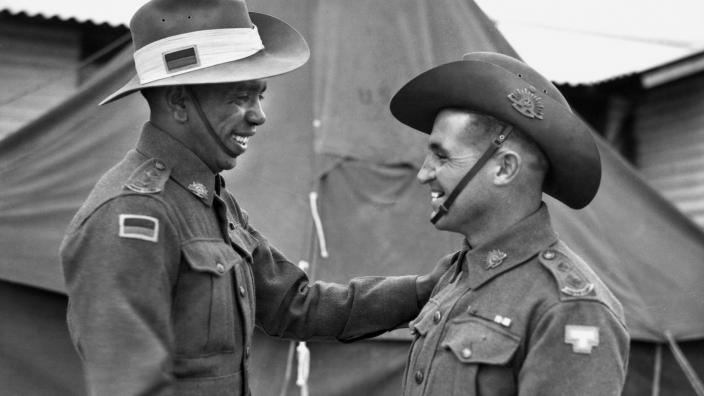 Indigenous Australians at war from the Boer War to the present is a photograph-based touring exhibition created by the Shrine of Remembrance. Stories of Aboriginal and Torres Strait Islander service and sacrifice during the Boer War, First World War, Second World War, Korea, Vietnam, subsequent conflicts and peace-keeping operations are presented through 75 images.
The armed services would provide a first experience of equal opportunity, although sadly not an enduring one. In this award-winning exhibition the Shrine celebrates the courage, tenacity and resourcefulness of Indigenous Australians in the armed forces. The exhibition shares the individual and family stories of service and sacrifice of the First Australians.
---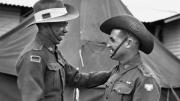 Graduation Day 25 November 1944 Seymour, Victoria - Lieutenant Reg Saunders (left) and Lieutenant Tom Derrick VC DCM, congratulate each other following their graduation from the Office Cadet Training Unit at Seymour.
Photographer Unknown, Reproduced courtesy of the Australian War Memorial 083166
Getting Here
Address
Perth Cultural Centre,
James Street,
Perth,
Western Australia,
6000,
Australia
Phone
1300 134 081