Time Trekker – Dino Dig
Thu 9 Jul 2015 – Sat 11 Jul 2015
9:15am – 12:30pm
New Museum opening in 2020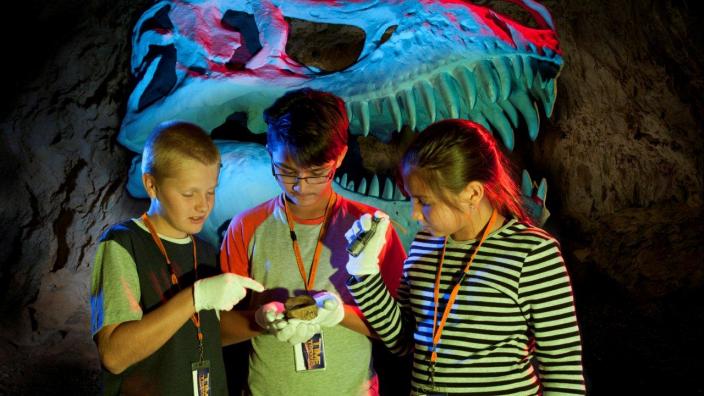 ---
This is a chance to get hands on with a range of real prehistoric fossils and amazing replicas as you explore the past as a Time Trekker. Find out what it takes to be a palaeontologist and imagine a world where dinosaurs did not become extinct.
Payment Details
Weekday (Kids only, 8-12 years old)
$30.00 Early bird discount (*Before 4pm Thur 25 June)
$38.00 Standard fee
Saturdays (Family friendly experience)
1 Adult + 1 Child (6-12 years old) $55.00
Additional adults and children at $38.00 per participant
Purchase Tickets
Thursday 9 July | Kids only, 8-12 years old Friday 10 July | Kids only, 8-12 years old Saturday 11 July | Family friendly experience
For further information please contact 1300 134 081 or Education@museum.wa.gov.au
Time
9:15 am - 9:30 am Sign-in by parent/guardian
9:30 am - 12:30 pm Time Trekker program
12:30 pm (prompt) Sign-out by parent/guardian
(Participants can continue to explore the Museum with a parent/guardian)
What to Bring
Weather appropriate clothing and closed-in footwear
Morning tea and refillable water bottle
Camera (optional)
Terms and Conditions
To ensure all participants have a safe and enjoyable Time Trekker experience, parents/guardians must complete the following agreement.
I confirm that I am the parent/guardian of the participating child and I understand that:
It is my responsibility to ensure the participant arrives for registration 15 minutes prior to the session and is picked up on time. Participants must be signed in and out of this event by an adult.
If a participant's behaviour puts themselves or others at risk, they will be removed from the program and the parent/guardian will be required to collect the child in a timely manner upon request.
Should a participant be unable to complete the program, the parent/guardian will be required to collect their child in a timely manner upon request.
Participants may enter areas or come into contact with surfaces that may have been exposed to nuts, nut products, fur or other potential allergens.
Participants must wear closed in shoes to be admitted into the program. They should also bring weather appropriate clothing/accessories.
Participants need to supply their own morning tea (that does not require heating or cooking) and bring a refillable drink bottle. Participants will not be able to visit the Museum Café or use the vending machines during the session.
As parent/guardian, I indemnify and release the WA Museum against all actions, suits, claims and demands (including costs) for personal injury or property damage suffered by my child while participating in the Time Trekkers program.
Behavioural Requirements
I confirm that the participant is able to:
Follow clear instructions.
Remain calm and quiet when asked to do so.
Treat other participants and staff with respect and courtesy.
Refund Policy
Refunds are only available if notification of cancellation is received at least seven working days before the event. Refunds for will not be issued for non-attendance.
---
Getting Here
Address
Perth Cultural Centre,
James Street,
Perth,
Western Australia,
6000,
Australia
Phone
1300 134 081