Damsels, Dragons and Black Princes: The Secret Realm of Mini-Beasts
School holidays at the Museum of the Great Southern
Sat 8 Apr 2017 – Sun 23 Apr 2017
10:00am – 7:00pm
Museum of the Great Southern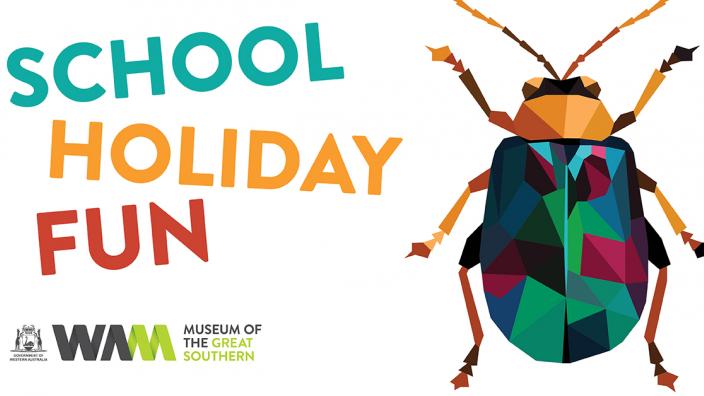 ---
Over the school holiday period the Museum of the Great Southern will be open daily from 10am – 4:30pm, except on Wednesdays when it will be open from 12pm – 7pm.
The Museum of the Great Southern will be exploring the fascinating and sometimes bizarre world of insects and spiders. Discover how these tiny creatures are critical for life on Earth, are worshipped by many cultures, and could end world famine. You can also visit the exquisite 2016 Australian Geographic Nature Photographer of the Year collection.
Discovery Centre
Dates: 8 – 23 April (closed Good Friday)
Times: 10am – 4.30pm, 12pm – 7pm Wednesdays
Cost: $6 – butterfly feeder; $3 – bug creation; free – dragonfly, diorama mini-beast, spider
Ages: All ages welcome
Bookings: Not required
Build and decorate a beautiful beaded butterfly feeder; create a colourful dragonfly; mould a unique mini-beast for our diorama; make a freaky spider for our giant web or your own bug creation to take home. Explore the microscopic world of insect anatomy under our Micro-Eye. Observe how our live stick insects use camouflage as a defence against predators and find out how some insects help each other in many amazing ways.
Spineless Wonders road show
Date: 20 April
Times: 10.10am, 11.20am, 1.10pm & 2.20pm
Cost: $10 per child; accompanying adult free
Age: 3 – 12 years
Bookings: Essential
Experience the incredible world of insects and spiders with the Spineless Wonders crew. See magnificent invertebrates and get hands-on with live mini-beasts. There are only four sessions which run for one hour, so don't miss out!
Dazzling dragonflies
Dates: 21 April
Times: 10.30am – 11.30am
Cost: $7
Age: 7 – 12 years
Bookings: Essential
In a guided workshop create a delightful dragonfly using iridescent beads, embossing foil and coloured wire. Display yours as a piece of eye catching jewellery or a cool hanging ornament.
---
School Holiday Fun!
WA Museum
Getting Here
Address
Residency Road,
Albany,
Western Australia,
6330,
Australia
Phone
(08) 9841 4844
By Car
Parking is available in onsite.