Postgraduate research: exploring patterns of diversity in marine gastropods in the Pilbara
MSU's blog | Created 3 years ago
This blog entry was written by Kara Layton, a Marine Biology PhD student at the University of Western Australia.
My interest in biology comes from my passion and curiosity for natural ecosystems and the species inhabiting them. I was raised in south-western Ontario (Canada) and had the opportunity to travel to the US, Central America and South America as a youth and it was these experiences that shaped my love for the ocean. I completed a bachelor's degree (honours) in Marine and Freshwater Biology at the University of Guelph and it was during this degree that I became interested in marine invertebrates, particularly molluscs. I also became a certified SCUBA diver to continue exploring the underwater world. As an undergraduate student I completed two thesis projects; i) exploring marine meiofauna and phytoplankton diversity in the sub-arctic using DNA barcoding and ii) examining the effect of increasing temperature and acidity on fertilization success in the sand dollar (Echinarachnius parma). From these experiences I became passionate about research and soon after I commenced graduate studies.
I completed my Master of Science degree in Integrative Biology at the Biodiversity Institute of Ontario (University of Guelph) with Dr. Paul Hebert. I analysed patterns of DNA barcode variation in Canadian marine molluscs and examined genetic structure in two species of planktotrophic bivalves (Hiatella arctica, Macoma balthica). In doing this work, I was interested in understanding more about population structure and connectivity in marine molluscs, particularly those species that rely on a planktonic larval phase for dispersal. I used both mitochondrial and nuclear sequence data to explore the role of larval development and glaciation in shaping contemporary populations. I found that phylogeographic structure can vary greatly in species with planktotrophic larval development and high dispersal potential, a difference that may reflect ecological factors. I also discovered multiple lineages with deep divergences in these two species, suggesting the presence of overlooked diversity in these groups.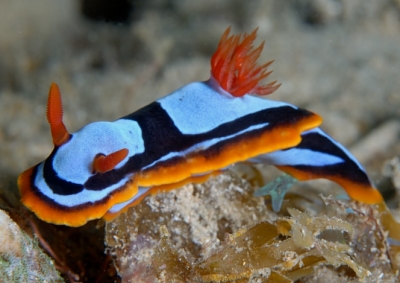 The sea slug Chromodoris westraliensis (photo credit Bruce Potter, October 2007)
After completing my master's degree in February 2013 I participated in two internships in Australia; i) DNA barcoding marine molluscs in the Solitary Islands Marine Park (National Marine Science Centre, Coffs Harbour), ii) examining morphological variation in Australian populations of the lesser flying squid (Todaropsis eblanae)(Australian Museum, Sydney). After returning to Canada in October 2013 I began working as a research assistant at the Biodiversity Institute of Ontario where I was responsible for continuing to build the mollusc collection and curating the associated data on the Barcode of Life Data Systems (BOLD). I collected marine invertebrates on a cruise in the Canadian Arctic and sampled from collections at the Royal BC Museum and the Canadian Museum of Nature. I also analysed barcode data for reports and publications with a focus on biodiversity science and phylogeography.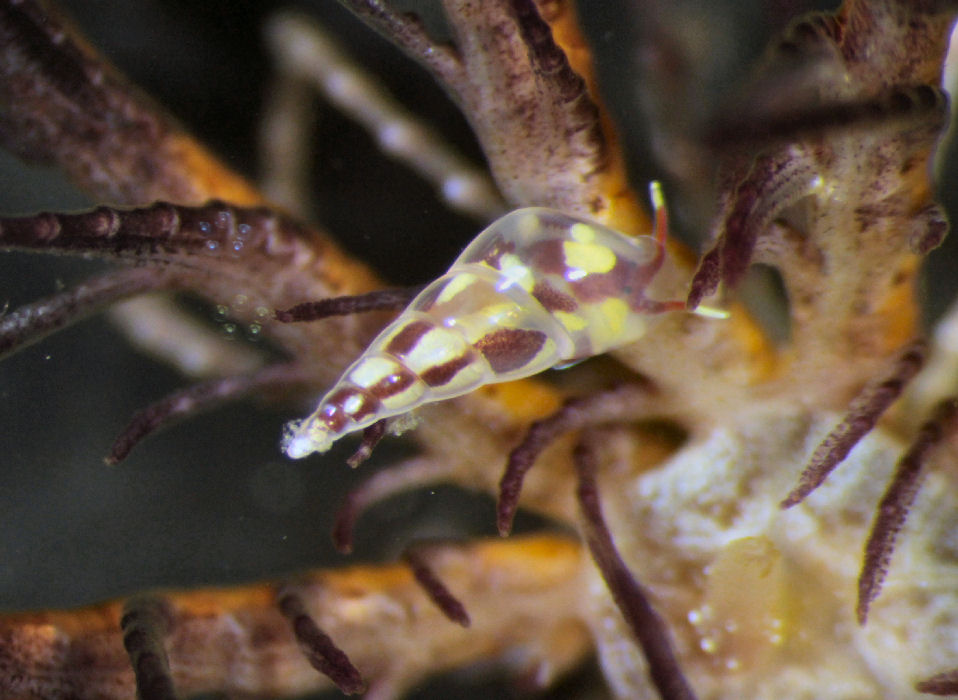 Ectoparasitic eulimid on a crinoid (Dorometra nana) (photo credit Charles G. Messing, October 2013)
For my PhD work I will be exploring patterns of speciation and diversity in marine gastropods, with a focus on diversity in the Pilbara. I will be constructing multigene phylogenies for Chromodoris nudibranchs and eulimid gastropods, two groups that have received little attention in Western Australia. Chromodoris is a genus of brightly coloured sea slug that is distributed across the Indo-Pacific and shows similar colouration patterns between congenerics. I will also use next-generation sequencing methods to resolve a recent radiation of this genus. Eulimid gastropods are tiny snails that parasitize echinoderms and show variation in both parasitic mode and host specificity within the family. High species diversity coupled with a parasitic lifestyle provides a unique opportunity for exploring patterns of coevolution between parasite and host and comparing rates of molecular evolution between taxa with different parasitic modes. This work will advance our understanding of species diversity and the evolutionary processes driving speciation in these groups. This will be essential for identifying species in need of conservation management in an area undergoing active development. I will be working in conjunction with Dr. Nerida Wilson at the Western Australian Museum and Dr. Jason Kennington at the University of Western Australia.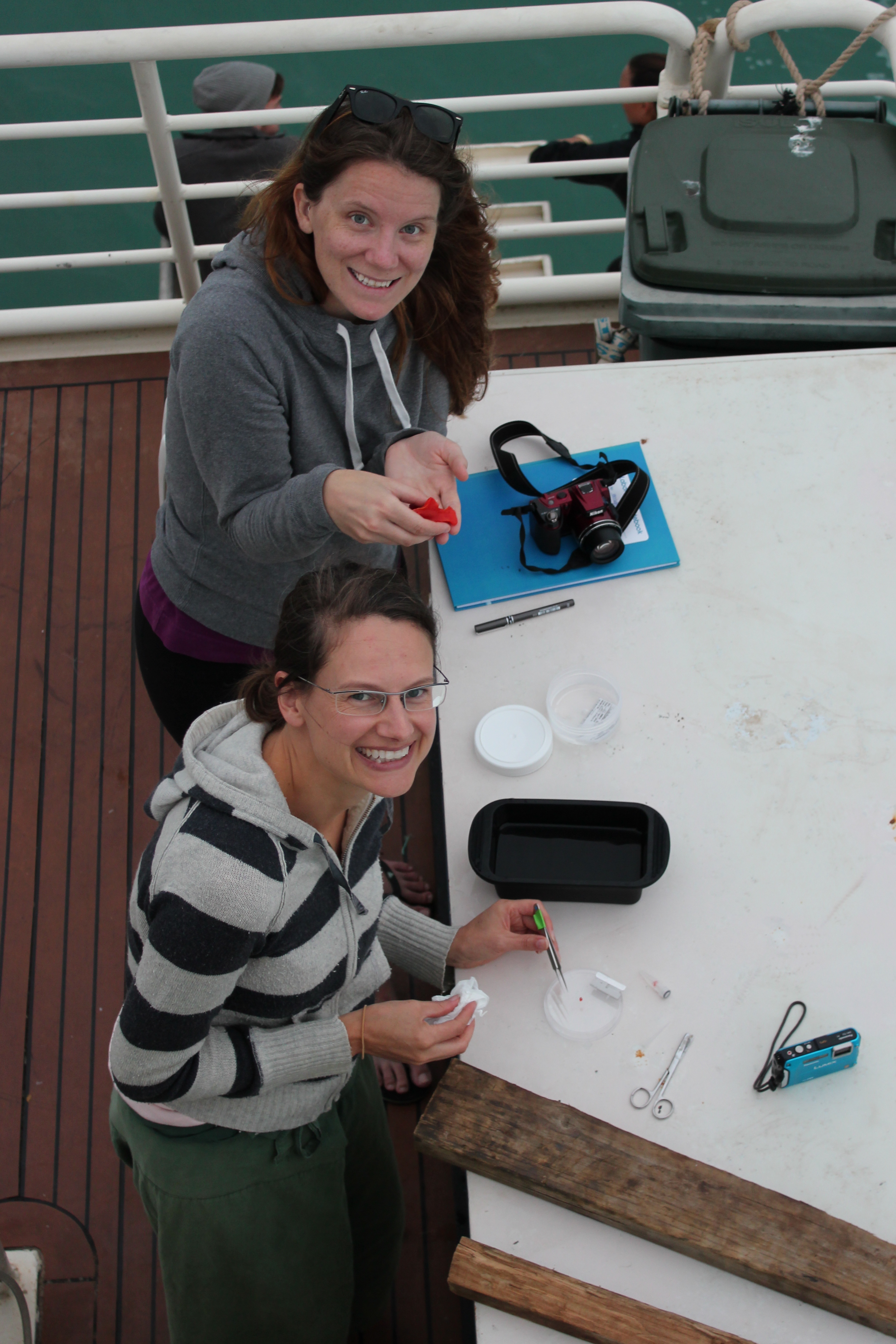 Kara and Nerida sampling from Ceratostoma trilobatum on the deck of the MV Oceania (photo credit Peter Kohnert, April 2015)