Welcome to Western Australia! The spirit of campground hosts
Article | Updated 4 months ago
In the Voices gallery of the New Museum we are showcasing the spirit of our people, including the ways in which Western Australians come together through volunteering and other community activities.
In Western Australia's national parks there are a number of special volunteers who make camping and travelling in WA a truly unique experience. Campground hosts are volunteers with the Parks and Wildlife Service in the Department of Biodiversity, Conservation and Attractions, and they support the vital work of national park rangers.
Our staff attended a training day for campground hosts to find out what it takes to be a host, what role they play in caring for our national parks and how they are promoting tourism in our State.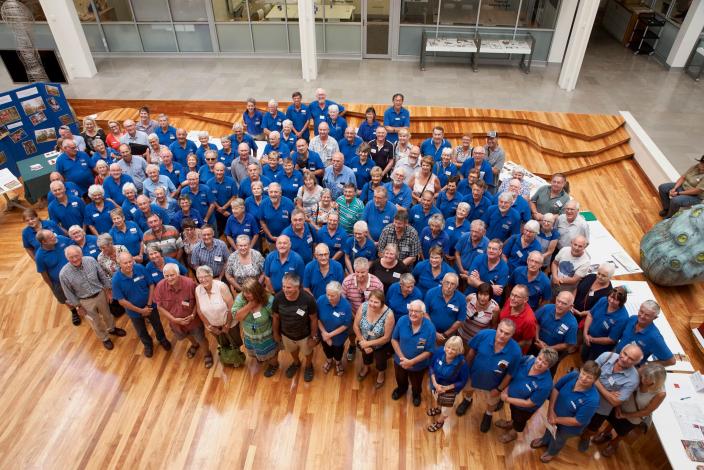 When you arrive at a campground in a national park in WA you're often greeted by a volunteer campground host. Friendly, welcoming and full of interesting information about the place you are staying at, they are known for creating unforgettable memories for travellers.
Visitors to our national parks speak about campground hosts with great fondness – stories about hosts taking families fishing and hiking, showing them where the wildflowers are blooming, sharing the 'special' spots in the park and showing them where to get the best photographs of WA's extraordinary landscapes and biodiversity.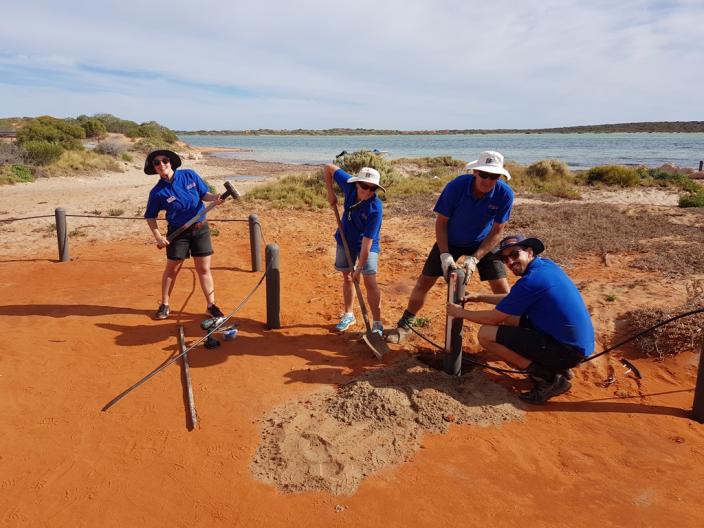 Hosts can spend a month or two at a time in national parks around our State. Some choose to stay close to their home – within a day's drive so they can remain connected to their home and families – others spend a few months in remote locations with limited phone service and hundreds of kilometres from the nearest services.
They welcome travellers to the park, show guests to their site and collect camping fees. They clean and maintain the amenities like barbeques, kitchens, showers and toilets and provide information about the campground and the surrounding national park. In return for their volunteer hours, campground hosts are able to explore the national parks and really get to know the place.
When we spoke to the national park rangers, we heard about the true value of campground hosts. Ranger Dan Petersen is stationed at Karijini National Park. He counts on campgrounds hosts helping him throughout the year. That's because the park he looks after is 627,422 hectares, has a number of gorges and is one of the most visited national parks in WA.
Dan told us:
If it wasn't for campground hosts we simply couldn't do our jobs.

The commitment from our hosts volunteering their time ensures visitors receive a warm welcome to the campground and information about the park on arrival. Camp hosts are valued members of the Karijini Team who all work together to enhance the visitor experience.

Dales campground in Karijini is 110km from the closest town (Tom Price) and we get people turning up at all hours of the day to stay with us. We don't have a booking system because we don't have internet connection and we don't turn people away when they turn up, particularly when it's getting dark, it's too dangerous. Our campground hosts do an amazing job running the campground, making sure our guests have a place to stay and keeping amenities up to scratch.

We (rangers) are out patrolling gorges and walk trails every day: maintaining visitor facilities and sharing our knowledge of the natural values of the area to keep people safe. This is only made possible through the generosity of our wonderful campground hosts - if it wasn't for them we wouldn't have time to be out in the field.

People appreciate great service wherever they go and national parks are no different.
Penelope is a campground host who volunteers at Karijini as well as Lucky Bay in Esperance, Credo Homestead near Coolgardie, and Mount Augustus in the Goldfields.
She has been volunteering at campgrounds for 10 years and said tourists were really impressed by WA's parks and the service offered.
They can't believe we have the host program in Western Australia. They love coming to campgrounds where we provide local knowledge. The rangers are really busy and not always visible to the visitors so it's really important to have people to welcome them, make sure they have what they need and share information about the park and everything there is to offer.
Many campground hosts draw on their professional and travelling experience to help travellers. They are known to help with minor maintenance like painting, developing trails to encourage children to explore the parks and chatting with international tourists in their native language.
It is a wonderful volunteering experience where the hosts give back to the community and care for our national parks while exploring WA, meeting people from all over the world and making lifelong friends – including the rangers.
Want to sign up as a campground host? (we do!) You can find out more at the Department of Biodiversity, Conservation and Attractions website.