Sharing knowledge and collections
Article | Updated 3 weeks ago
The Worrorra, Ngarinyin and Wunambul Gaambera cultural groups are the Traditional Owners of the Dambimangari region – the coastal and hinterland area between Robinson and Prince Regent rivers in the Kimberley.
Pete O'Connor, Rona Charles, Ernest Nulgit, Leah Umbagai and Kate Breckon recently came to the Museum's Collections and Research Centre to see the collection and share their knowledge relating to objects from the Dambimangari region for the New Museum.
They discussed how the Museum can respectfully display collection objects, and what contemporary artwork or material could be used to demonstrate that their cultural and belief systems are still alive in their people.
Pete O'Connor reflects on his visit:
Our last day at Welshpool was spent going through small pieces of artefacts – dancing totems dating back to the 1960's and 70's and paperbark paintings from the late 1930's. I found interesting pieces of head dresses and materials used in making these. I found that our people back in the old days constructed some of the finest pieces of artwork/everyday tools and musical instruments and the ingenuity in these early material pieces. I was blown away during this trip having learned so much about my people, and in the near future I will continue going out as a Ranger collecting materials and practicing these old methods to make new artefacts in the old ways.

Pete O'Connor
During this visit the group spoke about ways we could represent stories of the Wandjina in the Continuous Cultures and Connections galleries. Wandjina rock art paintings are some of the most recognised in Australia and they are depicted in a number of the artworks in the Museum Collection. The Worrorra, Ngarinyin and Wunambul Gaambera peoples each have their own story of the Wandjina.
The Wandjina is the creator spirit that belongs to us, the Wororra, Ngarinyin and Wunumbul people. He is the one that created everything, he also gave us our culture, law and songs and even the dreaming of each child before they are born.

Courtesy of Mowanjum Aboriginal Art & Culture Centre
Rona, Ernest, Leah, Kate and Pete shared some of the storylines, cultural meanings and messages conveyed through the paintings and artefacts in the Museum's collection.
The Museum will continue to work with the three cultural groups from Dambimangari region to share stories of the Wandjina for display the Continuous Cultures and Connections galleries.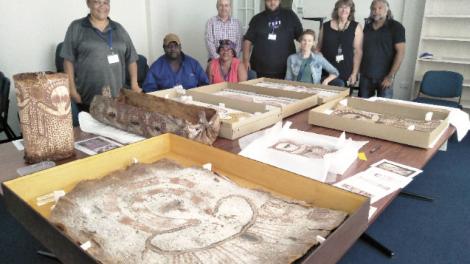 The Western Australian Museum acknowledges and respects the Traditional Owners of their ancestral lands, waters and skies.
The Western Australian Museum acknowledges the diversity that exists in Aboriginal and Torres Strait Islander languages and that the spelling of words may also vary.