Revealing the Museum: Who Am I?
Article | Updated 12 months ago
Amanda Marchese
Visitor Services Officer
My name is Amanda Marchese and I am a Visitor Services Officer at the WA Maritime Museum and Shipwreck Galleries.
After graduating high school in 2005, I took a year off to work and save before beginning my studies at TAFE, completing a Certificate III in Tourism (Operations) and a Certificate III in Tourism (International Retail Travel Sales) over a period of two years.
After completing my studies, in 2009 I gained employment with Tourism WA as a Holiday Consultant at the WA Visitor Centre, where I was able to expand on my Customer Service skills, whilst learning about our beautiful State.
As it was time for a change, in 2010 I gained employment as a casual at the WA Museum – Perth, to assist with one of our most recognised past exhibits: A Day in Pompeii.
In 2011, I applied for a permanent position as a Visitor Services Officer and was successful.
After six years working at the Museum, not only have I gained confidence in myself, but also in my role. I thoroughly enjoy assisting my visitors and I am always up for a chat. Interacting with children is also something I enjoy. I will never get tired of hearing, "Excuse me, Museum lady..."
I now have the privilege of working at our Fremantle sites and I am really enjoying the change and learning another side of history in WA.
– Amanda Marchese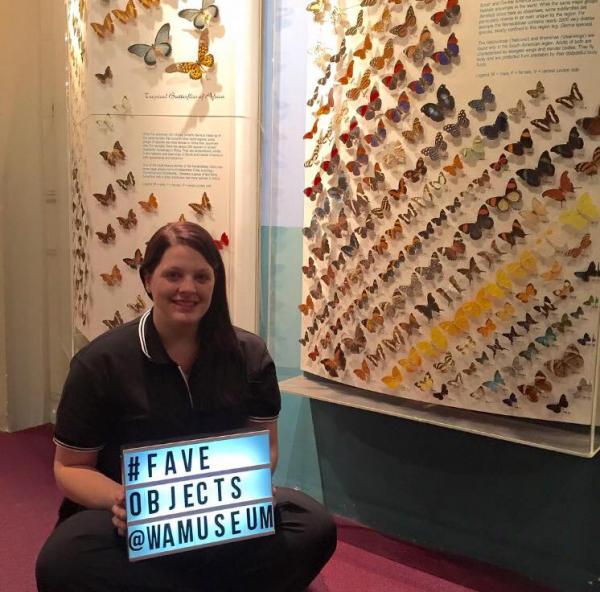 Caitlin Bonfield
Administration Assistant, New Museum Project
I was born in Joondalup, Perth. Not too long after my fourth birthday my family moved to Kalgoorlie. From kindy until half way through year 7 I went to Hannans Primary School. We ended up moving to Newman, a small mining town, and I completed the remainder of year 7 at South Newman Primary School and year 8 at Newman Senior High.
I enjoyed living in Newman. I loved the beautiful gorges, and because it was a small population you basically knew everyone. Unfortunately, due to my mum and dad breaking up, my mum decided to move my two sisters and me back to Kalgoorlie where I completed year 9 at Kalgoorlie Boulder Community High School. After completing year 9 I moved back to Perth where I completed year 10 and half of year 11.
Instead of finishing years 11 and 12, I commenced an Aboriginal Public Sector Commission Traineeship with the WA Museum. I chose to do a traineeship so that I could get work experience while studying at the same time. I found that being at school was not for me. I wanted to start work and be surrounded in a work environment. I was excited to start work at the Museum!
I did shadowing of the galleries at the Maritime Museum and some general administration work for the Visitor Services Team. Everyone down in Fremantle was so welcoming and I enjoyed every minute. I then had the opportunity to work with the Customer Relations Team every Thursday helping Heather and her fabulous team!
From there I had the opportunity to commence a placement with the Department of Culture and the Arts Human Resources and Information Management Team. I loved working with both teams at DCA.
The last six months of my traineeship came extremely fast and I was stuck thinking about what I wanted to do after completion. I didn't think much of it, until the last couple of weeks. I went over to the Museum to seek advice and help from Deanne Fitzgerald and Heather McFarlane, and they gave me great advice. Within the last two weeks of my traineeship Trish McDonald offered me the Administration Assistant role for the New Museum Project, as Liz Harrison was going on secondment for the next nine months. I was so happy, and of course accepted the offer – and that is what I am doing now.
I am so thankful for all the people that have helped me get where I am today. The Museum is such a wonderful place to work and anyone would be lucky to secure a positon with the Museum.
– Caitlin Bonfield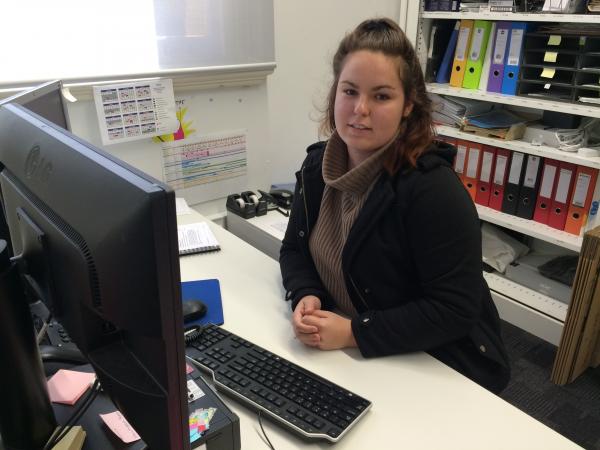 Sean Wilson
Senior Human Resources Consultant
I grew up in Perth, which seems fairly unusual amongst Museum staff. I officially lived near Garden City, but I really spent most of my non-school or non-sleeping time in lane 3 at Beatty Park. This was the pool that most serious swimmers trained at in the 1980's; twice a day, eleven months of the year.
I was fairly much sold on the idea of joining the Army when I was six. What decided me was a TV show called Combat, shown every Saturday afternoon. I may have justified things better as I got older, but that was the real reason. Then I visited Canberra when I was nine. Our tour took us to Duntroon and I found that officers had swords, which was very cool. I had to be an officer after that! I ended up going to the Australian Defence Force Academy when it opened in 1986. I had a brilliantly fun year but unfortunately I failed all of first year university, so I had to go. I then did slightly better at UWA. It was lucky that HECS hadn't been invented yet! I gave the Army another crack a few years later at Duntroon and I actually managed to graduate that time.
My first job as a newly graduated 22-year-old Lieutenant was to manage a transport fleet near the Gold Coast. I had 30 drivers and 110 vehicles. I ended up spending 10 years in transport-related roles, mainly in Sydney and Perth. My last was as the operations manager of a logistics battalion in East Timor. We worked for the UN, had 550 people to supply the 14,000 military that were all over the island and we ran the port, half the airport, the fuel, food, post, sewage and many other things besides. We worked 18 hour days; everyone was very tired and grumpy when it was over!
I specialised in HR at around the time that I became a Major. HR in the Defence Force is very different to HR at the Museum. I spent another eight years in Sydney and Canberra planning evacuations, organising three Triple J concerts overseas, writing lots of assorted policies, assisting forces to deploy overseas and studying for my Masters. I spent more time with Navy, Air Force and public servants than I did Army. By far my favourite job was to justify pay rises. You get a lot of support when hundreds of people have a direct stake in what you do. I once needed a Navy ship with crew as evidence in one of my pay cases. I kept it for a week, but it was only a medium-sized ship. We never lost a case.
When child number three was on its way my wife Kyrstie and I decided it was time to come home to Perth. HR outside of Defence is very different, both harder and simpler. My first job was as a HR manager in the resources industry. I had 30 staff, of which 26 were recruiters. Then the global financial crisis happened, the team reduced to 5 and I found myself another job at ECU. After a couple of years there I came to work at Culture and the Arts. HR Consultants tend to perform a similar range of roles no matter where they work. I have worked at all agencies at one time or another, but mainly with the Museum. As of a fortnight ago I now actually belong to the Museum.
Most people don't really understand what HR does or how it does it. My personal view is that it is not about rocket science, mystery, compliance, finding the perfect form or us seeing and knowing all. The main purpose of HR is to help all managers to manage their own staff. There are a number of standard tools and processes that the system expects both managers and staff to be able to use. Once they can do that well, our HR team can spend more time doing its second and more fulfilling function; helping the Museum transform itself into a better place to work.
Ross Anderson
Assistant Curator, Department of Maritime Archaeology
My background in maritime archaeology was that I sort of fell into it. I graduated with a B.A. (Hons) in History and English from Flinders University of South Australia in 1989. During this time, with my love for diving, shipwrecks and surfing, I worked as a volunteer diver helping out on fieldwork with Bill Jeffery, maritime archaeologist at the South Australian State Heritage Branch, and also worked as a volunteer at the SA Maritime Museum. Like most new graduates with a B.A. in the 1990s I advanced quickly into the next phase of my career doing landscape gardening, pizza making and being a bicycle courier. I then decided to become a teacher, and got halfway through a Graduate Diploma of Education, completing my practical teaching at the only school in South Australia with licensed premises—Kingston Southeast Community School and Football Club.
At this point I received a Graduate Trainee job offer with the Commonwealth Department of Employment, Education and Training (the old CES) working with disadvantaged youth and jobseekers in the regional centre of Mount Gambier, which I enjoyed. A few years later in 1994 Bill suggested I apply for the upcoming Post-Graduate Diploma in Maritime Archaeology course run every four years through the WA Museum's Department of Maritime Archaeology, Curtin University and UWA. With visions of diving in clear Indian Ocean waters and endless Margaret River waves I applied and got in, and moved to WA to do the course in 1995-96. I would say it was one of the best years of my life and I made some of the best friends in my life who I am thankful to say still are to this day.
After graduating I scored a job as a maritime archaeologist with Heritage Victoria's Maritime Heritage Unit based in Melbourne for 8 years, which was likewise a great experience with many long-time friends made, before applying for a vacancy as Assistant Curator with the WA Museum and moving back to WA in 2005. It has been a great career diving and working with people from other countries on some of the world's most amazing underwater sites in exotic locations like Sri Lanka, Indonesia, Thailand, Portugal, Solomon Islands, South Korea, most parts of Australia and Henderson. The parts of the job I enjoy are dealing with everyone in the community from 5 year old primary school kids to Ministers, fieldwork, research, teamwork, education and training, public engagement and creating interpretation products, and working with people from other organisations and developers to find solutions to heritage management issues. I am currently Senior Vice President of the Australasian Institute for Maritime Archaeology (AIMA). Since 2011 I have been studying for a PhD part-time at UWA, which I just completed and submitted this week. It is titled 'Under the colonial gaze: Modelling early informal maritime society on the Southern Ocean Frontier—the Archipelago of the Recherche, Western Australia', dealing with cross-cultural contact between Aboriginal people, sealers and whalers along the south coast of Australia.
I met my wife Renee when she was working at Heritage Victoria as an archaeologist and who is now CEO of her NGO start-up Growing Change. She has turned a disused North Fremantle bowling green into an urban social farm aiming to eliminate social isolation and support people with mental illness: http://www.growingchange.net.au/. Last year she won the Fremantle Foundation Impact 100 community grant for $100,000 to take the project to the next level, which she is doing amazingly well, and now has two employees and is selling produce to local Fremantle restaurants! Our (proud dad warning) gorgeous daughter Maya is 4 years old and has just started pre-primary at Fremantle Primary School, which fittingly Renee had previously excavated as it sits on top of the old Fremantle dump. My interests are surfing, music, art, vintage bicycles, Italian motorbikes and trying to learn Spanish and Indonesian. I also fix up old bikes for Bicycles for Humanity http://www.bicyclesforhumanity.com/ so if you have any disused bikes to donate for a worthy cause let me know!
My favourite museum joke is:
A museum guide is telling a group of tourists gaping into the glass cabinet 'This is the world's oldest hominid fossil and is 3.2 million and 12 years old'. One of the group says 'That is amazing—how do you know the date so exactly—by carbon dating?' and the guide says 'Well it was 3.2 million years old when I started work here 12 years ago!' (tish-boom!)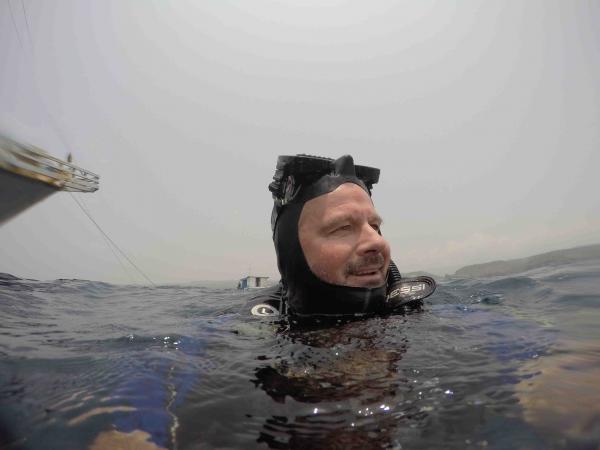 Bill Seager
Creative Director, New Museum Project
I grew up on a sheep farm about an hour out of Adelaide, where my family still live. My main obsessions as a kid were rolling down the hill behind our house in a barrel, show rides and watching Countdown with my older sister (yes there was an ABBA obsession in there too somewhere).
During my last years at school I applied for an AFS Intercultural Programs exchange and on finishing was sent to Finland for a year! Spending a year 500 kilometres north of Helsinki was amazing – I had never been on a plane, let alone seen snow before. Unfortunately, after their winter I came home never wanting to see snow again.
On my return I was accepted into the Conservatorium in Adelaide to study music (I play the piano) but decided to do an Arts degree instead. To this day I count myself as one of the lucky ones who managed to develop a career out of that degree. I did the Honours and Masters 'hat trick', specialising in representations of Indigenous peoples (in word and image) at points of invasion in North America and Australia.
Like many, my first real job in the arts was as a volunteer. Firstly at the Art Gallery of South Australia and the South Australian Museum before landing a great project at the Migration Museum (part of what was known then as the History Trust of South Australia). Thank goodness for that Centenary of Federation money, it gave me amazing experiences and mentorship with great people.
From there I moved on to the South Australian Maritime Museum where I remained as Senior Curator for seven years. During that time I also represented the History Trust nationally at NAME (Network of Australasian Museum Exhibitors) and on the Museums Australia National Council – again, amazing professional opportunities.
In 2008 I applied for the role of Content Manager for the Tasmanian Museum and Art Gallery redevelopment and they decided to take a chance on me. We began planning for a $200M project and as a small team, worked closely with architects and their teams through the Masterplanning and design development processes. In the end the project was rescaled and we delivered 2,000 square metres of exhibition in beautifully refurbished heritage gallery spaces. This was a great opportunity and we all saw it as a once in a lifetime opportunity – that was until this project arrived.
I moved to Perth in late 2013 to take on this role and immediately fell in love with the weather (five and a half years in Hobart is a long time), warmth of the people, the feel of the city and its lawn tennis courts (which a great friend introduced me to)!
I am truly excited by the release of the concept design. It gives us so many opportunities to deliver our content in bold and creative ways both in the galleries and the visitor circulation spaces.
We are well on the way to something amazing here. Through working with you all and with the communities of Western Australia and beyond we are destined, I believe, to deliver a museum that will be an international force.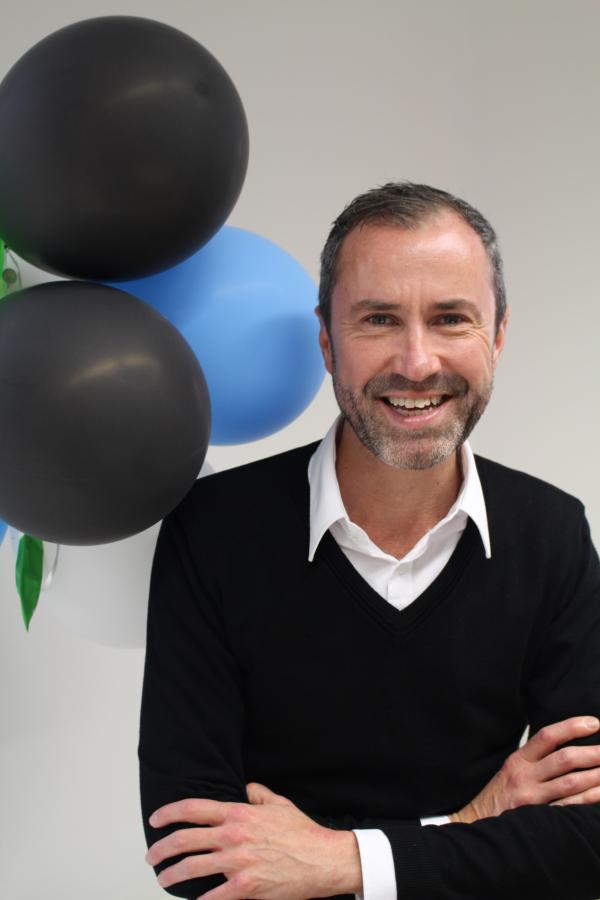 Kirsten Tullis
Senior Preparator, Exhibition and Design
I was born in the middle of England, in Allesley near Meriden. My family migrated to Perth in 1968 on the good ship Fairsky and we set up home in Lesmurdie, and then Kalamunda. I came to the Museum as a volunteer in 1981. I'd just finished an Honours Degree in Biology at Murdoch University and jobs were a little scarce. Joining the Birds and Reptiles Department, with Glenn Storr at the helm, I was taught by Ron Johnstone to prepare bird skins. Ron's expert teaching helped me gain a full time job by the year's end, as assistant to Jamie Stuart in the, then, Display Department.
I learnt much from Jamie, a talented man, not only learning how to mount animals properly but how to create amazing things. Since he left, 16 years ago, I've developed new techniques. My job is both varied and creative. As well as taxidermy I prepare crustaceans, carry out moulding and casting, model-making and painting.
Over the years it's been fun helping the Exhibition and Design team and other staff prepare, install and take down exhibitions. I've just finished a long and quite exhausting stint helping plan, prepare and move everything out of Perth, and now I am settled into the new Welshpool workshop.
In taxidermy I specialise in birds, and have enjoyed teaching quite a few people. While taxidermy can be satisfying, my favourite work lies in model-making, in creating an animal or plant from scratch. This usually means research and experimentation with different materials and techniques. I've made Gogo fossil fish, garden slugs, a squid, sea squirts, fungi, various plants, and even a plate of fish and chips. At Geraldton are my best fibreglass fish casts - a Baldchin Groper and Coral Trout; both were so nice to paint. My favourite birds, previously in the Bird Gallery, are a Rufous Whistler in flight, Banded Stilt, and Little Penguin. As far as mammals go, bats are great to do. While I had a limited role creating Carnotaurus for the WA Land and People gallery, I was in charge of building the diorama. When people ask me what's the biggest thing you made, I say the cycad tree.
In my spare time you'll probably find me bushwalking with my partner Russell, enthusiastically taking photos and hunting for fungi or orchids. I'm very passionate about identifying fungi and photographing them down my microscopes. I've travelled to a few interesting countries, and visited some of the best museums, including in Australia.
There are many great things about working at our Museum; the diverse work, being creative, and the people – I'm especially fond of everyone in Exhibition and Design.