Contemporary display of historic banner
Article | Updated 2 weeks ago
We are looking at historical and contemporary stories from diverse communities around WA in the Voices gallery. The Chung Wah Association is one of the community organisations we're shining a light on, as Perth's longest running cultural organisation. The association was established in July 1909 as the official organisation representing the Chinese community in Western Australia.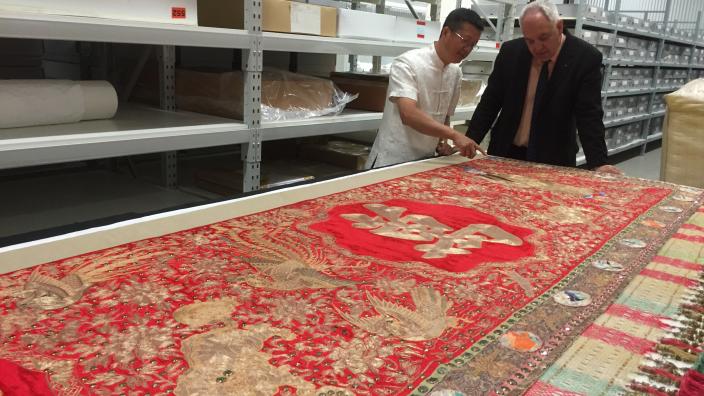 They commissioned this stunning embroidered silk banner in 1913 to commemorate the birthday of Confucius. It was designed by Yee Thong Who and made in Kwangtung Province, China.
It is made of red silk and blue satin with hand embroidered gold thread that depicts Chinese characters and motifs, including animals. Along the edge are small brass mirrors and a gold, red and green fringe.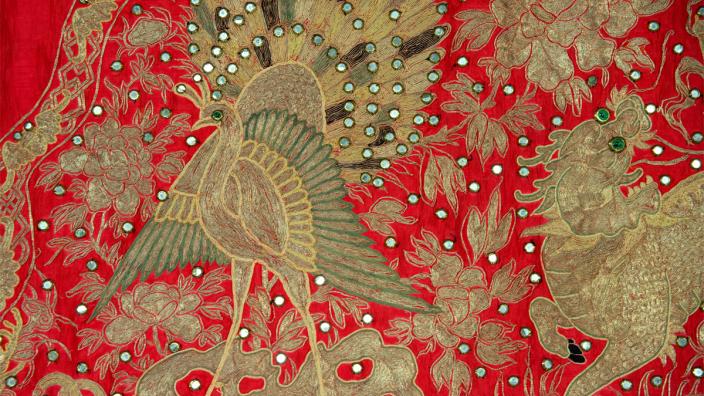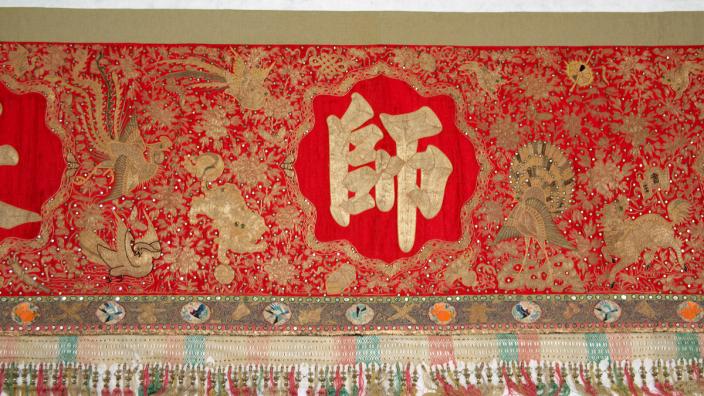 While the embroidered detail of the banner is exquisite, just as beautiful and intriguing is the Chinese brush painting on the reverse side.
This folk-style painting depicts an old Chinese story from around 184-220 BCE called the 'Annals of the Three Kingdoms' about three rival states Cao Wei, Shu Han and Eastern Wu.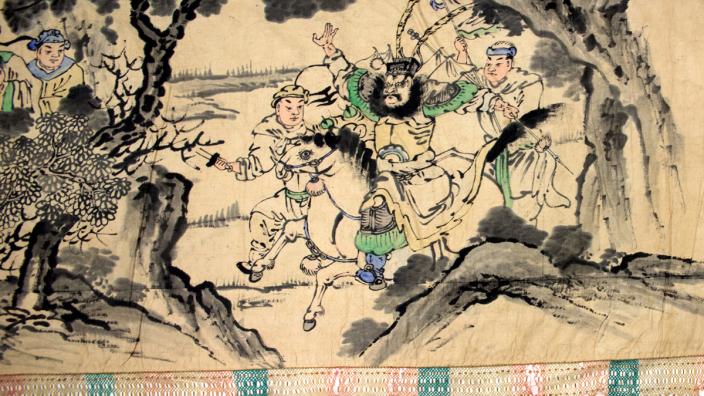 This banner was displayed at public parades in Perth throughout the First World War and soon became a symbol of Perth's growing and vibrant Chinese community.
It is an object that symbolises the important work of the Chung Wah Association in bringing together and caring for their community as well as the Chinese community's contribution to the State for more than 100 years.
The silk banner is incredibly delicate. To protect is while it is on display, our design and conservation teams have recommended we display it rolled like a scroll. This will allow sections of the banner to be displayed while protecting the fabric and embroidery.
Both sides of the 7.3 metre banner are being scanned and digitised and we are working with members of the Chung Wah Association to understand and interpret the characters and stories. Visitors will be able to explore the details and stories and through digital means.