City of light - 50 years in Space
On February 20, this year, WA will celebrate the 50th anniversary of a very significant event. On that day in 1962, John Glenn became the first American to orbit the Earth in the Friendship 7 spacecraft. On this mission, Glenn flew over Perth and the people of Perth turned on their lights to acknowledge his mission. Glenn observed that the city was clearly visible from space and Perth became known worldwide as the 'City of Light'. This early space exploration mission set the stage for the Gemini and Apollo programs which culminated in NASA landing men on the moon.
To commemorate the 50th anniversary of Glenn's orbit, on Monday 20 February 2012 an outdoor public event will be staged in the Northbridge Piazza, featuring a live audio and video link to the International Space Station as it orbits the Earth (read more event details on the Show Me Perth and WA Museum websites).
The highlight of the event will be an opportunity for young people to speak with and ask questions of the astronauts on the International Space Station.
The event will also include activities, displays and presentations highlighting Western Australia's involvement in space exploration and the development of telecommunications in WA over the last 50 years.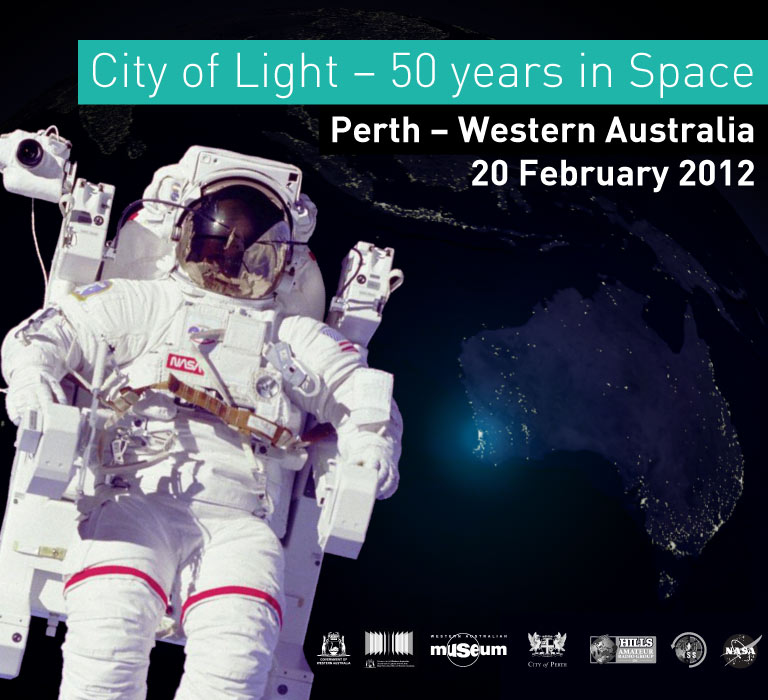 Image uses graphic elements copyright of NASA.
A collaboration between: State Records Office of Western Australia, Western Australian Museum, City of Perth, Hills Amateur Radio Group, Amateur Radio International Space Station and NASA.
Event details
Schedule for events on Monday 20 February 2012.
5:00pm exhibition opens and telescopes on display
5:30pm Alex Bevan (Head of Earth and Planetary Sciences, WA Museum) presentation
5:50pm Lyn Beazley (WA's Chief Scientist) presentation
6:05pm video message from John Glenn on the big screen!
6:20pm contact with International Space Station
7:00pm screening of In the Shadow of the Moon on the big screen!
8:00pm Astrofest on roof of Roe St carpark
9:00pm screening 2001on the big screen!
For those of you who can't be in Perth on Monday night, a big thankyou to iinet who will be live streaming the event online at: http://freezone.iinet.net.au/channels/freezone/lifestyle/city-of-light
Ask a question winners
A huge congratulations to everyone who posed a question. However, we could only ask ten questions to the ISS, and the winners are:
Aaryan Kapila,11, Currambine Primary School
Alex Ashworth-Preece, 11, Geraldton Grammar School
Alex Comstock, 11, Scotch College
Donald Sutherland, 15, Christ Church Grammar School
Duncan Lennon-Black, 12, Leeming Primary School
Elaina Davies, 9, Helena College Junior School
Hugh Kilpatrick, 7, Wagin District High School
Isabella Biggs, 12, St Joseph's Catholic Primary School
James Falzon, 15, Guildford Primary School
Sammie Ward, 6, Kensington Primary School
Event Details
The event is scheduled to begin for the public at 5.00pm. A full program of events will be published shortly.
A short history...
February 20th 1962 is a date that is significant for those interested in space exploration, for it was the day that astronaut John Glenn became the first American to orbit the Earth in a space capsule named Friendship 7.
Though Glenn wasn't the first human to orbit our planet (Russian cosmonaut Yuri Gagarin took that honour the year before), this mission was a significant milestone for Western Australia and Australia as the nation took a major role in this and subsequent NASA missions providing the only non-US based Command station (Muchea in Western Australia for the Mercury missions), right through to the well known role that Parkes and Honeysuckle Creek played in bringing the television footage of the Apollo 11 moon landing to the world.

Honeysuckle Creek Tracking Station
The rotation of the earth as well as the orbit of space faring craft meant that NASA required stations outside of the US to assist in the monitoring and control of its missions, and stations were built in Muchea and Carnarvon in Western Australia, and Woomera, Honeysuckle Creek, Tidbinbilla and Parkes in the eastern states. For the Mercury missions (which John Glenn's flight was part of), the stations at Muchea and Woomera were the only ones in operation.
The 1960's was a time of major developments in technology and telecommunications, and the space age quickly advanced many of these new developments to Australia. The OTC satellite communications station in Carnarvon was funded by NASA to improve their communications with the tracking station located next to this installation, but it also provided satellite telephony and television to the state. The installation of microwave and cable links between Carnarvon and Perth also laid the foundation for future telecommunications infrastructure within Western Australia. People from ABC Television and OTC also rewired one of these brand new cable connections, which allowed people in Perth to watch the moon landing as it happened.

Honeysuckle Creek Tracking Station
The men and women who worked at the NASA and associated facilities were working with the newest technology available at a time when the "personal computer" was not even a dream. Their skills and dedication showed the world that Australians were capable engineers and scientists. Today Australia continues to be a key partner to NASA in space exploration, and even today, new tracking dishes are being built by NASA in Australian facilities.
John Glenn's flight was notable for Perth in particular as the population, in empathy with feelings of isolation and distance from home of the space traveler, turned on their lights to provide a welcome light which Glenn commented on during his first orbit as he was being tracked by Muchea. This symbolic event has become a highlight in Perth's history, earning the city the name "City of Light, and we are celebrating the 50th anniversary of this day on 20th February 2012 with this event in the Northbridge Piazza.
Ministerial Media Release
The Ministerial Media release announcing this event can read here: http://www.mediastatements.wa.gov.au/Pages/default.aspx?ItemId=147991&