Referendum Day
Do you approve?
The question put to voters in 1967 was:
Do you approve the proposed law for the alteration of the Constitution entitled—
"An Act to alter the Constitution so as to omit certain words relating to the People of the Aboriginal Race in any State and so that Aboriginals are to be counted in reckoning the Population"?
The 'yes' result changed two sections of the Australian Constitution, sections 51 and 127.
The Parliament shall, subject to this Constitution, have power to make laws for the peace, order, and good government of the Commonwealth with respect to:-
The people of any race,other than the Aboriginal race in any State,for whom it is deemed necessary to make special laws
In reckoning the numbers of the people of the Commonwealth, or of a State or other part of the Commonwealth, aboriginal natives should not be counted.
Removing these words from section 51 allowed direct Commonwealth involvement in Aboriginal affairs for the first time. The laws that had been created by the states varied greatly, and it was argued that granting this power to the Commonwealth would lead to a more consistent approach and better outcomes for Aboriginals and Torres Strait Islanders.
Until 1967, section 127 resulted in a 'race' question when the population census was conducted.
Australians who had over 50% Aboriginal ancestry were subtracted from the official population count.
The repeal of section 127 ensured that Aboriginal and Torres Strait Islander peoples would be counted, alongside all other Australians.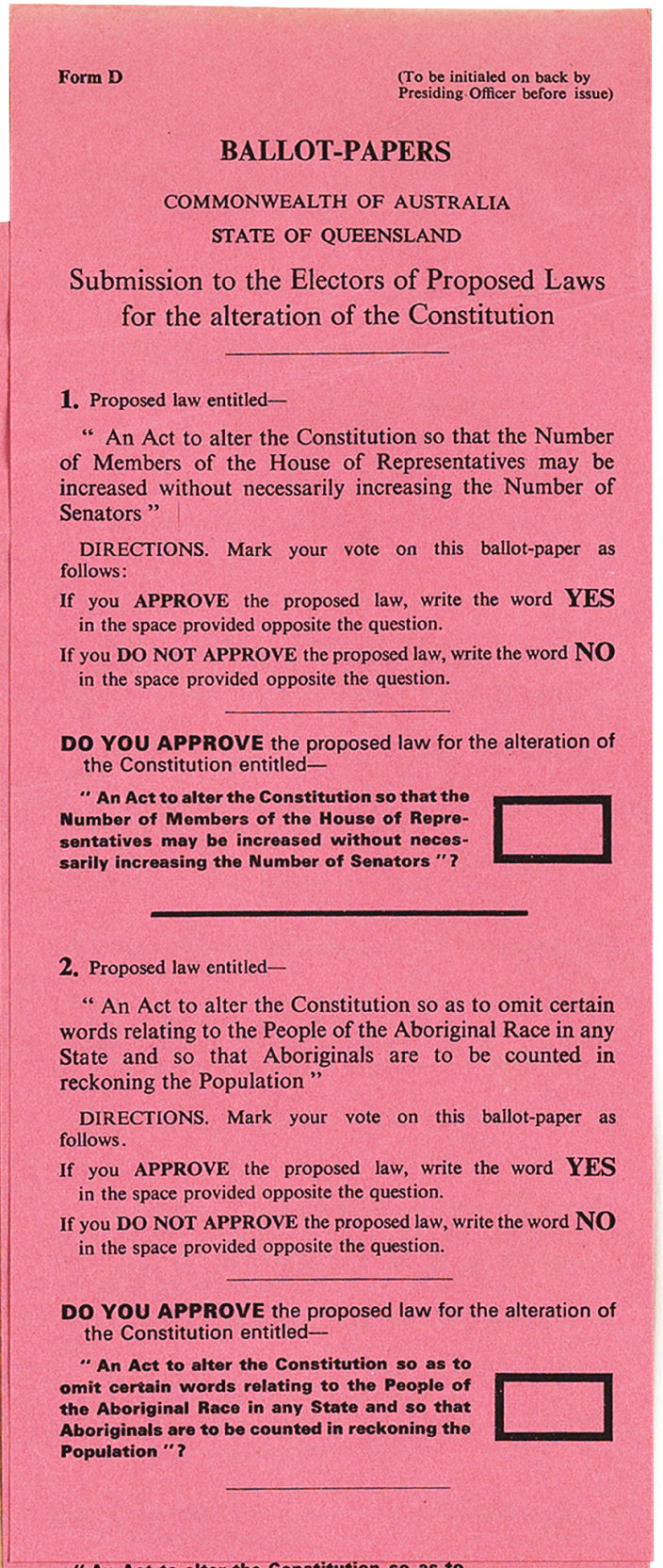 "We asked that section 51 be submitted to a referendum to remove this limitation on Commonwealth action in the belief that all Australian laws ought to apply equally to all Australians and that no one should be excluded from Commonwealth benefits on account of race."Federal Council for the Advancement of Aborigines and Torres Strait Islanders
The case for changing section 51, March 1967
I hope the Commonwealth sees it as meaning that the people of W.A. and of Australia want more done for Aborigines E.C.Gare, President Aboriginal Advancement Council
The West Australian, 29 May 1967
Western Australian Vote Result
An extraordinary 90.77% of Australian voters wrote 'Yes' on their ballot papers. While all states, including Western Australia, returned a 'Yes' vote, there were varied responses across the nation. WA returned the lowest 'Yes' vote at 80.95%.
Typically, regional and rural areas recorded higher 'No' votes than city areas.
Kalgoorlie recorded the highest 'No' vote in any electoral division at 29.04%.
Across the subdivisions, the highest 'No' vote in WA was Murchison (in the division of Kalgoorlie) with 42.6%.
In New South Wales and Queensland there were some areas that saw a 'No' vote of over 60%.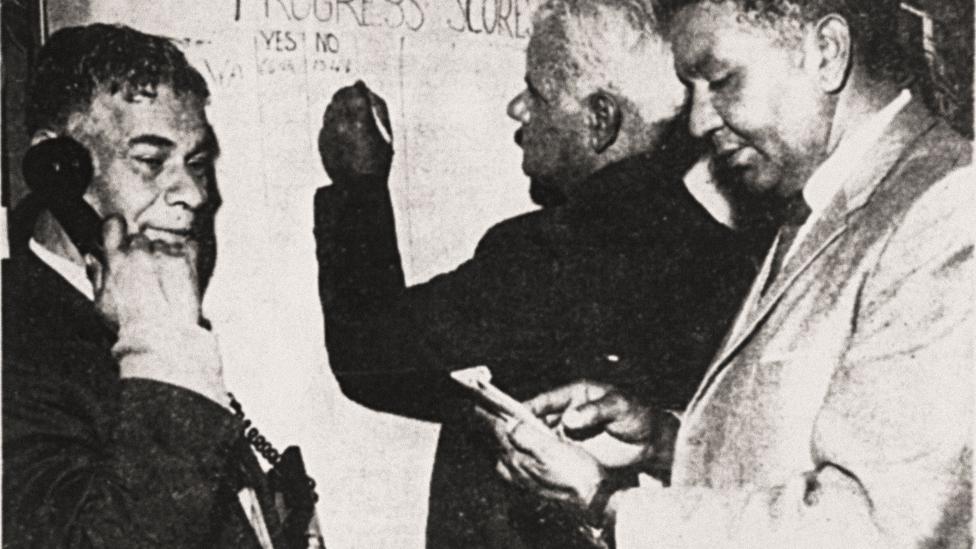 Results by state
| | | | | | | |
| --- | --- | --- | --- | --- | --- | --- |
| Division | 'Yes' vote | 'No' vote | Informal votes | Total valid votes | 'Yes' vote* | 'No' vote* |
| New South Wales | 1,949,036 | 182,010 | 35,461 | 2,131,046 | 91.46% | 8.54% |
| Victoria | 1,525,026 | 85,611 | 19,957 | 1,610,637 | 94.68% | 5.32% |
| Queensland | 748,612 | 90,587 | 9,529 | 839,199 | 89.21% | 10.79% |
| South Australia | 473,440 | 75,383 | 12,021 | 548,823 | 86.26% | 13.74% |
| Western Australia | 319,823 | 75,282 | 10,561 | 395,105 | 80.95% | 19.05% |
| Tasmania | 167,176 | 18,134 | 3,935 | 185,310 | 90.21% | 9.79% |
| Total | 5,183,113 | 527,007 | 91,464 | 5,710,120 | 90.77% | 9.23% |
* As a percentage of total valid (formal) votes cast
Results in Western Australia
| | | | | | | |
| --- | --- | --- | --- | --- | --- | --- |
| Division | 'Yes' vote | 'No' vote | Informal votes | Total valid votes | 'Yes' vote* | 'No' vote* |
| Canning | 32,740 | 9,640 | 1,047 | 42,380 | 77.25% | 22.75% |
| Curtin | 33,838 | 6,261 | 804 | 40,099 | 84.39% | 15.61% |
| Forrest | 34,282 | 7,182 | 955 | 41,464 | 82.68% | 17.32% |
| Fremantle | 43,868 | 8,423 | 1,310 | 52,291 | 83.89% | 16.11% |
| Kalgoorlie | 21,719 | 8,888 | 960 | 30,607 | 70.96% | 29.04% |
| Moore | 33,117 | 8,709 | 985 | 41,826 | 79.18% | 20.82% |
| Perth | 20,989 | 5,529 | 1,126 | 26,518 | 79.15% | 20.85% |
| Stirling | 20.85% | 11,667 | 2,003 | 66,797 | 82.53% | 17.47% |
| Swan | 44,140 | 8,983 | 1,371 | 53,123 | 83.09% | 16.91% |
| Total | 319,823 | 75,282 | 10,561 | 395,105 | 80.95% | 19.05% |
* As a percentage of total valid (formal) votes cast