Ulidia (1893/05/18)
Stragglers Rocks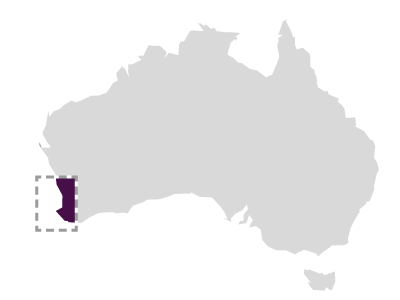 Ulidia was built by Richardson, Duck and Company at Stockton-on-Tees at a cost of £23?000, and was owned by William Porter & Sons. It had two decks, one bulkhead, a forecastle 10.3 m long and a poop 11.6 m in length, and was cemented. There are differing opinions as to the rig with Lubbock (1966: 76) stating that it was a full-rigged ship while Cairns & Henderson (1995: 217) claim that it was rigged as a schooner. Lloyd's Register has it listed as an iron ship. According to Lubbock the vessel carried single topgallant sails, and the main yard was 91 ft (27.7 m) long. The ship was capable of making fast passages. For example in 1891 the voyage from Maryport, on the Solway Firth in England, to Sydney had only taken 88½ days, the best day's run being 280 miles (518 km).
proceeded to Fremantle under the temporary command of Captain Abbott, as Captain Carrey had lost his certificate of competency at the Court of Inquir afte r grounding the ship at Bunbury.
After taking on sand ballast at Garden Island the Ulidia was to have been sailed to Newcastle, NSW, by Captain J. McAdam, sent by the owners to Fremantle to take command. On 18 May 1893 when sailing out of Fremantle without a pilot the Ulidia was wrecked near the Straggler Reef.
INQUIRY
Captain Lawrie and Captain Shaw (in charge of the lighters) held a survey of the Ulidia at Bunbury, finding little damage above the waterline. They ordered a diver to be sent down to examine the underwater hull.
The ship's agents, Mr King from Fremantle and Thomas Hayward from Bunbury, made enquiries into the conduct of Captain Carey, resulting in them dismissing him from the ship on the morning of 15 February.
The following day a Court of Inquiry consisting of Resident Magistrate W.H. Timperley, W. Spencer, J.P. and Captain Owston was held at the Magistrate's Court in Bunbury where the following charges were heard:
1. That he did carelessly navigate the ship Ulidia.
2. That on the 14th inst. he was intoxicated.
3. That he allowed 10 able seamen to desert the ship.
4. That he was again intoxicated on the 15th.
5. That he neglected to make entries in the official log book (Bunbury Herald, 1 March 1893: 3c).
Captain Carey admitted to being drunk on the two occasions. These were the actions which resulted in his dismissal from the ship. He was found guilty of the first four charges and the court suspended his certificate of competency for 12 months.
Ship Built
Owner P. Iredale & Porter Ltd (Alexander Forrest, Stansmore and Renou, and a Mr Glynn of London?)
Master Captain McAdam
Builder Richardson, Duck and Company
Country Built Scotland
Port Built Stockton on Tees, Durham
Port Registered Belfast
When Built 1889
Ship Lost
Gouped Region Metro
Sinking Cable snapped
When Lost 1893/05/18
Where Lost Stragglers Rocks
Latitude -32.0576666667
Longitude 115.6288333333
Position Information GPS
Port From Garden Island
Port To Newcastle, New South Wales
Cargo Sand (Ballast)
Ship Details
Engine N
Length 91.40
Beam 12.80
TONA 2378.00
TONB 2378.00
Draft 7.40
Museum Reference
Official Number 76257
Unique Number 628
Sunk Code Wrecked and sunk
File Number 2009/0207/SG _MA-187/76
Chart Number AUS 117
Protected Protected Federal
Found Y
Inspected Y
Date Inspected 1996
Confidential NO