Dato (1893/02/27)
Quindalup, later Careening Bay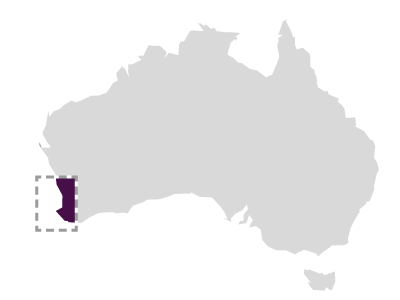 Dato was built at Ekenïïs, Finland, and originally named Ekenäs. It had one deck. In early 1893 after arriving at Fremantle with a cargo of coal from Newcastle, NSW, the brig was chartered by W. D. Moore and Company to load jarrah paving blocks at Quindalup for London. It took on board a full cargo of 400 loads from Henry Yelverton's mill. One report stated that the vessel was awaiting clearance papers which had been applied for two days previously (Inquirer, 31 March 1893). Another reported that, having loaded the cargo, the captain delayed departure for two days 'in order to make everything snug for the long voyage' (West Australian, 1 March 1893: 6e).
THE STRANDING
A gale struck from the north-east during the morning of Monday 27 February 1893. This increased in ferocity during the day, changing direction to northerly around 4.00 p.m. The strongest winds and highest seas seen in the area for twenty years drove the Dato ashore north-west of the jetty. The vessel lost its mainmast and came to rest about a kilometre offshore, where it was later condemned as a wreck.
INQUIRY
The Court of Inquiry into the stranding of the brig Dato resulted in the captain having two charges brought against him—the first, that of a breach of the Port Regulations; the second, that of not striking his topgallant yards when the barometer showed signs of the approach of a storm (Inquirer, 31 March 1893). He was let off with a caution but had to pay £8 court costs.
It was normal practice for vessels after coming to anchor to strike the top-hamper to reduce windage, so that any subsequent gales had less chance of driving the ship ashore. For instance the whaling barque Pacific of New Bedford had visited the Abrolhos Islands during July 1858 and one of the crew wrote:
As soon as our ground-tackle was secured, we struck the topsail and topgallant yards and the topgallantmasts, housed our mizen topmast, and then unbent all the sails, except the spensers [sic]: our objective being to present as little surface as possible to the action of the wind; thereby rendering our anchorage more secure (Whitecar, 1860: 270).
INITIAL SALVAGE
The wreck of the Dato was bought by Henry Yelverton and a local master mariner named Reid. After plugging several holes and pumping out the water, the jarrah blocks were off loaded. Further examination revealed that some of the planks were badly damaged, and these were replaced. The vessel was then sold as a hulk to W.D. Moore and Company, who in early 1895 had it towed to Fremantle by the tug Dolphin, where it arrived on 31 January. It was used for a period as an explosives store, and subsequently sank in Careening Bay, Garden Island, where it now lies.
Ship Built
Builder Acteselskabet 'Dato'
Country Built Finland
Port Built Ekenas
Port Registered Laurvig, Finland
When Built 1872
Ship Lost
Gouped Region Metro
Sinking Sank later as hulk at
When Lost 1893/02/27
Where Lost Quindalup, later Careening Bay
Latitude -32.23614
Longitude 115.692514
Position Information +GPS Dec2003
Port From Careening Bay, Garden Island
Port To Careening Bay, Garden Island
Cargo Jarrah paving blocks
Ship Details
Engine N
Length 40.60
Beam 9.60
TONA 494.00
TONB 474.00
Draft 5.10
Museum Reference
Unique Number 84
Sunk Code Refloated
File Number 2009/0100/SG _MA-196/72
Chart Number AUS 117
Protected Protected Federal
Found Y
Inspected Y
Date Inspected 1996/02 03/12Side scan
Confidential NO