City of York (1899/07/12)
Rottnest Island, City of York Bay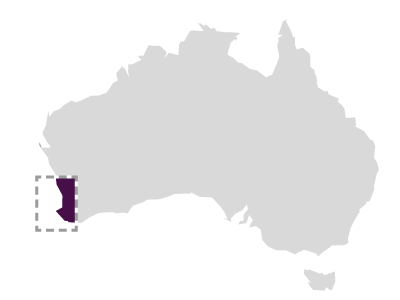 1 anchor on display Rottnest Island, 1 anchor displayed at Perth Flying Squadron, Nedlands. 4 contemporary images.
A three masted, 68 metre (223 feet) long, iron hulled ship built in 1869 by Glasgow shipbuilders J. Elder and Company. Departed San Francisco under Captain Phillip Jones with a cargo of 743,444 feet of Oregon timber and 3,638 doors. Contemporary of Cutty Sark against which it once raced. After making a record passage to Western Australia in 90 days, approached Rottnest on the afternoon of 12 July 1899 in stormy weather including blinding rain and heavy seas. Sighted by the lighthouse keeper the pilot was readied and the assistant lighthouse keeper challenged the ship by lighting a flare-up at the base of the lighthouse, indicating the ship was to stand off until the pilot arrived. Jones mistook the signal for the international code as being from a pilot boat itself and that the ship should continue towards it (the pilot boat). It grounded on a reef 200 metres offshore in what is today know as the City of York Bay on a direct line in towards the flare at the base of the lighthouse.
Captain Jones ordered the ship abandoned and all 26 got into the boats and stood a short distance off. As the ship appeared to be holding steady of the reef, Jones ordered a return to the ship. Eight men re-boarded and 11 including Jones were drowned. The seven in the remaining boat got ashore and walked to the lighthouse to raise the alarm. The remaining eight men on the ship were saved.
Jones was blamed, but an outcry and concern about the signalling procedures resulted in an investigation into the harbour and pilot services of the colony and the committee exonerated Jones.[
The owners claim for damages of £7,000 from the government was settled out of court in early 1903. Though the hull was abandoned the timber was purchased by a Perth syndicate who also bought the cargo from the Carlisle Castle wrecked on the same night.
The wreck lies in c 7 metres of water on a reef bottom with the bow facing to shore. Discovered by Barry Martin of the UEC, an anchor was recovered by the Blue Water Wanderers in 1959 (1961?) and is now on exhibit at Rottnest and was fitted with a wooden stock. Another was recovered by the same club assisted by the Army and is on exhibit at the Flying Squadron Yacht Club at Nedlands
Contemporary images of the ship at sea and ashore are by G.N. Bourne (2) and 'Jimmy' Cudgely (2) a Rottnest Island prisoner.
Ship Built
Owner Ship City of York Company Ltd
Master Captain Philip Jones
Country Built Scotland
Port Built Glasgow
Port Registered Glasgow
When Built 1869
Ship Lost
Gouped Region Metro
Sinking Struck Reef
Deaths 11
When Lost 1899/07/12
Where Lost Rottnest Island, City of York Bay
Latitude -31.99415
Longitude 115.48899
Position Information GPS2002
Port From San Francisco
Port To Fremantle
Cargo Timber; 3638 doors
Minimum Depth of site 4.60
Length of site 62.00
Ship Details
Engine N
Length 67.90
Beam 10.90
TONA 1167.00
TONB 1167.00
Draft 6.60
Bearing to Bow 150.00
Museum Reference
Official Number 60871
Unique Number 50
Sunk Code Wrecked and sunk
File Number 2009/0224/SG _MA-661/71
Chart Number PWD 54153
Protected Protected Federal
Found Y
Inspected Y
Date Inspected 2002/12
Confidential NO