Louis François Marie Aleno de Saint Aloüarn 1771–1772 First French claim to Australia
On 1 May 1771, de Kerguelen's expedition left France. His second-in-command was fellow Breton Louis François Marie Aleno de Saint Aloüarn.
At the Île de France (Mauritius) de Kerguelen exchanged the 900-ton Berryer for two smaller vessels — the 24-gun flute Fortune and the 16-gun storeship (gabare) Gros Ventre, commanded by de Saint Aloüarn. On 16 January 1772 the expedition headed due south. By 13 February they were abeam of what Cook later named Kerguelen Island, which was duly claimed for France.
Separated by fog, de Kerguelen headed back to France claiming to have found the Terres Australes. De Saint Aloüarn in the Gros Ventre sailed eastwards to New Holland, arriving off Flinders Bay on 17 March. Unable to land due to bad weather he headed for Shark Bay. On 30 March 1772 a shore party explored Dirk Hartog Island and took possession of the land in the name of King Louis XV of France. The Gros Ventre then made its way back to Île de France via Timor and Batavia (Jakarta).
De Kerguelen, meanwhile, had been sent back to the South Indian Ocean to search for the missing Gros Ventre and confirm his previous claims. With his 16-year-old stowaway lover 'Louison' (Louise Séguin) on board, his voyage was an almost total failure and lead to his court martial and imprisonment.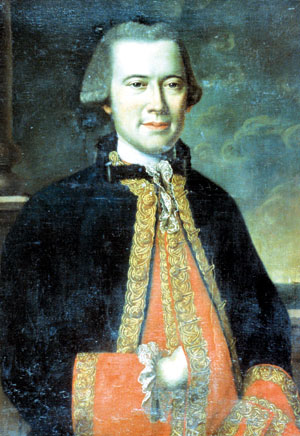 Yves-Joseph de Kerguelen de Trémarec 1771–1772
'Kerguelen was a man of his century: a mariner of great talent, he was, moreover, a rigorous scientist; his thought focused on every interesting aspect of seafaring'
(Alain Boulaire, 1997, Kerguelen: le Phénix des Mers Australes).
In 1771 the French Government decided to support an expedition that they hoped would equal Cook's achievements, solve the mystery of the Terres Australes and restore its naval prestige. Yves-Josèph de Kerguelen de Trémarec, a 37-year-old ambitious naval officer and Breton noble, had finally succeeded in being entrusted with the mission he had always wanted.
His commission was highly secret and no one on board his ship the Berryer was to know their true destination, Terres Australes. The memorandum de Kerguelen received from King Louis XV on 10 April 1771 emphasised that this was one of the most important discoveries still to be made. Geographers hotly debated the existence of this land. James Cook had only proved by 1770 that it would not be found in the fairly low latitudes of the Pacific.
If Terres Australes was discovered, de Kerguelen was to look for a harbour, establish bonds of trade and friendship with the inhabitants; examine the resources of the country, its culture, produce and advise what commerce could be derived for the French crown. He was then to sail to New Holland and return to France via South America.
The only new land de Kerguelen discovered — now known as Kerguelen Island — was icy, inhospitable and offered no colonial benefit at all.