About the exhibition
Beyond Garment offers an opportunity to see some of W.A's most influential designers and artists assemble works projected outside of the fashion norm, to be showcased during the Perth Fashion Festival.
Using a variety of media and textiles, twenty designers have created wearable art that challenges established notions of 'garment'. Their work draws on a desire to explore the boundaries of fashion, and show that accessory can become the focus of body adornment – not just an afterthought.
Essays contributed by Beyond Garment exhibtion curator Anne Farren, Dr Ann Schilo, Dr Christiane Keller and Dr Kirsten Hudson discuss the relationship of the works to changing notions of femininity, the function of cloth in times of ritual and change, development of a narrative of self and identity, as well as the interaction between Indigenous design and European settlement.
The work is strongly influenced by the social landscape of Western Australian life, as well as drawing on the colours and textures of the Outback. Indigenous artists collaborate with international label 'Antipodium' to create a series of accessories infused with symbols of Australian plants and animals.
Artist interviews for the exhibition
Visitors can experience a more intimate connection with the Beyond Garment artists by accessing artist interviews via QR codes and bit.ly URLs that will be placed around the exhibition.
What are QR codes and bit.ly URLs?
QR codes are types of barcodes. Use your phone to scan the QR code next to the exhibition object, this will link you directly to audio interviews from the artist. Simple instructions to enable QR code decoding will be present at the exhibition.
The bit.ly URLs are a shortened version of a website URL allowing you to type in a short web address, taking you to the same web page that contains information about the artists and selected interviews.
What do QR codes look like?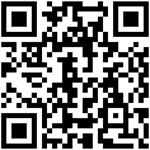 We have included a QR code that can be used to access an interview with Janine McAullay Bott.
Alternatively, type in the following URL into your phone: bit.ly/aJ2N6D to access the artist interview.
Audio interviews with nine of the exhibition artists have been recorded. When you are at the exhibition you will be able to listen to the artist as they describe their influences, their concepts and their art as you examine their creations.