Papuan Paradise
Special Event | Updated 5 years ago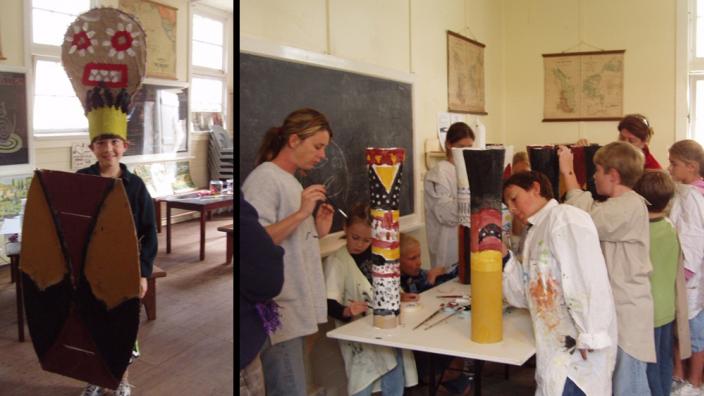 Join us as we explore the mysterious island of Papua New Guinea at the Western Australian Museum – Albany these school holidays! There's plenty to do, with different activities for each day of the week, and guided discovery workshops twice daily, there's something for everyone.
Discovery Centre - Albany
Dates: 20 April to 6 May, 2013
Times: 10:00am - 4.30pm daily (ANZAC Day will run from 1:00pm – 4:30pm)
Ages: 4 – 14 years, with a 'junior corner' catering to 1 – 4 years
Cost: Many activities free, paid activities range from $2 to $5
Bookings: Required for guided workshops on 9841 4844
Visit our own traditional Papuan highland village, look out for the crocodiles, and make your own waving Wuna headdress. Become a mud man, a rainforest warrior with amazing face masks, shields and drums, or create your own quirky mini Dukduk sculpture. Join us for some Papuan weaving sessions or help to create a rainforest paradise by adding your own beautiful Bird of Paradise.
Discovery Workshops Monday to Friday at 10.30am and 1.30pm (Except ANZAC Day). Bookings essential ph 9841 4844.
Hey, watch my Wuna!
Dates: Monday, April 22 and 29
Cost: $7
Age: 4 – 14 years
Bookings essential ph 9841 4844
Can you balance a Wuna on your head? Create your own colourful adornment and see how high can you go? Discover why the Wuna is an important part of Papua New Guinean celebration and ceremony.
Asaro Mud Masks
Dates: Tuesday, April 23 and 30
Cost: $7
Age: 4 - 14years
Bookings essential ph 9841 4844
Hear the legend of Asaro River mud saving a village, and why the people of Asaro still wear mud masks to this day. Create and wear your own weird mud mask to ward off unwanted visitors.
Zany Dukduks
Dates: Wednesday, April 24 and May 1
Cost: $7
Age: 4 – 14 years
Bookings essential ph 9841 4844
Who is this mysterious figure? Find out what secret society it belongs to and how many dewarra (Papuan dollars) it costs to join. Fascinate your friends with your own hand-made Dukduk creation.
What's It Worth?
Dates: Thursday, May 2
Cost: $7
Age: 4 - 14 years
Bookings essential ph 9841 4844
Let everyone know what you're worth via your creative design. Try using traditional Papuan methods to make a conversation cloth in this unusual textile workshop.
Atkom! Atkom!
Dates: Friday, April 26 and May 3
Cost: $7
Age: 4 – 14 years
Bookings essential ph 9841 4844
Calling all warriors! Did you know the designs of the Papua New Guinean warriors shield connect him with his ancestors? What designs and colours will you use to decorate your life-sized shield?
Programs are subject to availability. All children 12 years and under must be accompanied by a parent or guardian. Throughout the school holidays a special 'Junior Corner' for ages 1- 4 will be available.
Sat 20 Apr 2013 – Mon 6 May 2013

10:30am – 4:30pm