HMAS Ovens
Long Term Exhibition | Updated 1 week ago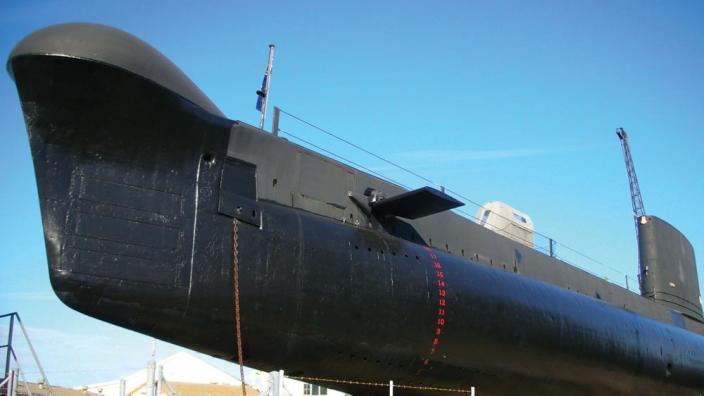 Please Note: The Submarine HMAS Ovens will be temporarily closed from Monday 8 June 2015 to complete essential maintenance. Please keep an eye on our website for further details and phone ahead to confirm availability of tours, which are scheduled to resume in mid-September! Thank you.
The Oberon class Submarine HMAS Ovens is an authentic Cold War-era vessel situated on Fremantle's historic World War II submarine slipway. This exhibit serves as a living memorial to submariners and those who gave their lives while serving from Fremantle during World War II.
Guided tours of the submarine leave every half hour (10am - 3.30pm) from the Western Australian Museum - Maritime. Bookings are advised as tours are subject to availability. The guided tours take approximately one hour and reveal intimate details about living and serving aboard the 89 meter long vessel. Quite amazingly, 63 people served aboard the vessel living amongst pumps, controls, sensors, tactical equipment and torpedoes in extremely cramped conditions.
Find out what life is like aboard a submarine and immerse yourself in Fremantle's secret wartime history.
Bookings
Bookings can be made at the front desk at the Maritime Museum or by calling 1300 134 081. Bookings are advised as tours are subject to availability. Please call ahead if you have a larger group or are concerned about weather conditions.
Tour costs can found on the Western Australian Museum - Maritime page. Individual tickets for the submarine tour or joint tickets with the Maritime Museum are available.
Health and Safety information
The tour includes climbing 9 meter high scaffolding stairs, steeply inclined ladders and bending through narrow hatchways, a reasonable level of fitness, freedom from significant injuries, and the ability to climb independently (without walking aids) is required. Please see the Submarine Access Policy and the Submarine tour FAQs.
Age Restrictions
For safety reasons, children under the age of five are not permitted to participate on the submarine tour.
Note: tours can be canceled because of severe weather conditions (eg. high winds, thunderstorms or high temperatures) - tickets will be refunded in such events.
Vounteering: if you are interested in volunteering as a tour guide, find out how on the get involved page of this website.