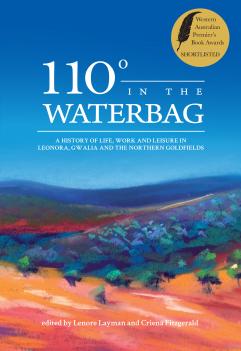 110 Degrees in the Waterbag: A History of Life, Work and Leisure in Leonora, Gwalia and the Northern Goldfields
Museum Book | Updated 1 years ago
Author(s)
Lenore Layman and Criena Fitzgerald

Year
2012

Format
Paper Back

Pages
440

ISBN
9781920843687
The place has been known by many names. It is the country of Kuwarra/Koara people; to colonial surveyor John Forrest it was 'unpromising' country; prospectors and settlers in the goldrush days and early 1900s saw otherwise and knew the country as a promising but remote and challenging place to visit or live.
The goldfields have been a powerful influence on both Australian and Western Australian history. Gold has driven development in many parts of Australia. A great number of family lives have been shaped by migration to and from the fields. Reminiscences, and family and local histories have produced powerful and oft-repeated narratives.
This book moves beyond the oft-told. It tells of Aboriginal history, of people who have 'always been here, and we always will be here'. Women's and children's lives are explored as well as those of prospectors and miners, the settlement of 'Afghans' and the story of pastoralism.
SHORTLISTED FOR THE WESTERN AUSTRALIAN PREMIER'S BOOK AWARDS 2012.