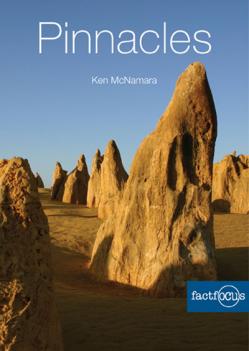 Pinnacles
Museum Book | Updated 2 years ago
Author(s)
Ken McNamara

Year
2009

Format
Paper Back

Pages
64

ISBN
9781920843441
On the coast north of Perth is one of the most unusual landscapes in all Australia — the Pinnacles Desert. Out of the bare, yellow, shifting sands rise thousands of huge, limestone pillars. Massive and immobile in such a stark landscape, these grotesquely sculptured stone columns look as if they have stood for ages.
The Pinnacles are visited annually by thousands of travellers who wonder at these wonders of nature. Rising up to five metres in height, the pinnacles display a vast array of shapes. Some are jagged, sharp-edged structures rising to a pointed apex; others form regular, parallel-sided columns, evenly rounded on top, or capped by what looks like a large stone mushroom.
What exactly are pinnacles? How did they form? What natural processes were able to create such spectacular structures? And what can they tell us about the evolution of the coastal scenery of this part of Australia? This concise, beautifully illustrated book addresses all these questions and more, in clear, accessible language for students and general readers alike.