Dive Diary
3rd June
Team - WAMM JNG/CS/MM

Prospero: Ed Punchard/Rhian, Peter du Cane, Ian Pugsley and Glen - cameraman.
Departed 11.00 pm delayed by need to get an engineer for Port Hedland and spares - saw a great opportunity to check out the SS Koombanah/MMA story and sent my card up to the flight deck. Met pilots Scott and Michael and told them of the team's plans and the MMA/Koombana story (sighted on an MMA flight Port Hedland to Broome) and invited forward. Joined after levelling out and sat in the jump seat for a while then vacated for an unexpected troop of kids with cancer - not too much of a loss and for a good cause. Visit inconclusive however.

Arrived at Broome 2'ish met by John Lashmar and Peter Bibby then to Notre Dame - newly built student accommodation - very flash, own ensuite rooms. Got the boat, unpacked and prepared boat and gear for am [morning]. Pretty tired. Worked late on my review of the [book] 'White Experiment 'for the Great Circle and Silvano Jung's thesis on the aircraft wrecks of Broome - most topical indeed.
4th June
0900 - Launched the boat at the boat ramp near the jetty - very easy at high tide - quite steep, and after some filming got away remote sensing with the side scan. High Tide. Jeremy had plotted in a search zone commencing not far west of the drying sites [&] to the Parker/Kimpton sites. Very successful. Many strikes. Joined by Geoff Parker pm and rechecked his sites. Finished circa 1600 and paddled ashore using my wave ski. Lots achieved.

Discussed also diving regime to come and [proposed side scan sonar survey of ] Karrakatta [wreck at Cape Leveque]. Geoff advised the flying boat dry at c. 4m tide and the best thing is to be ready to dive 2 hrs before high tide on the neaps. He is preparing air plane models of the wrecks, but is having no luck buying Dornier/Sunderland kits - these being very rare. Moored on one of Geoff's friend's moorings for the night.
5th June
Away late after discussing the number of planes issue and then to the harbour filming the preliminaries, 'mock-ups' of activity account from John Lashmar's boat. All quite time consuming but useful. Then to finish the side scanning at 3. Ran into Lee Kimpton and had chat; then ashore for JNG to plot up.
6th June
Strong easterlies 20-30 knots. Rough seas undivable, unboatable. Boats tossing alarmingly at the moorings. Worked on [marking] Sylvano's [Masters] thesis [on the Darwin seaplanes]. Then to John and Christine Lashmar for checking their IBM and the Dampier/deFreycinet slide show. Picked up and dropped off by John. A good tea.
7th June
AM wind low strong. Research and writing up. Off to Lashmar's to get his boat - kindly loaned. Change in weather predicted by Geoff Parker for 2.30 pm then off high resolution side scanning till dark. A great day and some excellent results. At the eastern end of the bay.
8th June
Ditto. With JL and film crew in attendance.
9th June
Ditto. a/d [All day] good conditions. All gone well. Plane wings and engines seen and other anomalies worth examining.
10th June
To the boat by wave ski after seeing the mob off for Carnot Bay. Then with Geoff Parker by seaplane to Carnot Bay passing Willie Creek with its abandoned refugee boats. To land in crystal clear water in the bay at high tide picked up by John Lashmar and ferried ashore arriving c. 1.30 pm. Set up camp and then off by boat (in groups) to Carnot Bay. Peter Bibby having 'sussed out' the area for Prospero the week or so previous. To the northern end of the bay to the memorial - a 2 bladed propeller embedded in cement once with a cross attached (now lying down adjacent due to corrosion among midden sites). No sign of the plane or materials in the dunes ashore - though none were expected due to the many visitors to the area then and since. Left at around 4 but soon grounded being forced to carry the boat over a sandbar - quite exhausting then pushing the boat until it was stranded and had to be left. Walked wearily into camp. A good tea and some singing of Bran Nue Dae songs by Peter then off over the flats to get the boat with John and Geoff. Got it after some searching not having good lights or reflectors, then awaited the tide and sailed home arriving around midnight.
11th June
Up and away to the [Carnot Bay DC3] site crammed into the Budget Rental car finding the wing exposed and no other wreckage near by - a really great disappointment.

0700. Did the inspection and discussed the histories with Corioli, Geoff & Peter providing the history. The wing is the port wing measuring 9 metres from the foot to the top. It lies on an angle to north of roughly east/west (measured at around 250°/80° [recorded by] by Peter. The highest part of the wing is 25 cm high at the engine mount within which is a tyre that is quite twisted and battered and not as written in some accounts still inflated. 40° away from the leading easterly edge of the wing at a distance of 5.4 metres is an unidentified vertical object 40 cm high with a cylindrical base just off the western top of the wing is another jumble resembling elements of the engine bearers visible at the other extremity of the site. The area was probed producing no evidence of the other wing or the fuselage. Advice is that the aircraft was torched in WWII and vandalised after a bomb located by Stan Gadja was exploded in the 70s.

After the digital record manual drawing and probing, the team departed ahead of the incoming tide for camp at 0830. Remainder of the day at camp when Peter Bibby came in with two pieces of the aircraft found embedded just below the low mark in rocks at 500m from our camp towards the aircraft. DC3 (1) - 1 560 mm x 180 mm, 4 milled holes pop rivetted fuselage section? DC3 (2) - 1 250 x 370 A/ trag? With some iron and A/ rivets unid. These are perhaps some clue to the sparseness of the remains at the site it also possibly having broken up in cyclones. Equally these could have been souvenirs abandoned on the walk in. The presence of a holiday camp in the point not far from our camp attests to visitations here. Flew out with the film crew for an exciting trip home along the coast and over Broome noting the extraordinary clarity until Gantheume Point was reached then viz in the water dropped to zero. John/Corioli and co. arrived after dark. Jon C and Geoff K had arrived.
12th June
Carpo [Jon Carpenter] and GK [Geoff Kimpton] , Silvano [Jung] in over night. Elected to be on the water 2 hrs before the high water on the neaps and therefore take advantage of the making tide and expected better clarity. Working on reports etc am then to a site surveying it and recording with Geoff Kimpton. Site# Viz c. 1 metre maximum and very silty on the bottom with diver movement making it much worse. Saw 2 wings at c.45° to each other both inverted some fuselage and 2 engines one in place the other on its end propeller in the mud. Passed over some fuelage - lots of fish and many Lion fish, which posed a danger in the poor viz. GK on video MM on photography which will almost certainly prove useless on account of the poor light despite the 400 ASA film. Not a good site to excavate from a diver safety view point. Depth c. 13/4 metres. Filming at night catching up on the scenes missed though we also missed on the opportunity to check out video record against the side scan sonar images. V. late evening.
(Link: http://wamuseum.com.au/collections/maritime/march/treasures/broome/seasp...) Panoramic Movie (Moragn to embed)
13th June
Jon Davison arrived overnight as did Jack a photographer from Exmouth [replacing Pat Baker] . Aiming for the 2.30 tide away at 12'ish in JL boat. Gear failure caused a rethink with GK/GP/JL with JC standby checking the Geoff Parker sites:

# Short Empire

# Catalina similar to the 12/06 site

# Another Catalina

Very poor visibility. After placing buoys JNG & JC dived a deep site at 20 m locating a tail some stern section and other wreckage in 20 m of water. JNG advising of a 2 m hole in which the wreckage lay. Viz c. 1 m., better the day before. For me a very bad day, drove the boat badly, dropped and lost more buoys than at an U/18 footy match, got hopelessly confused and also got a $150 fine for driving without a seat-belt after going to the bottle ship to get grog for the visiting Dutchmen. Not at all impressed, also to find our lounge about to be occupied for filming of the aviators 30m after our arrival back in off the boat.

At end of day, dived and video'd

1. K/Parker #1 - short-wing

2. K/Parker #2 - Catalina (with gun)

3. Parker #3 - Catalina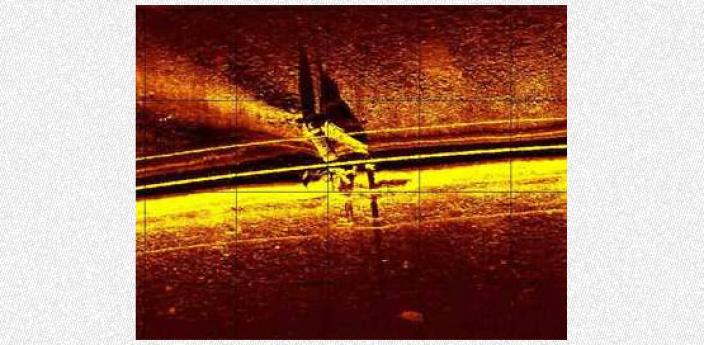 4. McCarthy/Kimpton - Catalina crossed wings. Is it 2.

5. Green/Carpenter #9 tail section. Unid. Possibly buried hull.

(A) Need view video and check against the side scan sonar image.

(B) Need ensure Catalina 2 & 4 are not the same. Aims of dive meeting

(a) 12/06 Examine footage have Geoff Parker draw to the board Silvano to

deconstruct

(b) 13/06 Examine footage and digital images to examine the sites seen

these two days.

(c) Have JNG advise which are which if possible. AM - get tanks down for refill. Get Geoff Parker to give dive/tide analysis. Geoff Parker suggest be on the water ready to dive

Jon Davison plotted the plane wreck opposite Disaster Rock believed to be the American bomber at map position BA 1048, plus the position of the Beaufighter wreck lost off the airstrip in 1944 During the day's dive advised by Geoff Parker that a Cessna that had been grounded to the south was airlifted by helicopter to Broome and was lost in the vicinity of the Davison Plot.
14th June
Site 6 - Dornier. Depth 6-6.5 m

Water temp 22°C, Vis 1-1.5 m

Divers - J. Carpenter/G. Parker

Site consists of fuselage with nose, mid and tail turrets. Possibly tail plane and tail fins with rudder on one side possibly two. Only one engine seen with only 2 part buried prop blades. Able to swim through mid turret into fuselage. 2 doorways visible. Nose of aircraft appears to be intact (see drawings G. Parker) Jon C video operator. Site 8 - Catalina Depth

Water Temp 22°C Vis. <1 m

Divers J. Carpenter/G. Parker

Nose with turret ring present, cockpit area with rudder ? in situ, extensive wing area, two engines with complete props. Engines horizontal position. Aircraft fittings/artefacts scattered on seabed, possibly grenade, handles, steel canister, SS wire etc. (see drawing G. Parker).

Site #7

Three dives were made on site 7 to locate 1 tree.

Dive Time (Depth 6 m)

JNG, Mack, Jon Davison and Sylvano side scanning and buoying sites. Replotted

#7 to finally allow the boys (Davison and Sylvano) to dive.

26 - 009/10 Corioli's Cat #26 fixed at 10(.WPT)

Wrecks targetted for test excavation (A)

WPT 8 Buoy 6 Dornier

GP advises this is the site in the large B/Ws

Evening - artefact presentation

Fork Y-59

Fritz's van Hulssen Flight engineer the 17

He advised cutlery had no marks - then we found Y59 on it.

Wrecks targeted for excavation B

WPT4 Buoy 8

Catalina.

The wreck @ WPT 9 which they did - GK & I dressed for filming. Finally abandoned all attempts to dive. CS/GP .30 - CS/GP .30 Called the new site a Catalina 'Corioli's CAT.' No. 26

#26 Fairly complete Catalina w/propeller - both wings. Navigator and tail gunners compartments show evidence of personal belongings e.g. shoes, cutlery. Also located possible 'toilet' consisting of stainless steel container and separate funnel. Diving conditions fairly average - low visibility. GP + CS diving 20 minutes. Back not 100% after receiving leaving tub ex JNG from the boat while in the yard.
17th June
CALMS A/D

Excavation day to Corioli's Cat/#8 CAT. Joined by Bibby and no film crew allowing us to concentrate ? and just the deposit. JL first recorded a guage and some loose materials from site 18/8 to the camera with minimal recording at per the plan below Then to Corioli's Cat site #26 Set the excavation method - two range pole system set aft of the pilot's/Co. pilots fixing:

X - across

Y - along

Z - with depth guage.

Recording sheet as p.57 u/w tub and artefact tag.JNG/JC/GK/GP for video of site in with cameras for predisturbance after S/J - Corioli in with HNG for surface recovery (p63) followed by excavation of the metre square by CS/JNG p.61/62 MM coordinating above, dived at conclusion.
Surface recovery Silvano's diver 17/6/01

Dive No. 1 - 30 minutes

Initial wreck inspection and orientation. Swan around the bow, starboard wing and engine. Propeller spinner indicated that this was a PBY-5 or Model 28-5 MNE (the export-version of the PBY-5). Exposed propeller blade bent about 1/2 wah along its length. Could not see the other blades. Anchor cable was seen coming out of anchor locker - anchor at other end

buried?
Dive No. 2 - 30 minutes

Jeremy placed the 2m ranging poles in what appeared to be the galley area. We saw many shoe soles in the area as well as utensils (forks). Artefacts on the surface were collected, including kitchen forks and petrol funnel etc. Sediment filled most of this compartment. Little structural integrity left. Steering yoke in cockpit was seen, but no wheels. Instrument panel is missing. Mooring bollard found on port-side by the turret.

Excavation depth 30 cm, within metre square.



- left leather shoe.heel in situ - too complex to remove, conservation issues

- visibility improved with water dredge in use.

Notes:

A. Both CAT 8/18 & 26 had mooring anchors below

B. On 17/06 dived - 13.39h low @ 3.17 m, with 3.9 - 4.3 m over the

excavation area

C. Advised by GP - best time - neaps after smallest spring and this time of year June-July-August when the 'blue current' comes in - best for August also on a.c of calms of SE winds which cause us the occasional problem and first day this trip.
Broome Aircraft Wrecks Study #2
August 2001
Aim: To complete side scan sonar and site inspections. To complete film not finished over last tides. JC/MMcC/PEB/GK/CS on board at 10.30 Friday for Broome.
10th August
Arrived 1'ish to Notre Dame - got boat and gear from GP/GL's - then relax and tea on Ed . Beers at the Roebuck beforehand. Met Eye Surgeon Alistair … very keen on our work - named his son William Dampier in honour [of our success in March].
11th August
Up and briefing getting systems up to scratch - lost boat keys. To ramp at high tide launched all three boats. Pat and Malcolm had familiarisation dive JL and MM at work on his systems. Then MM and CS relocating two sites. WPT 12 and 13. Allocated after good echo sounder searches.
12th August
Up at 6.00 for the morning slack water - all well though for a while we were all concerned about Jake Lashmar who disappeared chasing her dog Kevin for 1/2 hr - caused JL great distress. To the sites with the film crew and all others. Got a good dive in on the morning tide working to complete the above and below water slots missing from first visit.
Viz quite good - all very good for the filming. Long gap in filming for the running tide then back on site for the next round of films. Much easier - site buoyed. Boat rigged. V . successful re-enactment all very pleased despite the difficult afternoon conditions. Returned to the ramp in 15 kt SW winds - quite sloppy. Cleaned up. All well until viewing the rushes' which indicated a problem in the filming somewhere.

All very disappointed - rest off for tea, Mc catching up. Back not 100% - stretching and generally bending etc to get back to scratch. Away 0630 Dived the two tides as per yesterday calms a/d 1' visibility initially. Back 5.30 pm. Finished work at 6.30 pm. A long day all on re-enactment. Viz. C. 1m
14th August
Away 0745 to ramp. Re-enactment at dig till 1655 ex site arrived back 1745. Re-enactment as per last two days. Viz <1 m. Little tide movement. Flat calm. Some confusion as to which site we are on requiring attention is it Corioli/Fritz Cat or site 8/18/

# WPT 004 - site 8/18 CAT

# WPT 10 - site 26. C.Cat

# WPT 008 - Dornier

# WPT 008 - Wing SE

Jon C. - Underwater Corrosion measurements

x - 1, 2, 3, 4

1. Nose 2.4mT, pH 6.46, Ec -670

2. Body 2.5mT, pH 8.29, EC -672

3. Prop blade 2mT, pH 3.4

4.l Prop ? 3mT, pH 8.2 - 742

Corrosion measurements acquired from RH side near nose of aircraft (1), end of body wall (2) Prop blade (3) spinner.

Met Mike Lapwood CALM re my idea to have the wrecks recognised within the Marine Park.