Rebecca Bray
Technical Officer (Terrestrial Vertebrates)
Terrestrial Zoology
BSc (Hons) Zoology and Marine Biology, BMus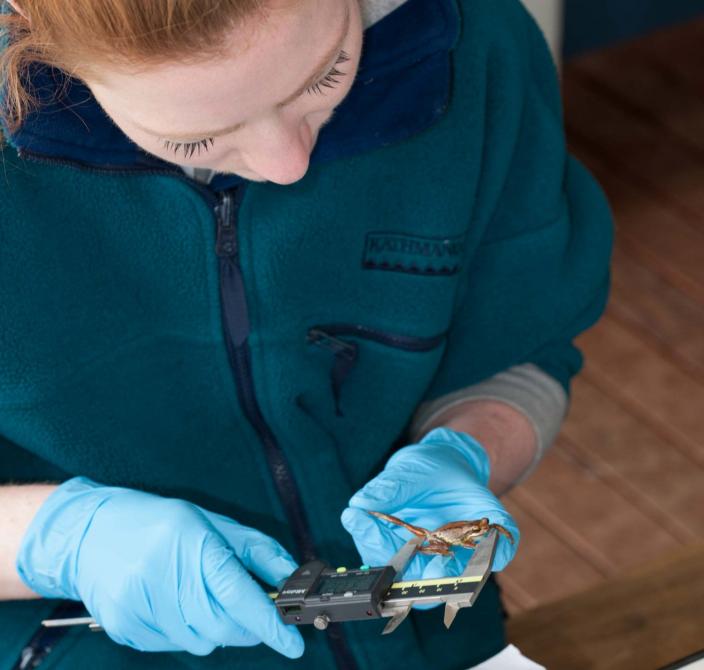 Contact
(08) 9212 3754
rebecca.bray@museum.wa.gov.au
---
Research
Evolution, ecology and invasion biology of the lizards of Lord Howe Island.
Taxonomy of skinks and geckos.
Evolutionary ecology and conservation.
Conservation genetics and the impact of bushfire of frog populations.
Immune genetics of Australian passerines.
Collections:
Manages the preserved and wet and dry collections of reptiles, amphibians, mammals and birds of around 250,000 specimens, including over 800 type specimens.
Maintains and updates the electronic collection database.
Identifies and registers new acquisitions into the collection.
Builds up and maintains DNA tissue library.
Organises specimen loans to Australian and international scientists.
Photographs preserved specimens for internet.
Manages collection access for external researchers and students.
Co-ordinates volunteer work on the collection.
Researches taxonomy of reptiles through the collections.
Services (to other bodies):
Provides identifications to industry, other government departments and enquiries from the public.
Represents the Western Australian Museum at meetings and on committees involved with terrestrial vertebrates.
Exhibitions and Public Programs
Derives new information and specimens from the collection for exhibitions.
Answers enquiries from scientists, students, the public, private organisations about taxonomy and biology relating to the relevant material within the WA Museum collection.
Generates talks and takes images for presentations about the terrestrial vertebrate collections and field projects.
Selected Publications
2016
Potvin, D.A., Parris, K.M., Smith Date, K.L., Keely, C.C., Bray, R.D., Hale, J., Hunjan, S., Austin, J.J. & Melville, J. (2016) Genetic erosion and escalting extinctino rish in frogs with increasing wildfire frequency. Journal of Applied Ecology. doi: 10.1111/1365-2664.12809.
Balasubramaniam, S., Bray, R.D., Mulder, R.A, Sunnucks, P., Pavlova, A. & Melville, J. (2016) New data from basal Australian songbird lineages show that complex structure of MHC class II β genes has early evolutionary origins within passerines. BMC Evolutinary Biology. 16:112.
2015
Chapple, D., Miller, K., Chaplin, K., Barnett, L., Thompson, M.B., and Bray, R.D. (2015) Biology of the invasive delicate skink (Lampropholis delicata) on Lord Howe Island. Australian Journal of Zoology. 61(3): 456-464.
Moule, H., Chaplin, K., Bray, R.D., Miller, K.A., Thompson, M.B., Chapple, D.G. (2015). A matter of time: Temporal changes in the introduction history and population genetic structuring of an invasive lizard. Current Zoology. 62(6): 498-506.