Kym Abrams
Research Associate
Terrestrial Zoology
B. Sc. (Hons), Ph. D.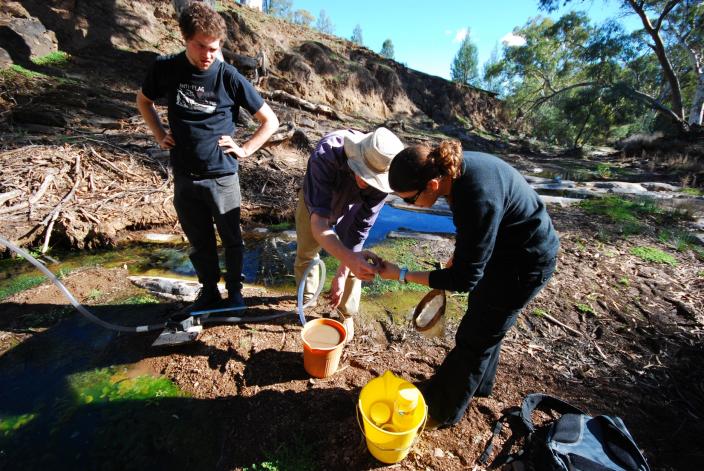 kym.abrams@museum.wa.gov.au
---
Research
Systematics of arachnids, including their phylogenetic history and evolutionary relationships.
Taxonomy of arachnids, especially the documentation and description of new species.
Collections:
Researches the taxonomy and systematics of pseudoscorpions through the collections.
Undertakes identifications of arachnids and accessions this material into the collections.
Utilises collections to advise on Short Range Endemic (SRE) status of terrestrial invertebrates.
Websites
Selected Publications
Abrams, K.M., King, R.A., Guzik, M.T. and Austin, A.D. (2013) Molecular phylogenetic, morphological and biogeographic evidence for a new genus of parabathynellid crustaceans (Syncarida: Bathynellacea) from groundwater in an ancient southern Australian landscape. Invertebrate Systematics 27, 146–172.
Abrams, K.M., Guzik, M.T., Cooper, S.J.B., Humphreys, W.F., King, R.A., Cho, J.L & Austin, A.D. (2012). What lies beneath: Molecular phylogenetics and ancestral state reconstruction of the ancient subterranean Australian Parabathynellidae (Syncarida, Crustacea). Molecular Phylogenetics and Evolution 64: 130-144.
Cook, B.D., Abrams, K.M., Marshall, J., Perna, C.N., Choy, S., Guzik, M.T. & Cooper, S.J.B. (2012). Species diversity and genetic differentiation of stygofauna (Syncarida: Bathynellacea) across an alluvial aquifer in north-eastern Australia. Australian Journal of Zoology: 60, 152–158.
Guzik, M.T., Abrams, K.M., Cooper, S.J.B., W.F. Humphreys, J-L. Cho and Austin, A.D. (2008). Phylogeography of the ancient Parabathynellidae (Crustacea: Bathynellacea) from the Yilgarn region of Western Australia. Invertebrate Systematics 22: 205-216.