Batavia
Collection Highlights | Updated 2 years ago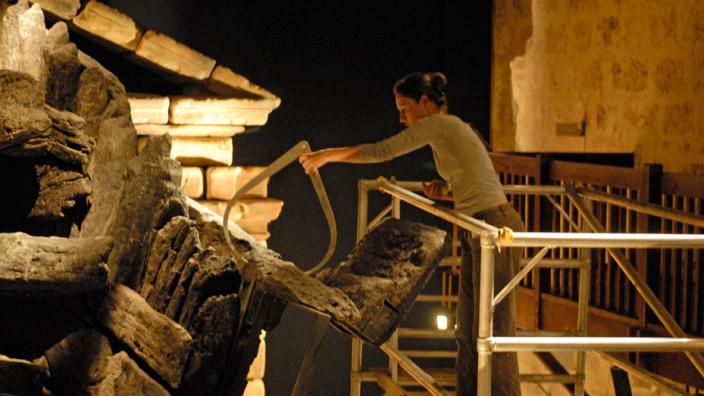 The Batavia is Australia's second oldest known shipwreck (Australia's oldest known shipwreck is the English East India Company ship Tyrall or Trial lost in 1622).
On the morning of 4 June 1629, the VOC ship Batavia was wrecked on the Houtman Abrolhos, off the coast of Western Australia.
Commander Francisco Pelsaert along with all of the ship's senior officers, some crew and passengers – 48 in all – deserted the remaining 268 people on the wreck and on two nearby waterless islands whilst they went in search of water.
Abandoning the search on the mainland Australian coast, they made their way to Batavia (modern Jakarta, Indonesia) to obtain help. This journey took 33 days. On arrival in Batavia, the Governor General dispatched Pelsaert in the jacht Sardam to rescue the survivors.
With extraordinary bad luck, it took 63 days to find the wreck site, almost double the time it took the party to get to Batavia. At the Abrolhos, Pelsaert discovered that a mutiny had taken place.
A small group of mutineers, led by Jeronimus Cornelisz the under-merchant, had massacred 125 men, women and children. When Pelsaert arrived he arrested the mutineers, tried them according to Dutch law and executed some of them on site.
When the Sardam finally returned to Batavia, some of the lesser offenders, who had been flogged, keelhauled and dropped from the yard-arm as punishment on the voyage, were executed. Two people were marooned on the mainland coast as punishment. Out of 316 people aboard the Batavia, only 116 survived. Pelsaert died the following year.
Three hundred and thirty-four years later, fisherman and divers located the Batavia wreck in 1963. In the late 1960s the Museum conducted a holding operation on the site using watch-keepers to ensure the site was not looted.
Between 1972 and 1976 the Department of Maritime Archaeology conducted a series of excavations of the Batavia. Artefacts recovered from these excavations were treated by the Western Australian Museum's Department of Materials Conservation and may now be seen in the Maritime Museum and Shipwreck Galleries in Fremantle, and in the Western Australian Museum in Geraldton.
During the excavation, part of the hull of the vessel was uncovered. The hull was carefully recorded and raised. After a number of years of conservation treatment, the remains were rebuilt in the Shipwreck Galleries in Fremantle.
The hull represents the centre-piece for the Batavia Gallery display. The section is the stern quarter of the port side of the ship up to the top of the first gun-deck, and includes the transom and stern-post.
Part of a portico façade was found on the site, comprising 97 (of a total of 149) blocks weighing over 36 tonnes. The portico was reconstructed and is on display in the WA Museum in Geraldton. From archival research, it was found that the portico was destined for either the Land Port or the Waterport for the Castle at Batavia.
Maritime shipwrecks
Batavia Gallery