Fri 11 Apr 2014 – Sun 24 Aug 2014
9:30am – 5:00pm
New Museum opening in 2020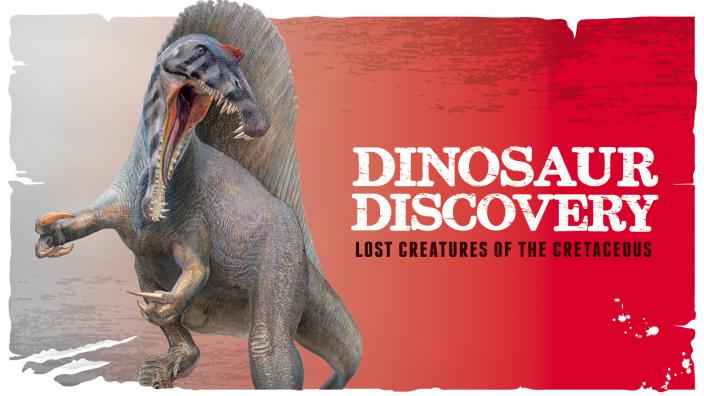 Please note: this exhibition is now closed.
Prepare for a close encounter with some of the most extraordinary creatures to ever walk the earth at Dinosaur Discovery: Lost Creatures of the Cretaceous. Featuring more than 20 moving, life-size dinosaur models, this is a dino-exhibition like none you've seen before!
You will be blown away by the size and authenticity of the fascinating creatures that lived 145-66 million years ago in an era that boasted the most diverse range of dinosaurs. The exhibition will feature all your favourites including a T-Rex and a 16 metre long Brachiosaurus but also include a number of species rarely seen before. Each of the models, made to scientifically exact specifications, will move and interact with one another.
In addition to the dinosaurs, this exhibition features cutting edge 3D augmented reality technology not seen before in Western Australia. There will also be fossils and dinosaur specimens to touch and feel. Kids can also enjoy a range of informative, hands-on activities in the dedicated play area located in the museum grounds.
Tickets
$20.00 – Adults
$12.50 – Kids (Aged 3-15)
$15.00 – Concession (Concession card holder)
$50.00 – Family (Includes 2 adults 2 children, or 1 adult 3 children)
Free entry for kids under 3
Buy Gift Tickets Ticket terms and conditions
Tickets can be purchased in person from the ticket booth at the Western Australian Museum - Perth, or can be purchased online using the calendar below.
Exhibition Times
Tickets are available as either a morning or afternoon session. You can arrive anytime during your session and spend as much time as you like visiting Dinosaur Discovery:

Morning session: 9.30am - 12.30pm
Afternoon session: 12.30pm - 5.00pm
For enquiries please contact 1300 134 081 or email tickets@museum.wa.gov.au.
Booking Calendar
Purchase tickets for Both Dinosaur Discovery and Afghanistan and save 50% off 2nd exhibition.
To purchase joint tickets use the joint ticket options after selecting a session on the calendar.
Select your session on the calendar
* use the previous and next buttons to navigate between months.
---
Souvenir guide
Take the dinosaurs home with the Dinosaur Discovery souvenir guide. Complete with integrated multimedia content, stunning illustrations and quality decals – the souvenir guide presents contemporary insight into the life and death of these amazing creatures that once walked the earth.
Events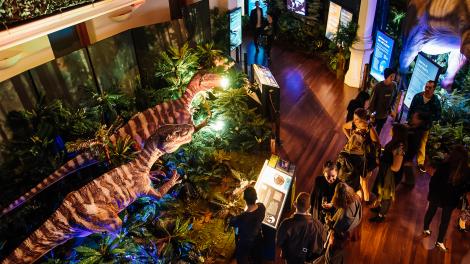 Cretaceous Pop Up Bar
Fri 1 Aug 2014
5:30pm – 9:00pm
Western Australian Museum — Pe...
Perth Cultural Centre,
James Street,
Perth,
Western Australia,
6000,
Australia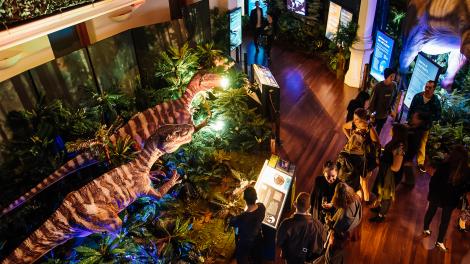 Cretaceous Pop Up Bar
Fri 8 Aug 2014
5:30pm – 9:00pm
Western Australian Museum — Pe...
Perth Cultural Centre,
James Street,
Perth,
Western Australia,
6000,
Australia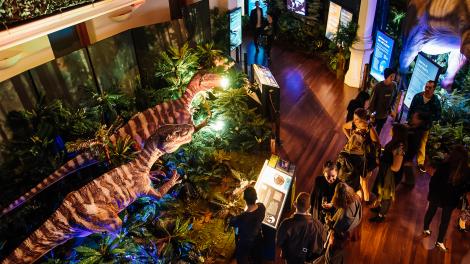 Cretaceous Pop Up Bar
Fri 15 Aug 2014
5:30pm – 9:00pm
Western Australian Museum — Pe...
Perth Cultural Centre,
James Street,
Perth,
Western Australia,
6000,
Australia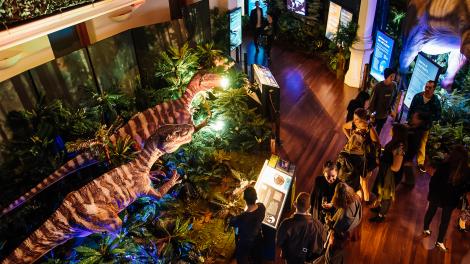 Cretaceous Pop Up Bar
Fri 22 Aug 2014
5:30pm – 9:00pm
Western Australian Museum — Pe...
Perth Cultural Centre,
James Street,
Perth,
Western Australia,
6000,
Australia
Dinosaur Discovery Augmented Reality – Perth Cultural Centre
This exciting augmented reality experience will operate daily from Saturday 24 May until mid-August, every day from 8.00am until 6.00pm, every hour on the hour.
Augmented reality app
The Dinosaur Discovery app accompanies this exhibition. This app features unique 3D content that is accessed by finding and discovering frame markers located throughout the exhibition, on merchandise, exhibition tickets and also publicly available on marketing material including posters, flyers, bus stops and in newspapers and magazines.
Download it on iTunes Download it on Google Play More information about the app
Education and school visits
Throughout the exhibition self-guided exhibition excursions are available to visit Dinosaur Discovery.
Make an education booking Education programs
Corporate functions and venue hire
Host your next corporate family day or book a private function to view Dinosaur Discovery.
Corporate Family Fun Days Corporate Cocktail Functions
---
Exhibition information
Getting Here
Accessibility
Comprehensive accessibility information about the Western Australian Museum — Perth can be found on the Perth site's accessibility page.
Dates
11 April 2014 – 24 August 2014
Access
Wheelchair access, parking, lifts, toilets and courtesy wheelchairs are available. Please see our staff for assistance with our access lifts. Food and drinks are not allowed in the exhibitions.
An online, full text version of the panels from the exhibition has been developed. This can be viewed from a phone or mobile device and resized, or read out using your favoured assistive device.
Accessible version of exhibition panels
Prams
Prams are permitted within the exhibition, however storage is also available should you not wish to take the pram into the gallery. Please see Visitor Services staff on arrival.
Photography
Both flash and non-flash photography of Dinosaur Discovery is allowed.
School excursions and education programs
Teachers can purchase tickets to Dinosaur Discovery through the teachers booking page.
http://museum.wa.gov.au/explore/education/perth
Please be aware that this exhibition will be visited by school groups during school hours and there may be some crowding and increased noise during these periods.
Group Bookings
Discounts apply for group bookings of 20 tickets or more when tickets are booked and paid for in advance by credit card. Please call 1300 134 081 for further details.
Volunteers
The Western Australian Museum requires volunteers to assist with Dinosaur Discovery.
If you like telling stories and are physically fit, can volunteer one or more days a week (especially weekends) and want to have some fun we would like to hear from you.
To register your interest in becoming a volunteer please contact Volunteer Coordinator Les Barradeen by email at les.barradeen@museum.wa.gov.au or by phone 94272706.
Training, insurance cover and a t-shirt will be supplied to all successful volunteers.
Media and Sponsorship Enquiries
If you have a specific media query, please contact Flora Perrella on (08) 6552 7804.
If you would like to talk to the Western Australian Museum about sponsorship opportunities, please contact the Karen Bassett from the WA Museum Foundation on (08) 6552 7675.
---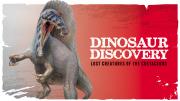 Dinosaur Discovery
Image copyright WA Museum
Getting Here
Address
Perth Cultural Centre,
James Street,
Perth,
Western Australia,
6000,
Australia
Phone
1300 134 081