Young Naturalists Club
The Young Naturalists Club is open to children in Albany and surrounding areas who are between 5 and 15 years of age. Members attend events with at least one of their parents. We provide the group with at least 2 events per month (excluding school holidays) that centre around learning about, and caring for the environment.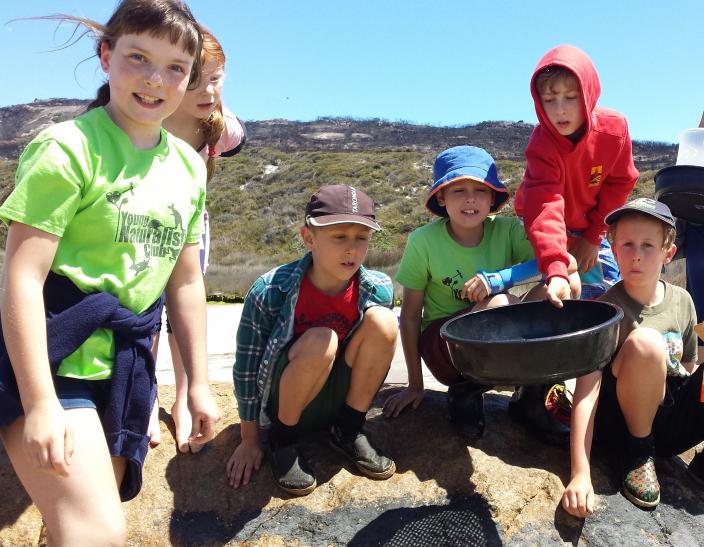 Upcoming events
Term 1 2017
Salty Summer Touch Pool
Date: Sunday 19 February
Start: 11am
Location: Whalers Cove (AKA Fisheries Beach)
Get up close and personal with the rich marine life found at Whalers Cove, with Sheryn and Liz from SCNRM. Touch the wonderful creatures found on the reefs and in the sandy shallows. Bring your bathers and snorkelling gear.
Mini Wetlands World
Date: Sunday 26 February
Start: 1pm
Location: Lake Seppings
Create a wetland ecosystem in a jar. Discover who econauts, scavengers, recyclers and the cleaning crew are and how they all work together to sustain life.
Clean Up Australia Day
Date: Sunday 5 March
Start: 1.00pm
Location: TBA
The annual Clean-Up Australia Day needs our help. Spend an hour or two at one of our Great Southern locations admiring the beauty while helping keep it that way - beautiful and rubbish free.
Water, Water, Water
Date: Sunday 19 March
Start: 1.00pm
Location: TBA
Water - have you really thought about how important it is? Let's reflect (pun intended) on World Water Day and take some photographs of water and play with the images using our Pixlr filters.
Emu Point Netting II
Date: Sunday 2 April
Start: TBA
Location: Emu Point
Meet us at Emu Point for part 2 of our survey of what creatures live in the shallows. Tahryn and Kylie from the Department of Fisheries will drag some nets and we will try to identify what they find. Don't forget to bring your bathers and some old shoes or reef walkers to wade in the water.
Information and Membership
Please contact Peter Pritchard.
Email: Peter.Pritchard@museum.wa.gov.au
Ph: 08 9841 4844
Bookings Essential for all Events
Please book in your attendance for events. To RSVP email peter.pritchard@museum.wa.gov.au.
Newsletters
Membership information
Membership information, including how to join, is available on via downloadable PDF or Word Document (request full text accessible version).