Young Naturalists Club
The Young Naturalists Club is open to children in Albany and surrounding areas who are between 5 and 15 years of age. Members attend events with at least one of their parents. We provide the group with at least 2 events per month (excluding school holidays) that centre around learning about, and caring for the environment.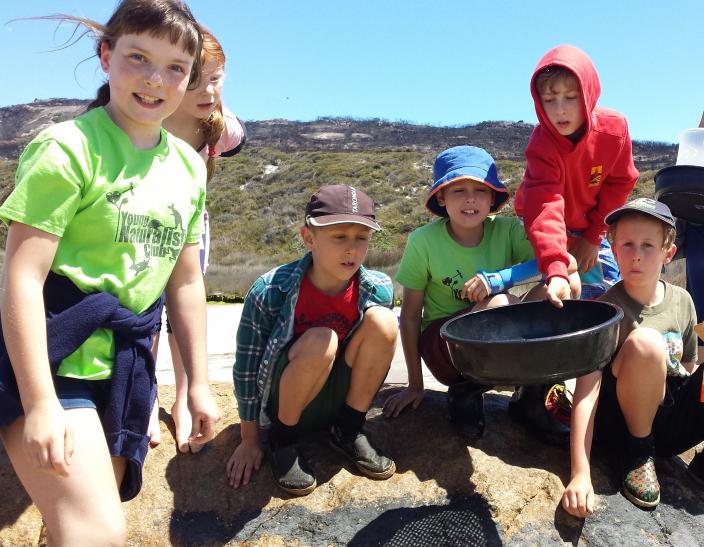 Upcoming events
Term 4 2017
Beach Clean Up Day
Date: Sunday 15 October
Start: 1pm
Location: Betty's Beach/East Bay Camp Ground
Come for a beach-comb and collect any marine debris or rubbish we find. Help keep our coastline beautiful.
Frogging
Date: Saturday 28 October
Start: 6pm
Location: Yakamia Creek, Barnesby Dr
How do you find a frog at night? First you must listen carefully. Join us for a search for the elusive croakers. Warm clothes, gumboots and a torch essential.
Bilaboya
Date: Sunday 12 November
Time: 1pm
Location: Bilaboya Reserve (off Warren Road, Millbrook)
In Noongar language Bila means water and boya means rocks, so this is a place of rocks and water. Come for a wander along the trail and maybe pull a few nasty weeds like Sydney Wattle.
Lake Pleasant View
Date: Sunday 26 November
Start: 1pm
Location: Lake Pleasant View, Manypeaks
Join Minang man Larry Blight as we explore the significant Aboriginal Noongar site of Lake Pleasant View with its majestic granite outcrops and wetlands.
Information and Membership
Please contact Peter Pritchard.
Email: Peter.Pritchard@museum.wa.gov.au
Ph: 08 9841 4844
Bookings Essential for all Events
Please book in your attendance for events. To RSVP email peter.pritchard@museum.wa.gov.au.
Newsletters
Membership information
Membership information, including how to join, is available on via downloadable PDF or Word Document (request full text accessible version).