Young Naturalists Club
The Young Naturalists Club is open to children in Albany and surrounding areas who are between 5 and 15 years of age. Members attend events with at least one of their parents. We provide the group with at least 2 events per month (excluding school holidays) that centre around learning about, and caring for the environment.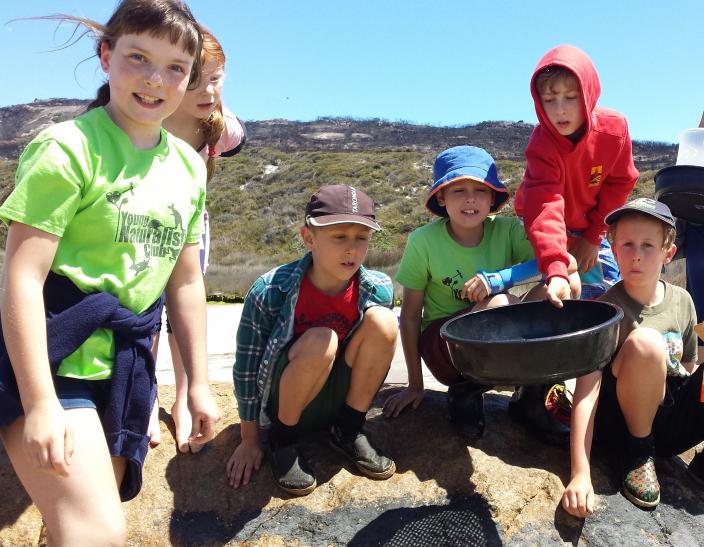 Upcoming events
Term 3 2017
Coastal Collector's Day
Date: Sunday July 30
Start: 1pm
Location: Vancouver Peninsula
Come for a beach-comb and collect the teeny-tiniest things to observe under our field microscope. See them as you have never seen them before. Remember to wear your winter woolies!
Frogging
Date: Saturday August 5
Start: 6.00pm
Location: TBA
How do you find a frog at night? First you must listen carefully. Join us for a search for the elusive croakers. Warm clothes, gumboots and a torch essential.
Bush Survival (National Science Week event)
Date: Sunday August 20
Time: 1.00pm
Location: Youngs Siding
Celebrate National Science Week with an afternoon of bush survival skills. Discover how to navigate your way out of trouble. Learn some tips on how Australian aborigines have survived for thousand of years in the bush, knowing what to eat and how to catch it.
Flower Power
Date: Sunday September 3
Start: 1.00pm
Location: Twin Creeks Conservation Reserve, Porongurup
Join with the Friends of the Porongurup Range who will guide us on a walk through the Twin Creeks reserve to view our beautiful wildflowers.
Information and Membership
Please contact Peter Pritchard.
Email: Peter.Pritchard@museum.wa.gov.au
Ph: 08 9841 4844
Bookings Essential for all Events
Please book in your attendance for events. To RSVP email peter.pritchard@museum.wa.gov.au.
Newsletters
Membership information
Membership information, including how to join, is available on via downloadable PDF or Word Document (request full text accessible version).