Topics
Kalgoorlie-Boulder
Location
Kalgoorlie-Boulder
Teacher Resources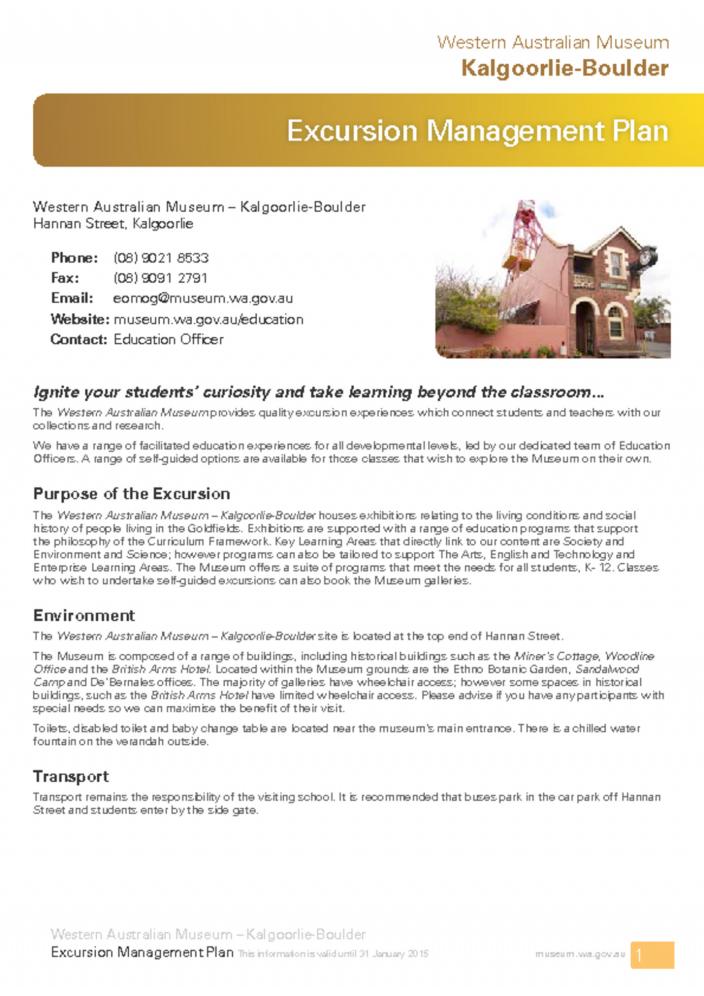 Excursion Management Plan 2014 - Kalgoorlie-Boulder
Full text accessible version
Excursion management plan
Western Australian Museum – Kalgoorlie-Boulder
Hannan Street, Kalgoorlie
Phone: (08) 9021 8533
Fax: (08) 9091 2791
Email: emog@museum.wa.gov.au
Website: museum.wa.gov.au/education
Contact: Education Officer
Ignite your students' curiosity and take learning beyond the classroom...
The Western Australian Museum provides quality excursion experiences which connect students and teachers with our collections and research.
We have a range of facilitated education experiences for all developmental levels, led by our dedicated team of Education Officers. A range of self-guided options are available for those classes that wish to explore the Museum on their own.
Purpose of the Excursion
The Western Australian Museum – Kalgoorlie-Boulder houses exhibitions relating to the living conditions and social history of people living in the Goldfields. Exhibitions are supported with a range of education programs that support the philosophy of the Curriculum Framework. Key Learning Areas that directly link to our content are Society and Environment and Science; however programs can also be tailored to support The Arts, English and Technology and Enterprise Learning Areas. The Museum offers a suite of programs that meet the needs for all students, K- 12. Classes who wish to undertake self-guided excursions can also book the Museum galleries.
Environment
The Western Australian Museum – Kalgoorlie-Boulder site is located at the top end of Hannan Street.
The Museum is composed of a range of buildings, including historical buildings such as the Miner's Cottage, Woodline Office and the British Arms Hotel. Located within the Museum grounds are the Ethno Botanic Garden, Sandalwood lamp and De'Bernales offices. The majority of galleries have wheelchair access; however some spaces in historical buildings, such as the British Arms Hotel have limited wheelchair access. Please advise if you have any participants with special needs so we can maximise the benefit of their visit.
Toilets, disabled toilet and baby change table are located near the museum's main entrance. There is a chilled water fountain on the verandah outside.
Transport
Transport remains the responsibility of the visiting school. It is recommended that buses park in the car park off Hannan Street and students enter by the side gate.
Students' Capacity
The Western Australian Museum caters for audiences from Kindergarten through to Year 12.
The Museum regularly hosts groups with special needs, if you have such a group, please advise so we are able to maximise the benefits of their visit.
Gallery tours and associated educational programs are conducted in the relevant galleries. Visiting the Museum provides students with an opportunity to engage with genuine artefacts, experts in related fields, and supporting interpretive material.
Supervisor/Supervisory Team
It is a school requirement to provide a supervisory team for excursions to the Western Australian Museum. The school supervisory team must accompany students throughout the excursion, actively monitor behaviour and intervene as necessary.
Museum Education staff will lead, demonstrate, and present activities but are not responsible for the supervision of students.
Visitor Services Officers are at the Museum, and while they will not undertake any role in a supervisory context, will intervene where behaviour or activities put displays and/or the safety of individuals and other visitors at risk.
Please be aware that members of the general public may be visiting the Museum at the same time as your school and we would appreciate your students demonstrating responsible behaviour to ensure an enjoyable experience for all.
External Provider Information
Clearances
Western Australian Museum Education staff members have a current Working with Children Check.
It is a pre-employment requirement that staff of the Western Australian Museum provide a National Police Clearance.
Current Accreditations and Qualifications
Western Australian Museum Education staff members are professional educators with varying levels of experience and qualifications. Staff members include primary and secondary specialists with teaching experience.
Visitor Service Officers hold current senior first-aid certificates. First Aid kits are available throughout the Western Australian Museum public spaces.
Public Liability Insurance
Insurer: Western Australian Government Treasury Managed Fund (RiskCover)
Limit of Cover: $300,000,000
Public Liability Certificate of Currency document is included at the end of this document.
Supervision Strategies
It is the responsibility of the school to develop a supervisory team that meets their specific requirements in line with the recommendations for supervision outlined in this document. The recommended ratios may vary according to the needs of your students.
The school supervisory team must accompany the students throughout the visit to actively monitor behaviour and intervene as necessary to maximise the educational experience for their students, in addition to considering the experience of other visitors to the venue.
The Western Australian Museum recommends the following ratios, with a mandatory minimum of 2 supervisors per school supervisory team.
Years K-3, minimum 1 adult to 6 students
Years 4-12, minimum 1 adult to 10 students
Tertiary, minimum 1 supervisor with the group.
Identification of Excursion Participants
Identification of Excursion Participants is the responsibility of the visiting school.
It can be helpful to Museum staff if students are dressed in school uniform, for clear identification, and if the school supervisory team members wear a name badge.
Museum Visitor Service Officers are located in the foyer of the Museum at all times and wear a uniform and name badge. Museum Education staff can be contacted via the front desk and wear a name badge with the Museum logo.
Communication Strategies
The Museum is equipped with a public address system which is centrally controlled from the information desk in the main entrance.
School supervisory teams can have access to a telephone line from the information desk at the entrance or from the Education Office.
School supervisory teams are encouraged to bring a mobile telephone that they can be contacted on, and can use to call out during their site visit if necessary. Limiting the use of mobile telephones is appreciated in the venue, for the consideration of other visitors and Museum staff.
Emergency Response Plan
The Museum is equipped with an Emergency Warning System. An oscillating whoop-whoop-whoop sound will indicate an evacuation is underway.
In the event of an emergency it is essential that all school visitors take directions from Museum staff who will be wearing bright yellow or red hats.
Teachers can increase safety by always ensuring that they meet the minimum supervision requirements and by strongly encouraging students to stay in their groups with their adult supervisors.
If evacuation is essential all visitors will be assembled at a common point in car park or another designated safe area. Teachers will need to do a roll call and must immediately notify Museum staff if any students are missing.
While all our Visitor Service Officer staff have First Aid training, it is the responsibility of the school to provide basic first aid to the students. Our staff will assist if possible.
Briefing Students and Supervisors
The Western Australian Museum – Kalgoorlie-Boulder Education division will send you a booking confirmation notice once you have made your booking.
Visitors experiencing an assisted visit will be met by Museum Education Officer who will welcome and brief students on arrival, outlining expected behaviour and the program outline. Please be punctual, allowing extra time for toilet breaks etc.
Late arrival may result in an abbreviated tour experience.
Visitors who have booked self-guided visits should present themselves at the information desk of the Museum and inform the Visitor Services Officers of their arrival. School supervisory teams are encouraged to prepare students for the visit by outlining expected behaviour and learning outcomes.
Other Relevant Details
If any further information is required or you would like to discuss the content in more detail, please contact the Museum Education Officer on (08) 9021 8533.
Please visit our website museum.wa.gov.au/education for further information on our education programs.
This information is valid until 31 January 2015.