WAM Tickets - Regional Ticketing
Morgan Strong's blog | Created 3 years ago
Back in November 2013, I wrote about WAM Tickets 3.0, our inhouse ticketing system. This was used for Secrets of the Afterlife and Dinosaur Discovery, two of our busiest exhibitions. Now that the exhibitions have finished, I can say that the system implementation was a success.
As stated in my previous blogs, the system is a Drupal / CiviCRM web application built and maintained inhouse by the museum. You can read my blogs about the first iteration, and the second version if you want a background about how it all works.
But a challenge remained: what to do when we have smaller paid exhibitions tour our regional museums. This challenge became apparent with the tour the exhibition Da Vinci Machines, which was touring to Geraldton, Albany and Kalgoorlie.
That's where our scaled down mobile version comes into play.
So the fundamentals are the same. We have timed events created in CiviCRM. We have a custom point-of-sale (POS) user interface (UI) that sits on top of CiviCRM. The UI only does one thing – sell tickets; the UI hides all other CRM functionality. The POS runs in Google Chrome and connects to a ticket printer. Physical sales: sorted.
Like all our major exhibitions you can book online and through our Drupal website. Sales link to the same CiviCRM events, so all sales, online or offline, are stored in the same managed database. Online sales: sorted.
So the challenge lies not with the technical implementation, but with the regional rollout. The technical support team is not physically available. Internet connections are not always reliable. Printer problems can become serious problems.
Mindful of these issues, we simplified and removed as many points of failure as possible. Issues that could be fixed when technical staff are available required safeguards, for example:
BOCA printers, used for our previous exhibitions, print beautiful tickets but can be difficult to load and are difficult to initially configure;
computers have their administration privileges removed;
packing up and setting up ticketing stations in tight timelines;
what to do when the internet drops out or runs too slowly.
Unlike previous implementations, the solutions laid with removing numerous features and simplifying all processes to an irreducible core.
First of all, we went back to thermal printers. Thermal printers rarely fail, replacements are easy to source and the drivers are less flakey. The tickets are less visually impressive, but it was a worthwhile trade-off. So that we could still print BOCA tickets back to Perth, we introduced "printer profiles" for the POS. This way depending on where you logged in you could print to either the BOCA format or the thermal format. This was set behind-the-scenes so no-one had to change their personal settings.
Next up, we decided to send out someone from the digital services team to perform the install. The timelines were tight and the computers need admin configuration to run efficiently. Also, we all know how fun printer support over the phone is, so it's always best to avoid this. This person could then train the staff in how to use the POS and run through the user manuals. Personal service goes a long way to help with change.
Last of all: what to do when the internet drops out. We decided on a spreadsheet with all the cost formulas pre-built. At the end of the drop-out period this spreadsheet could be emailed to Perth and we could import the details into CiviCRM. This mitigates any risk of incorrect reporting of attendees or money. This is not the best possible contingency, but it was the simplest.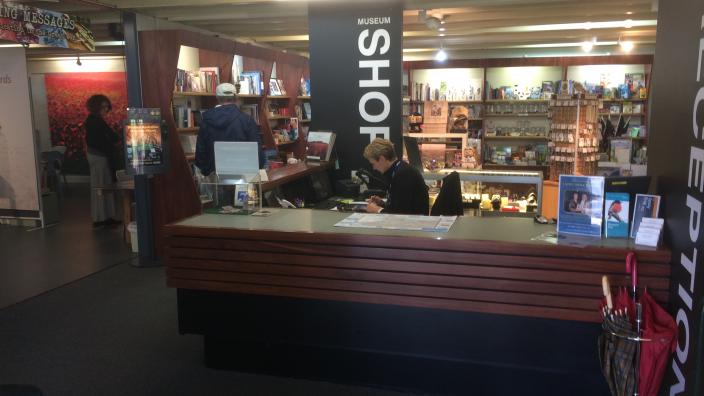 In short, our mobile, remote solution involved the following:
utilising all the same technical infrastructure as WAM Tickets 3.0;
choosing a full-proof thermal printer and sacrificing prettier tickets for an easy to maintain option;
building printer profiles so your print type is dependent on location;
sending out a Digital Services staff member to do the install and give personal support prior to the exhibition opening;
configuring the machines locally, rather than remotely.
The upshot of having a ticketing system that can tour means we can now capture all paid ticketing into the same CiviCRM database. This gives us improved reporting, control over attendance and more efficient management of our exhibitions. The mobile ticketing system ended up being a cut-down, simpler version of what we use in Perth, but this simple solution was the most effective option. We now have a single, open-source, low-cost way to manage paid exhibitions and events across all sites for now and into the future.