Untimely cockatoo death reveals important information on local movements
Linette Umbrello's blog | Created 11 months ago
This female Forest Red-tailed Black Cockatoo (Calyptorhynchus banksii naso) was banded as a chick in Bungendore Park (Bedfordale) on 4 July 2009 (weight 565 gm at 60 days old) – the band is obvious on her right leg. She was recently found in Carlisle, probably the result of a vehicle strike, and taken to the Darling Range Wildlife Shelter, but died overnight and was handed to Department of Parks and Wildlife who then passed her on to the Western Australian Museum. Many Red-tailed Black Cockatoos are leaving the Hills region to forage out over the Swan Coastal Plain during the day and returning to the hills in the evening.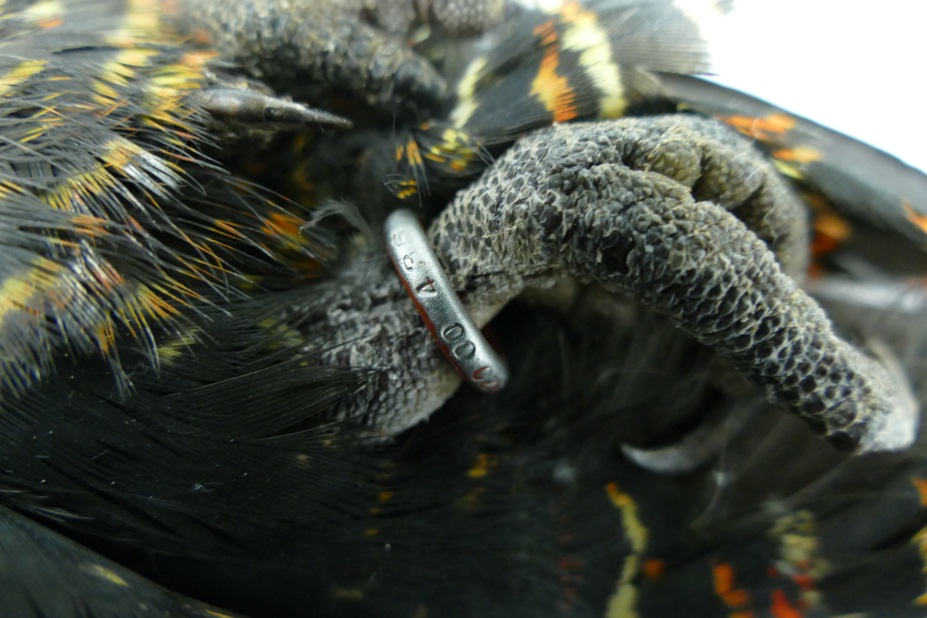 The bird specimen will be processed as a museum research study skin and details of its breeding condition, stomach contents and tissue samples for DNA will be retained.
Ron Johnstone, Curator Ornithology, said that this is yet another example of good citizen science and the benefits of long-term surveys and monitoring. The Bungendore Park Management Committee has been conducting many long-term flora and fauna surveys since the mid-1980s and has worked closely with the Western Australian Museum.
The chick was banded from nest tree #529 and Ron Johnstone said that this shows the importance of retaining both veteran and stag (dead) trees. These trees have nest hollows necessary for obligate hollow breeders such as the Forest Red-tailed Black Cockatoo, a species classified as Vulnerable.
More information is available on the Cockatoo Care web page.