Peeking behind the scenes
Article | Updated 6 months ago
Last month a group of curators and managers from the Local Government Museums Network (LGMN) explored the Museum's Collection and Research Centre (CRC) in Welshpool.
Walking in to the CRC is like entering a treasure trove - with incredible artefacts, extraordinary specimens and wondrous objects. The WA Museum is the custodian of the State's collection of more than 8.5 million objects and specimens mostly stored at the CRC.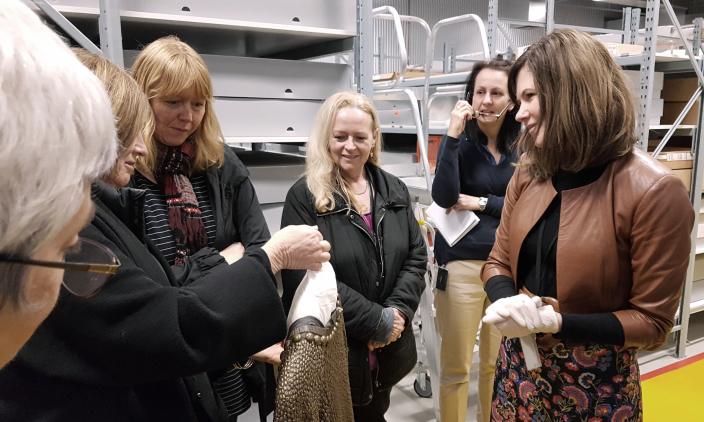 Natalie Evans (Curator) shares her thoughts on the behind the scenes tour.
We invited managers and curators from the Cities of Belmont, Wanneroo, Armadale, Melville, Gosnells, Mandurah, Stirling, and Claremont as well as curators from the Swan Guildford Historical Society and Revolutions Museum in Whiteman Park to come and explore the State's Collection while chatting about how we can work together to share stories about our Western Australia.
The LGMN was established to provide support and address the unique issues around managing local government run museums and heritage facilities. Approximately 44% of local governments in WA have museums or support historical society run museums that hold diverse and fascinating local stories and collections (of 58 surveyed by Chamber of Arts and Culture in Western Australia, 2015).
The members of the LGMN were keen to find out how stories and projects they have been working on may fit with the New Museum content. WA Museum staff were just as eager to hear about these projects and develop strong ties to share stories in the future.
The New Museum is engaging with people and organisations from around the State to share stories that are important to WA. And with a State the size of Western Europe there is a lot of ground to cover! Partnering with local organisations is a key element of the research and story development.
We discussed our People First approach to New Museum content development and showcased some of our current projects under way.
The LGMN members shared their projects including a fabulous oral history project with residents in the City of Belmont who are impacted by new developments, the upcoming anniversary of CrabFest, and citizen science outcomes from Freshwater Bay Museum and City of Melville, in relation to Swan River conservation and Dolphin Watch. We talked about how we might showcase these in the New Museum.
The group was treated to a tour of the History department, in particular the recently acquired textiles from the Aurelio Costarella. This was a great opportunity to share tips on managing and cataloguing a large textile collection, as well as show off some of the exquisite collection items.
The Museum and the LGMN will continue planning for partnerships and joint projects so watch this space for upcoming call outs for community stories!