Glad Hansen - VolunteeringWA Finalist for 2017!
Article | Updated 8 months ago
Glad Hansen is 92 years young. She has been volunteering at the Western Australian Museum in the Aquatic Zoology Department working with molluscs (shells) for over 52 years.
Glad has been passionate about marine snails (gastropods) since she started collecting beach shells with her young children. Glad began volunteering in 1965, as that was the year the Shell Club of Western Australia was formed. She went to the first meeting and her late husband happened to sit next to the then Curator of Molluscs, Dr. Barry Wilson, and her husband dobbed her in!
Glad performs a wide range of tasks for the Museum. Her beautiful handwriting graces many boxes that organise the Museum's shell collections, particularly rare and irreplaceable type specimens. She pries stubborn lids off jars of molluscs preserved in ethanol. She tidies up historic shell collections that need attention. She generously offers assistance and shares her honest opinion with everyone she knows. Glad has an extensive knowledge of Western Australia's marine mollusc biodiversity, as well as historical knowledge of collectors and staff, and this expertise is shared with future generations of scientists through her curation of the mollusc collection.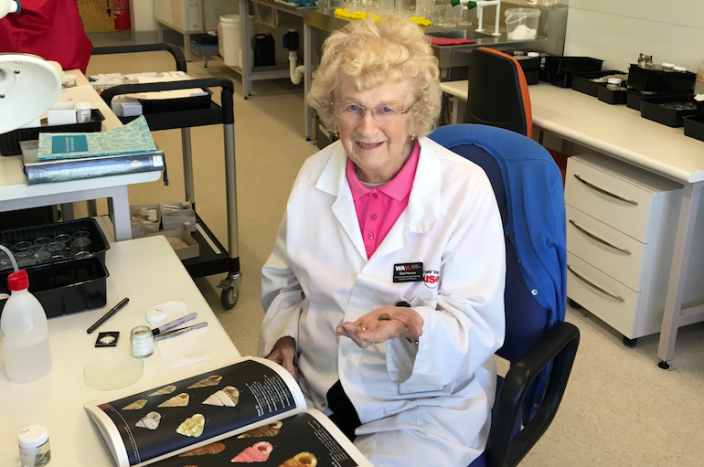 Through surgery in 2008, cancer, her husbands' passing, diminishing eyesight and physical strength, Glad continues to volunteer. She is a steadfast example of service for younger University students that also volunteer at the Museum and she sets an important standard in this regard. Glad is a shining example for all staff at the Museum in her dedication and her graciousness, and reminds us all of how lucky we are to work on the State's collections.
Glad's work, dedication and expertise have facilitated a better understanding of biodiversity for countless researchers, students and the public. For these reasons, staff at the Museum submitted a proposal to VolunteeringWA nominating her for the Lifetime Contribution to Volunteering award. She was selected as one of only three finalists for 2017 and enjoyed a gala evening last night supported by her daughters and staff.
Congratulations and thank you Glad!