Dampier Marine Gallery Decant
Article | Updated 9 months ago
Western Australian Museum curators, staff and volunteers have begun the process of decanting the Dampier Marine Gallery (DMG) as part of preparations for the New Museum Project. The DMG is one of the final exhibition spaces to be cleared out, as galleries have been slowly closing to the public since December 2015.
Objects and specimens removed from the gallery will be photographed, cleaned where necessary, packed and safely moved to the Collections and Research Centre (CRC) in Welshpool, where they will be stored until they are needed again for the New Museum or other research or display purposes.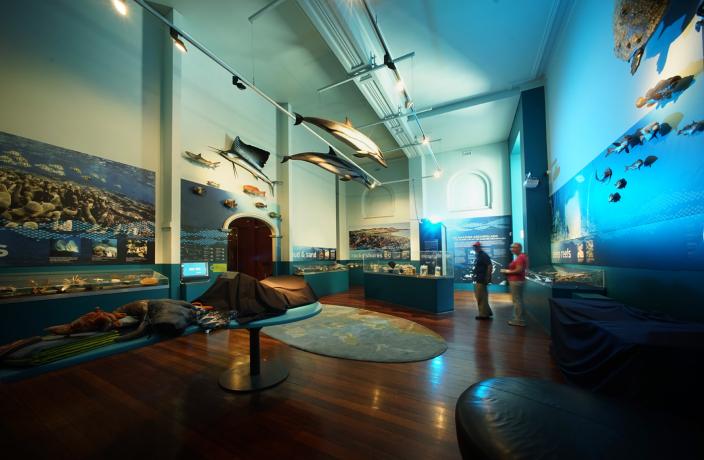 Clay Bryce (Western Australian Museum Senior Project Officer in Aquatic Zoology) will be responsible for overseeing the decant of the DMG, which for him represents the wonderful diversity of the Dampier Archipelago.
[The DMG] Demonstrates the variety of body-plans exhibited by nature, not only between taxa, but within each group.
The Gallery exhibits a wide range of specimens, from the Echinoderm family represented by sea stars, holothurians, urchins and feather stars, to molluscs like chitons, octopus, bivalves, gastropods and sea slugs.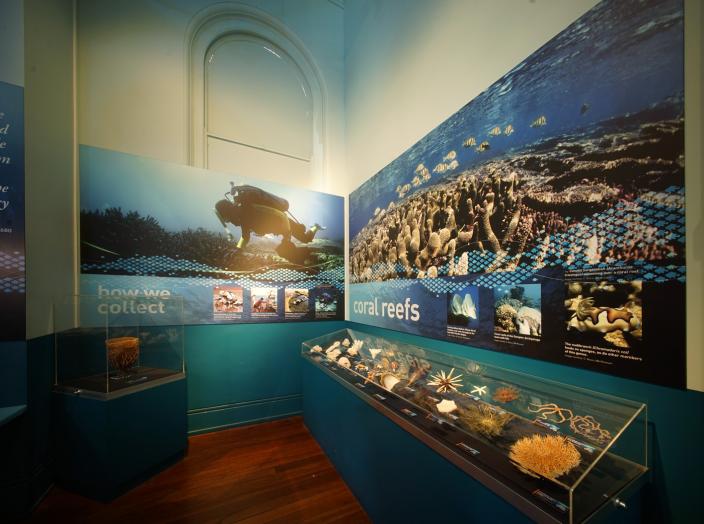 This diverse array of specimens was curated for the DMG following the Woodside funded Dampier surveys. These surveys resulted in a plethora of new information about this amazing marine environment, as well as documentaries, scientific papers, and of course the Gallery itself, which has "been revamped a couple of times and it has endured many children and fascinated a lot of adults." But according to Clay, the Gallery is "…tired now, and this is a good time for it to be re-versioned into a NW gallery covering the WA Museum biological survey work for both the Dampier and Kimberley regions - some 480,000 sq. km of ocean."
But before this can happen, the old DMG must be safely packed away. One of the biggest challenges that Clay can foresee is the removal of the large Gorgonian fan specimen (Alcyonacea - a species of colourful tropical or subtropical coral), which he says is very fragile and will require a lot of pre-planning to get it safely from the DMG to the CRC.
There are many fascinating specimens within the Museum's Aquatic Zoology collection, and the Dampier Marine Gallery was a wonderful showcase of the diversity of the Dampier Archipelago. As such, it's difficult to pin down a favourite object, and the better you know the collection, it seems, the harder it is to choose. Clay says his favourite specimens are "probably those […] representing new records or new species from molluscs to sponges, fish and echinoderms. These are the 'surprises' in any faunal inventory".
Marine Life of the Dampier Archipelago