Conservation
Article | Updated 11 months ago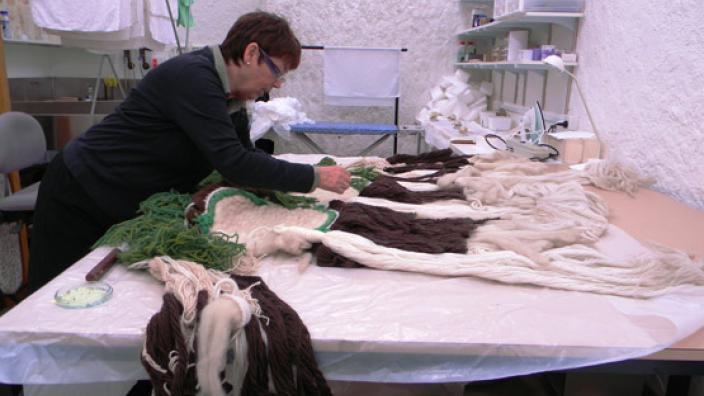 We cherish mementoes of our lives and our families and often pass these on from generation to generation. On a larger scale, museums store and display collections that help us all to enjoy and better understand the natural and cultural heritage associated with our communities, our nation and our world.
Unfortunately nature and other influences may take a toll on what we try to keep. Many objects and documents are likely to be damaged if they are not cared for properly. Everyday handling, inappropriate light and relative humidity levels, insects, dust and pollutants can all damage the things that we cherish. People themselves probably pose the greatest risk to the things they collect. Poor handling and radiation fade and weaken textiles, photographs, dyed materials, paper, artworks, coloured leather and plant and animal specimens, while high relative humidity levels can cause mould growth and increase corrosion. Low relative humidity levels can cause sensitive materials such as paper and textiles to become brittle.
Dust is potentially very harmful as it is capable of abrading objects and attracting moisture, insects, mould and bacteria. Pollutants in the air are also capable of damaging susceptible objects. Stone, pottery and glass are fairly robust but wood, metals, textiles, paper, ivory, bone, leather and synthetic materials are more susceptible to damage.
Fortunately the reasons why materials deteriorate are now better understood and ways to minimise and repair damage have been developed. Staff of the Department of Materials Conservation of the Western Australian Museum conserve the state's collections that are stored and displayed at the Fremantle, Kalgoorlie, Gerladton and Albany sites and provide advice to custodians of other collections in the state. Conservators identify the materials that make up an object and the causes of their deterioration. Appropriate treatments are then chosen to stabilise objects and minimise further damage. Treatments carried out include the cleaning of superficial dirt, chemical cleaning of corrosion products, mould and insect treatments and the preparation of mounts and supports for fragile objects. After conservation further repair work, or restoration, may be considered if it is necessary to add physical strength to a fragile object or if it is required for aesthetic or interpretive reasons. Restoration work is only a small component of the Department's work, with the major focus being on the conservation and preservation of artefacts.
Conservators care for a huge range of objects and material types including those made from textures (costumes, uniforms), paper (documents and photographs), ceramics (from historical collections and shipwrecks), metals (jewelry and historical), polymers (historic and modern plastics), biological and anthropological specimens. Object ages range from ancient to modern and originate from sources as diverse as shipwreck sites to someone's attic. Although objects can be made from just one material type, more frequently they are made up of different materials. Conservators must consider the properties of each material before deciding on a treatment program.
In addition to treating objects, conservators and conservation scientists also conduct research in an attempt to develop new and improved techniques for treating and analysing heritage materials. Conservation research focuses on areas of need and is constantly changing.
To spread this conservation message as widely as possible, staff of the Department of Materials Conservation have written a book, "Conservation and Care of Collections", which is available at Western Australian Museum bookshops. This practical handbook, which focuses on preventive conservation, provides information about the agents of decay, possible treatments and correct storage and display conditions for specific material types, giving advice on the best ways to minimise deterioration. Conservators also present seminars and workshops to interested groups and are actively involved in the Certificate of Museum Studies course that is run annually with Edith Cowan University. Workshops are presented in country areas in conjunction with the Museums Assistance Program of the Western Australian Museum.
Members of the public may contact the Museum conservation staff if they need advice about objects in their care. Conservators are also able to provide information about relevant publications, courses and societies, such as the Australian Institute for the Conservation of Cultural Materials Inc., which will benefit those individuals who wish to gain more information about conservation practices, methods and ethics.