Caught Behind Enemy Lines: They did not surrender
Little known but of great significance are the men of the 2/2nd Independent Company in Timor, they alone of all the troops [in the region] did not surrender.
British Prime Minister Winston Churchill
1942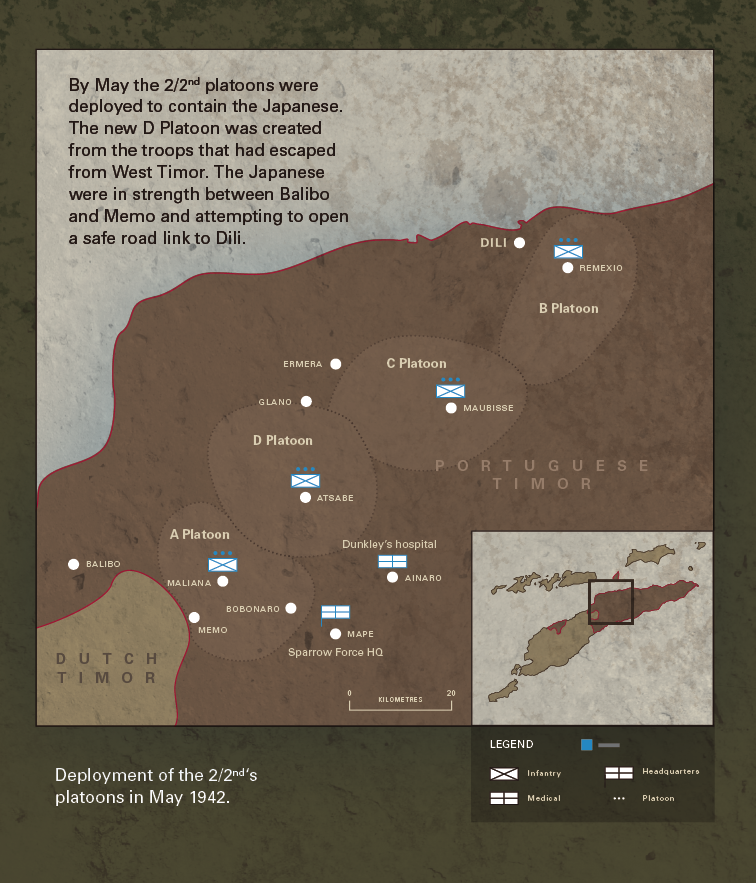 The No 2 Independent Company (later designated the 2/2nd) deployed its three platoons in a hundred kilometre arc into the hills surrounding Dili before the Japanese invaded. This was to avoid malaria on the coast and depleting the scarce food supplies of East Timor's subsistence farmers.
The Australian soldiers first explored the rugged countryside – mapping villages and tracks, noting food sources and ambush sites, and establishing observation posts overlooking the airfield and Dili Harbour.
Following the invasion, their most urgent task was to contain the Japanese forces.
They then learnt that Koepang had fallen and the Sparrow Force commander had destroyed the only radio link to Australia.
Despite having suffered initial loss of lives as well as losing all contact with Australia, the No 2 Independent Company was intact and well trained for the task ahead. It was gradually joined by the 163 survivors who escaped from West Timor, including the Force commander Veale, his HQ staff and some Dutch troops.
Sparrow Force was now reconstituted with the No 2 Independent Company as the main fighting unit.