News | Created 14 Mar 2017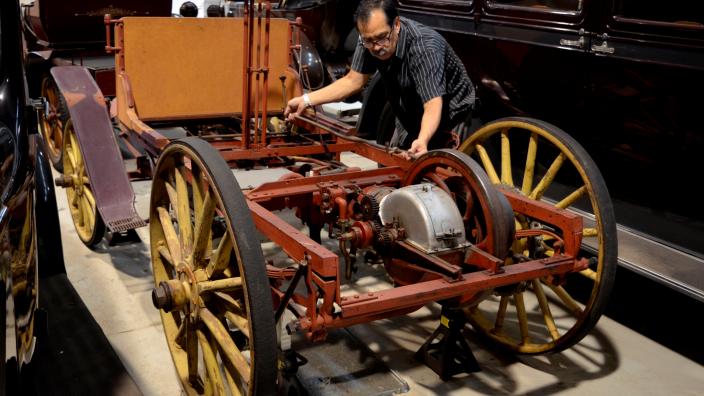 The oldest surviving car of Western Australian provenance will return to York for the first time in 115 years.
The Benz, on loan from the Western Australian Museum, will go on display at the York Motor Museum from Wednesday, 15 March 2017.
WA Museum CEO Alec Coles said he is pleased the car will spend the next two years in York and that the Motor Museum will be able to share the car's colourful history with its visitors.
"We believe that the Benz was only the third motor car imported into Western Australia and is the oldest survivor of those early imports. That would make it WA's oldest car," Mr Coles said.
"It was actually imported by a resident of the York area, William De Lisle, so it is wonderful to see it return to the Avon Valley after more than a century."
Mr De Lisle was caught driving the vehicle at 18 miles/hour (almost 29 km/hour) on the Causeway in Victoria Park. He was fined more than £7 (more than $6,000 in today's terms) and labelled a "furious driver", a "plutocratic motor-hog" and a "bloated motor-car owning gold bug" in the newspapers.
"The drive belts in the Benz used to constantly overheat due to friction so its next owner, Dr House of Katanning, used to drive around with a big tin of molasses so he could stop and apply it to the drive belt every few kilometres!" Mr Coles said.
It is believed the historic Benz was built in 1901 and was difficult to control on the poor roads at the time, so it eventually became a stationary engine driving a chaff cutter for a Katanning farmer in the 1920s.
When the farm was sold in 1928 the Benz was donated to an automobile club. By the time it was donated to the Western Australian Museum circa 1950 it was in a poor state as it hadn't been protected from the elements.
Today its body, upholstery and fittings are missing but the car represents a significant chapter in Western Australian motoring history.
The York Motor Museum's Graeme Cocks said the Benz will be a special temporary addition to the Museum's existing collection of cars.
"The story of the De Lisle Benz is not completely known and we hope that having the car in the Museum will help unearth more stories from its past," Mr Cocks said.
The York Motor Museum is open daily from 9.30am until 2pm.
Media contact
Sharna Craig
Media and Publicity Officer
Western Australian Museum
sharna.craig@museum.wa.gov.au