The Western Australian Museum's Harry Butler Lecture Series: In the Wild West will return to Albany this June with a lecture to celebrate the centenary of the first Australasian Antarctic Expedition.
'Exploration and Conservation: the Australasian Antarctic Expedition 1911 – 1914', presented by Western Australian Museum Senior Curator Dr Ian Godfrey will bring to life the lesser known aspects of this heroic era of Antarctic exploration.
The 1911-1914 Australasian Antarctic Expedition (AAE) was Australia's first large-scale, overseas scientific investigation after Federation. The expedition laid the foundation for the country's eventual claim to a very large portion of the Antarctic continent,
Dr Godfrey said.
"As Australia celebrates the centenary of the AAE this year, much of the focus has been on Sir Douglas Mawson's team at the expedition base at Cape Denison, and the tragic sledging trip that claimed the life of two of his companions.
"While the story of Mawson is generally well known, there were two other expedition teams living and working in the Antarctic at the time.
"Five men on Antarctica's Macquarie Island carried out meteorology work and set up communication systems to connect the region to Australia, while eight other men lived on a floating ice shelf 2000kms to the west of Cape Denison undertaking scientific research and mapping."
The lecture will give an insight into the vastly different conditions the three expedition teams experienced, and the isolation and hardship they endured.
Dr Godfrey travelled to Antarctica in January this year to undertake conservation work on the main Cape Denison base camp. In his presentation he will share his unique array of photographs and highlight the challenges associated with preserving fragile wooden buildings and artefacts in the windiest place on earth.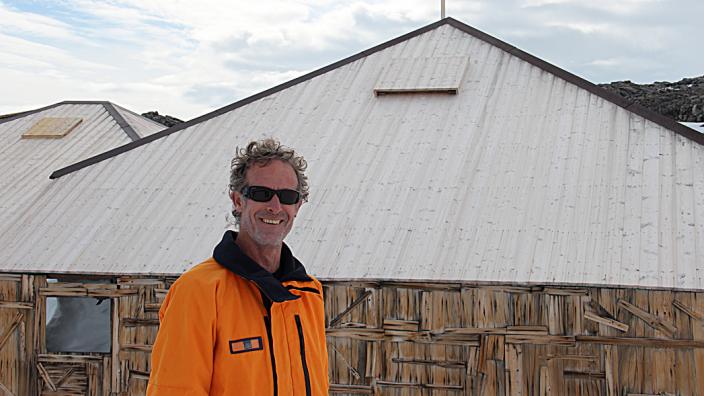 Ian Godfrey is a Senior Curator and Head of Department of Materials Conservation at the Western Australian Museum, where he specialises in the conservation and analysis of waterlogged organic materials and the preservation of historic Antarctic buildings.
This lecture is the first of five different science and history based lectures to be presented at the Western Australian Museum – Albany over the next six months as part of the In the Wild West Lecture Series.
Bookings are essential for all lectures and can be made by calling the WA Museum – Albany on 9841 4844 or online at www.museum.wa.gov.au/inthewildwest
The Harry Butler lecture series: In the Wild West is proudly presented by the WA Museum in partnership with Chevron Australia. The series showcases the work of Museum scientists, curators and associates in the areas of natural and social sciences.
| | |
| --- | --- |
| LECTURE: | Exploration and Conservation: The Australasian Antarctic Expedition 1911 – 1914 |
| WHEN: | Thursday 14 June, 6:00pm (drinks and nibbles from 5:30pm) Friday 15 June, 2:00pm |
| WHERE: | Western Australian Museum – Albany, Residency Road, Albany |
| BOOKINGS ESSENTIAL: | 9841 4844 www.museum.wa.gov.au/inthewildwest |
| COST: | By gold coin donation |