News | Created 12 Apr 2012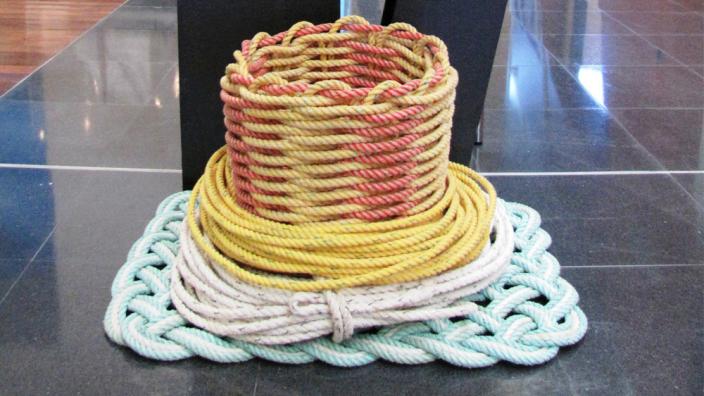 Local 'recycle' artists show how common items can be transformed into practical pieces of furniture and art
Materials range from fisherman's rope to wooden packing pallets
Coincides with the museum's Climate Change exhibition and eco-themed school holiday program
Four local 'recycle' artists will prove simple objects like rope and cardboard can be transformed into works of art in the Western Australian Museum - Geraldton's community installation, Reclaim/Regain.

The exhibition curated by Marina Baker, is on until 29 April, complementing the Museum's World of RE school holiday program and overlaps with the final days of Climate Change: Our Future, Our Choice developed by the Australian Museum in partnership with Scitech.

Regional Manager Catherine Belcher said the exhibition was commissioned to raise awareness of the benefits of reclaiming, as opposed to just recycling.

"Visitors will be able to see there are clever things anyone can do with used items," she said.

"The ingenuity of the artists who use discarded items and rubbish, and re-purpose it into practical items or artistic statements proves most objects can have a life beyond the one they originally began as."

Participating artist and well-known local Eggy Arthurs – aka 'The Ropeman' - started making mats and baskets out of rope after finding a book on basket weaving at the Museum a few years ago.

Each mat requires around 40 metres of rope, which he gets from local crayfisherman.

"A lot of (the crayfisherman) are happy to get rid of it, so instead of chucking it out or burning them they give it to me. They're happy, I'm happy," he said.

Eggy makes the mats in his spare time and believes anyone can create new things out of recycled objects if they put their mind to it and use a bit of imagination.

"I used to hollow out logs and make lamps, and use old timber to make tables. It's all about looking at things and being creative."

Other artists include small business owner Chantelle Prince who makes furniture out of discarded wooden packing pallets, Chris Bolton whose sculptures are made entirely from cardboard boxes, and Rose Holdaway who uses common 'junk' to create 2D and 3D pieces.

Reclaim/Regain can be seen in the WA Museum - Geraldton's Main Gallery during normal museum opening hours, 9am to 4pm, from April 5 – 29. Entry is free.

Climate Change: Our Future, Our Choice closes on Sunday 22 April.
Niki Comparti
Media and Publicity Officer
Western Australian Museum
9212 3840
Niki.Comparti@museum.wa.gov.au