News | Created 31 Oct 2016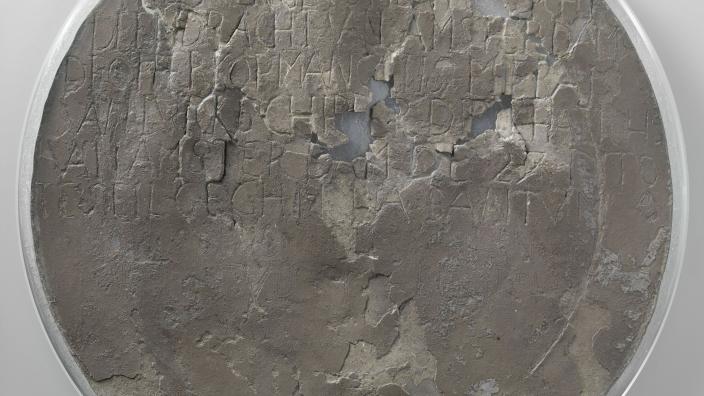 The Western Australian Museum is pleased to announce that its special exhibition, Travellers and Traders in the Indian Ocean World, was officially opened today by Their Majesties King Willem-Alexander and Queen Maxima of the Netherlands.
The exhibition is one of the Museum's many contributions to the commemoration of the 400th anniversary of the first European contact with Western Australia, when Dutchman Dirk Hartog landed at what is now Cape Inscription.
Very appropriately the King and Queen unveiled the Dirk Hartog Dish, the pewter vessel which Hartog flattened, inscribed and left at Cape Inscription to mark his visit. The Dish is on loan to the WA Maritime Museum in Fremantle from the Rijksmuseum in Amsterdam as part of Travellers and Traders in the Indian Ocean World.
This is the first time it has returned to Western Australia since 1697 when Willem de Vlamingh removed it and replaced it with his own inscribed dish. Given the fragility of the Hartog Dish, it is possible this will be the last time it will ever travel to Australia.
WA Museum CEO Alec Coles said it was a particular honour for the Museum to host the King and Queen and for Their Majesties to open the exhibition.
"This exhibition celebrates our place as the eastern seaboard of one of the world's great oceans," Mr Coles said.
"The history of human engagement with the Indian Ocean is long and complex. People have been travelling around the Indian Ocean World by sea and by land for millennia."
Travellers and Traders in the Indian Ocean World has been developed by the Western Australian Museum in partnership with the British Museum. It brings together objects from the Rijksmuseum in Amsterdam, the British Museum, the art galleries of South Australia and New South Wales, Museum Victoria, the Berndt Museum at The University of WA and the WA Museum, as well as private collections including the Kerry Stokes Collection.
More than 100 precious objects from these institutions have been carefully selected, including exquisite art, sculptures and archaeological artefacts – 24 of which have never before been seen in Australia.
"Travellers and Traders is one of the first major Indian Ocean exhibitions to be staged by a museum anywhere in the world," Mr Coles said.
"It shows the significant role the Indian Ocean played in Western Australia's history and our connection with the world."
Travellers and Traders in the Indian Ocean World opens to the public at 1pm today. It will be on display at the WA Maritime Museum until 23 April 2017.
The exhibition is supported by the Australian Government International Exhibitions Insurance (AGIEI) Program. This program provides funding for the purchase of insurance for significant cultural exhibitions.
Tickets to Travellers and Traders can be purchased at the WA Maritime Museum or online: http://museum.wa.gov.au/museums/maritime/travellers-and-traders-indian-ocean-world
Media contact
Sharna Craig
Media and Publicity Officer
Western Australian Museum
sharna.craig@museum.wa.gov.au