News | Created 24 May 2012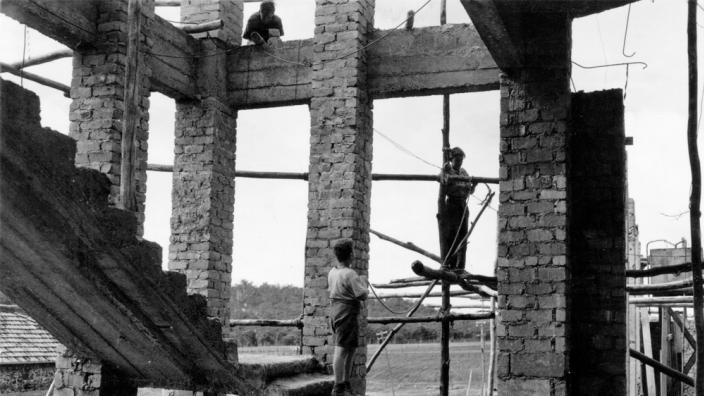 Oral histories of child migrants recorded
Musical piece inspired by stories of child migrants
Exhibition features photographs, letters and mementoes
The Western Australian Museum and Community Arts Network Western Australia (CAN WA) will launch an exhibition and community engagement program that commemorates the stories of child migrants, whose lives were changed forever by their migration experience.

On Sunday 27 May, 2012 former child migrants will visit the WA Maritime Museum in Fremantle to visit the On Their Own: Britain's Child Migrants exhibition. As part of this special event, and inspired by the personal experiences of Britain's child migrants, a unique audio visual presentation will be viewed, accompanied by a live musical performance by composer Tristen Parr.

WA Museum Chief Executive Officer Alec Coles said telling this important story acknowledges the history of more than 100,000 child migrants.

"Since the 1860s more than 100,000 British children, some as young as three, were sent to Commonwealth countries, including many to Australia.

"On Their Own: Britain's Child Migrants is a moving exhibition that gives insight into the life of a child migrant; starting with the preparation for their voyage abroad, the voyage itself, their arrival in their new country and, for most, the harsh disparity between expectation and reality," Mr Coles said.

CAN WA produced the thought-provoking audio visual entitled, On Their Own in Western Australia, which features the stories of former child migrants and their families who shared their experiences through photography and storytelling during a site visit to the Clontarf Heritage Trail at the former Clontarf Boy's Town in Perth.

CAN WA Managing Director Pilar Kasat said the powerful audio visual will be shown alongside On Their Own: Britain's Child Migrants for the duration of the exhibition.

"On Their Own in WA is a particularly special project and we are privileged to play a part in assisting those who, as children, experienced the complex and often painful realities of being dislocated and now, as adults, can give a voice to these evocative stories through photography and storytelling," Ms Kasat said.

Former child migrants who have not had the opportunity to take part in sharing their story are invited to a photo-sharing morning tea on Saturday 7 July, 2012 at the WA Maritime Museum. For bookings and further information contact Sian Brown at CAN WA, by 29 June 2012, on (08) 9226 2422 or tollfree on 1800 681 021.

The exhibition, On Their Own; Britain's Child Migrants is a collaboration between the Australian National Maritime Museum and National Museums Liverpool UK and is supported by the Federal Government's Collecting Institutions Touring and Outreach Program.
Fact File
The exhibition and audio visual will be on display at the WA Maritime Museum, Fremantle until 14 August, 2012.
The audio visual piece On Their Own in Western Australia will be available to download at www.canwa.com.au or www.anmm.gov.au/site/page.cfm
For bookings and information on the morning-tea photo sharing program on 7 July 2012 contact CAN WA, Sian Brown, by 29 June 2012, on (08) 9226 2422 or tollfree on 1800 681 021.
Western Australian Museum
Flora Perrella 9212 3856, 0424 027 646, flora.perrella@museum.wa.gov.au

Community Arts Network Western Australia
Sian Brown 9226 2422, sian@canwa.com.au